Editor's note: This is part one of a two-part series. Mower Matchup was created to delve into the pros and cons of various mower features and provide a comprehensive look at popular mower manufacture specs. Click here to download the full Mower Matchup series.
---
Trends can be hard to track. What's considered popular today could wane tomorrow, and sometimes the future can look unclear.
With this in mind, Total Landscape Care asked experts from Grasshopper, John Deere and Husqvarna to weigh in on where they think the mower market is heading, what they see catching on and what features are currently resonating with landscapers.
What's trending?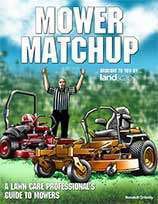 Want to download the entire Mower Matchup series, including makes, models and details on dozens of mowers from the editors at TLC?
As a landscaper, taking note of trends and using them to your advantage can be one of the greatest tools in your kit.
Grasshopper, for example, sees customers wanting more power delivery and fuel efficiency, environmentally friendly options and increased comfort and productivity, noted Mike Simmon, marketing coordinator with Grasshopper.
This has led to increased efficiencies, Simmon said. "People want to be more comfortable, and that comes with integrating a maintenance-free suspension into the design of the machine from the ground up," he commented. "It's not an afterthought, bolt-on type of thing."
This includes fine-tuning the idea of year-round usage for Grasshopper machines, which in turn increases productivity, Simmon said. So not only will these machines mow, but they also give users the ability to collect leaves, clear snow, remove debris and execute other landscaping jobs.
John Deere is also seeing a customer emphasis on uptime, ride quality and fuel-efficiency, according to Nick Minas, product manager for John Deere Commercial Mowing. "We are constantly looking into innovative design features, new technology and service solutions to help our customers increase their uptime."
And the global popularity of zero-turn mowers (ZTRs) continues, says George Reister, wheeled product manager with Husqvarna. Reister adds that the company's research shows ZTRs are still growing at a faster pace than tractors.
Robotic mowers
Husqvarna, which has been in the robotic mower market since 1995, continues to see its popularity grow. While there are those in the landscaping industry who believe robotic mowers pose a threat to traditional lawn care companies, others think they are an asset.
"The overarching trend is towards robotics," Reister said. "I think it's the hottest product out there."
Many companies have entered the robotic mower market, but the landscaping industry as a whole is still divided on the subject.
"We got ahead of the robots because we could see the trend," Reister said. "We saw the technological shift. We also had a pretty good estimate of how long it would take."
For Reister, the idea of robotics merging into the everyday life of landscapers isn't something to shy away from, but instead, is something to embrace.
Husqvarna has hosted a commercial landscaping summit in Charlotte over the past couple of years, bringing in 50 large North American landscaping companies. "We discuss future trends," Reister said. "They've told us that what they would like is a commercial level robot, which is what we offer. A lot of companies in robotics are just focused on the residential market; we're not. We see this as just like any other tool. There's commercial level and there's residential level. They are complementary, not conflicting."
Since humans are still involved in operating robotic mowers, Simmon doesn't see this technology as a threat. He also pointed out that robotic mowers can take on tasks – such as mowing on steep banks or on roadsides – that present dangers to humans.
Millenial purchasing
Husqvarna is also excited about the uptick in property purchasing by millennials that's occurred in the past few years, Reister said. These younger buyers have shown the most interest in finding a complete and efficient lawn care solution.
The time people have for lawn care is now highly compressed. "The idea of somebody going out and spending all Saturday working on their lawn probably isn't as realistic or desirable as it maybe once was," Reister commented.
This trend means that millennials are more likely to hire out professionals for lawn care services, Reister said.
Check back tomorrow for part 2 of this article, where we'll explore what features landscapers crave in their mower, how to use a machine's data and technology and where the industry is projected to go.