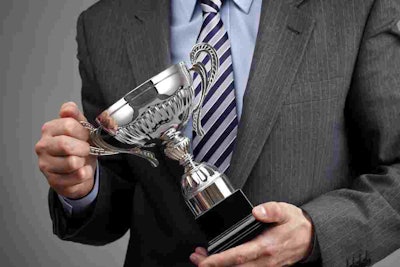 When it comes to recognizing employees for their achievements in your landscaping company, some business owners are at a loss as to how they can adequately do that.
One way that is sure to draw in your employees is to either create a company award program or participate in state and national industry award programs. This will give employees the chance to see that their achievements are being noticed, recognized and awarded, which can boost morale, participation, and self-confidence.
If you're interested in trying to implement an awards program in your landscaping company or participate in state and national programs, take a look at a few reasons why it can prove beneficial for your employees and your company as a whole.
Employee involvement
Research has proven that when employees feel needed, wanted and appreciated in their workplace, they are more likely to put their all into their work.
By offering awards within your company or offering the chance to be a part of a larger scale program, employees are challenged to put their best foot forward and create projects and ideas that are above and beyond.
If it helps engage their interest, consider creating a bit of friendly competition by offering other incentives to sweeten the deal. Offering gift cards, an extra PTO day or the chance to attend an awards banquet could help push more employees to participate and submit entries to these programs.
Marketing opportunities
Along with building up the esteem of your employees comes the opportunity to do some marketing as well.
When employees win awards and companies are recognized, the potential for positive marketing is exponential. Being able to include your 'award-winning' status on project proposals, fliers, websites and more can show current and potential customers that they are working with winners.
Entering state and national competitions can also give your company that chance to engage social media audiences. For instance, let online followers vote on which project photos you should submit for competition. This helps keep your followers involved and lets them be a part of something award-winning if your company does well.
When collecting information, statistics, photos and more for an award entry, don't forget that these items can also be used in your company's portfolio.
Taking advantage of before and after photos, graphs, charts and more that showcase the great work your company is doing can prove to be beneficial content online, in print and around the office. Many times, award winners are also featured in prominent publications that go out nationwide, so having a variety of excellent content available for perusal could also land you more clients.
Having this information out in the world, both digitally and in print, can also help the green industry to grow and thrive. By getting positive and engaging content out in front of a wider audience, the younger generation can take notice and cultivate a green industry interest they may not have previously been exposed to.
Getting started
To get involved in award programs, the simplest step is to contact the organization/group/program and talk to a representative about the application process.
Typically, the first step is to become a member of the organization, followed by paying any type of membership fees, etc. Later, the actual competition application will need to be filled out and the content submitted.
Don't be afraid to join as many organizations as possible. The more professional connections your company can be associated with, the better. Not only will you make professional industry contacts, you'll also have the chance to learn from some of the state and nation's best and brightest in your field.