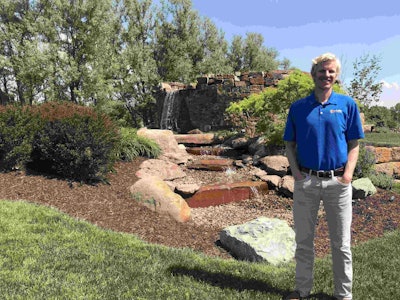 Some pairings are just meant to be, and that was the case for Paul Fraynd and Hugh Morton, who both settled in Omaha, Nebraska, and were running their own landscaping businesses.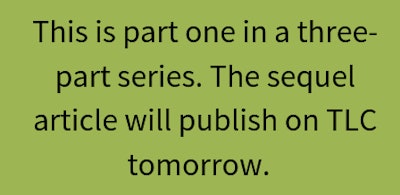 For Morton, he became attracted to the industry when he was 17 years old after a landscaper came to do a small job at his family's house. After changing majors several times in college, he discovered that he could earn a degree in landscape architecture and found his passion.
After working for a larger landscaping company, Morton struck out on his own wanting to get into the design/build part of the business. He partnered with Don Shrack in 1995 selling landscaping rocks and by 2000, Morton had launched the design/build side of the company.
Meanwhile, Fraynd developed his love for landscaping from his family and took up lawn maintenance at the age of 12 to help out his mother, as well as lawn care work as a job during college. From there, he started Omaha Friendly Services in 2002 mowing lawns as his business steadily grew.
When Morton's business partner passed away, he continued running the company for several years but knew he needed help and someone who thought differently if he wanted it to grow.
"I couldn't really support my landscape work with maintenance or mowing and then Paul started from that aspect and built up, and he also did some design/build and we merged it and it was great," Morton says. "It was like…it just had to be. We both knew that our companies had to go together."
Fraynd agreed to merge, as he had big ambitions and goals, and believed they would reach them faster together.
In 2012, the two merged their businesses into what is now known as Sun Valley Landscaping.
With their strengths combined, they now offer year-round maintenance, design/build services and have a landscape supply yard.
The company focuses on serving high-end residential clients on the design/build side and concentrates on prime neighborhoods they want to work in but is also looking into targeting the millennial market. While maintenance services are split more 50/50 between residential and commercial clients, Fraynd says that about 90 percent of their snow removal services are for commercial customers.
Family-oriented culture
Sun Valley employs 52 employees, with around 33 being seasonal workers. While the company supports the H-2B program, they have not had a need to use it.
"To be honest with you, we have a labor problem that isn't near as big as some of the other companies I've seen," says Ashly Neneman, general manager for Sun Valley. "This is the easiest hiring season I've ever had since I've been working here. Meaning, we retained a lot of our good people and it was just very few positions (to fill)."
Fraynd credits the company's high standards of who they hire as for why they have such a low turnover.
"Well, the guys all say two things; one is that they love working outside but they just feel like they have a purpose for why they're working here," Fraynd says. "And the primary one is to support their team, which we call the Sun Valley family, so I think that they feel like they have a very unique connection to each other. I believe that comes from the fact that we cultivate a culture of people who have high morals and high ethics to do the right things not only to our customers but to each other."
Cody Roloff, a lawn maintenance field supervisor for the company, says that everyone acting like a family is one of the reasons he likes working for Sun Valley. Roloff has been with the business since before the merger in 2010.
"It's a big family atmosphere," he says. "You can feel comfortable and be yourself. Everybody is there to help each other out."
Morton says they developed their set of core values, known as the 'Sun Valley Way,' when they realized one way to deal with the labor challenge was to create the best possible place for people to want to work.
"Just focusing on building the culture is what we're really all about," Fraynd says. "Almost every decision we make is about how to be a great place to work."
The core values the company follows are these five points:
People come first.
We do it right.
It's all about the experience.
We take care in the craftmanship.
Everyone is an owner.
"We need them to be leaders," Morton says. "We need them to not just do a good job at their job, we need them to go above and beyond, and if they know this information, then educate our clients for us. So in the end, a lot of the stuff we do is putting them in the forefront for the appreciation, for the thank yous, for everything like that."
Part of the way the company ensures that every employee feels like an owner is through Sun Valley's commitment to open-book management, where everyone in the company is aware of the numbers and what's going on with the business.
"My favorite thing is the communication," says Luis Santana, a crew leader with Sun Valley. "The main important thing is to be in touch with each other and we have really good communication."
"It doesn't work if it's not legitimate," he says. "You can only fake it for so long. Whatever your personality is, don't force somebody else's culture that you saw on TV into your company. It has to be from your heart. Otherwise, you just won't follow it every day. And if you don't follow it every day, if you're not consistent with following your own values, then nobody is going to be."
Check back tomorrow for part 2 of this series, where we'll look at Sun Valley's commitment to customer service and the community.