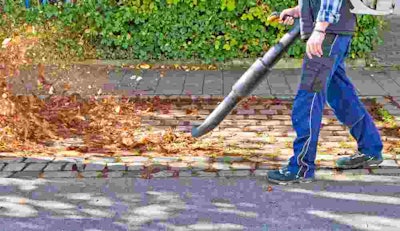 The topic of banning gas-powered blowers has once again appeared in Washington D.C., as the D.C. Council members heard from both sides earlier this week.
The bill was reintroduced by council member Mary Cheh, who proposed legislation to ban the blowers back in 2016 and 2017.
Cheh's bill would prohibit the sale and the usage of gasoline powered leaf blowers in the District starting in 2022. If it becomes law, violators would be fined up to $500.
The current noise ordinances forbid sounds above 70 decibels from a distance of 50 feet, but District officials must come and measure the noise any time a complaint is made. This has caused Cheh to propose the ban as the only way to enforce the rules.
Twenty witnesses spoke at the public hearing on Monday, with many speaking in favor of the measure saying it would reduce both noise and air pollution.
Opponents argued it would create an undue burden on the landscaping industry, increasing job costs since it takes workers longer to accomplish tasks.
"I think it's much better to ask for the operators to use modern equipment and use it responsibly and have courtesy toward your neighbors than it is to just ban things outright," said Bob Mann, director of government relations for the National Association of Landscape Professionals (NALP), according to WJLA.
Yet not all landscapers are against the bill, as some local companies that already use battery-powered blowers agreed with the ban.
"People have it in their head that if it's noisier, it's better and more powerful," said witness Nancy Sainburg, owner of the Enchanted Garden, according to WAMU.org. "But that's simply not the case."
Sainburg's business stopped using gas-powered leaf blowers two years ago and now she says her workers no longer have headaches and their productivity has not decreased.
DCRA Director Melinda Bolling expressed concern over implementing the bill, as it would be hard for DCRA inspectors to arrive in time to catch gas-powered blowers in use while burdening the DCRA and D.C. police. She also noted it could cause tension between homeowners and landscapers.
Cheh dismissed Bolling's stance. "I reject, essentially, your testimony that expresses impotency in this area," she said. "I would suggest that you all need to do your homework."
Justice Department reaches settlement over H-2B violations
The Justice Department has come to a settlement agreement with Triple H Services LLC, a landscaping company based in Newland, North Carolina, that worked in Virginia and four other states.
This comes after the Department investigated and discovered that Triple H discriminated against qualified and available U.S. workers and preferred to hire temporary workers through the H-2B program, violating the Immigration and Nationality Act (INA).
Through the investigation, the Department found the landscaping company went through the motions of advertising over 450 landscape laborer positions in five states but misled U.S. workers about the positions and prevented or deterred some from applying.
It also found that several qualified U.S. workers who applied in Virginia were not considered, but H-2B workers were hired instead. In several states, Triple H prematurely closed the online job application process for U.S. workers and filled the positions with H-2B laborers. The company also advertised vacancies that did not make the postings visible to job seekers using state workforce agency online services.
This refusal to hire qualified and available U.S. workers infringed on the INA's anti-discrimination provision, regardless of whether the employer had complied with other rules governing the temporary worker visa program.
As part of the settlement, Triple H will establish a back pay fund, with a cap of $85,000 to compensate individuals harmed by its practices. The company is also required to pay $15,600 in civil penalties, perform enhanced recruitment activities to attract U.S. workers and be subject to Departmental monitoring for a three-year period.
"Federal law prohibits employers from discriminating against U.S. workers in hiring because of their citizenship status," said Acting Assistant Attorney General John Gore. "The Department will continue to fight to ensure that U.S. workers are not disadvantaged because of their citizenship status. I commend Triple H for its cooperation with the Department and its willingness to undertake efforts to recruit U.S. workers that go well beyond the minimum requirements for participation in the H-2B visa worker program."
BrightView lists pricing of its initial public offering
BrightView Holdings Inc. entered the market last week with its initial public offering where the stock had a slight gain but quickly fell flat.
The company offered its 21.3 million shares at $22 a piece, which is on the low end of the predicted price.
The underwriters have an over-allotment for an additional 3.195 million shares, making the entire offering valued at $538.89 million.
The company is known for being the largest landscaping company in the service, with its revenue being 10 times more than its next largest competitor. The company hopes to use the net proceeds from the IPO to pay off its debt, along with providing working capital.
According to 24/7 Wall St., BrightView shares were down two percent at $21.54 and about 4 million shares had moved as of 11 a.m. on June 28.