The Sports Turf Managers Association (STMA) has named Ryder Haulk, assistant sports field manager for Purdue University Athletics in West Lafayette, Indiana, winner of the annual 'Stars and Stripes' field art contest.
STMA says Haulk's "Red, White and Purdue" design at Bittinger Stadium shattered previous voting records, garnering 2,019 online "likes" nationwide and earning him a complimentary pass to the 2019 STMA Annual Conference & Exhibition in Phoenix, Arizona (Jan. 22-25). Brian Bornino, CSFM, also assisted with the project, which included 50 stars and 13 stripes within the Purdue "P."
In second place, with more than 1,300 votes, was Danny Losito, head groundskeeper of the Columbia Fireflies in Columbia, South Carolina.
"We always enjoy seeing the distinctive designs our members create to celebrate the Fourth of July, and this contest is a fun way to showcase their impressive skills," says Kim Heck, CEO of STMA. "It was great seeing the Purdue community come together and support Ryder and his team."
Haulk attended Purdue for two years before transferring to Penn State University, where he received an associate's degree in turfgrass science. Currently, he's enrolled in the B.S. of turf science program at Penn State University.
"We're honored to have won the Stars and Stripes contest; there were so many great entries this year," says Haulk. "Creating themed field art without sacrificing safety or playability is always a fun challenge and it was truly a team effort as our student employees – Lane Zink, Brett Shoults, Matt Homco and Anthony Marquet – were a big help in creating the design."
"Two Flags and a Star," "The Original American Flag" and "Happy Birthday America" were among the 2018 designs submitted by turf professionals from major sports leagues, NCAA and parks and recreation sectors.
Last year's winner was Andrew Marking, head groundskeeper for the Quad Cities River Bandits (Davenport, Iowa), the Class-A affiliate of the Houston Astros. With the help of assistant groundskeeper Andrew Anderson, Marking crafted a "Banks of the Mississippi River" field pattern at Modern Woodmen Park.
Davey Resource Group acquires environmental consulting firm
Davey Resource Group recently acquired the environmental consulting firm Land Management Group Inc., based in North Carolina.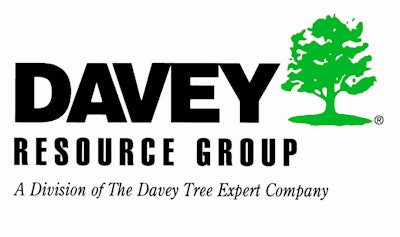 Based in Wilmington, Land Management Group says it offers services in wetlands science, soil science, geology, marine biology, environmental permitting and other areas of environmental management.
According to Karen Wise, division manager for Davey Resource Group, it's a natural fit, which provides natural resource and consulting services to residential, commercial, governmental and municipal markets. The group says its services include vegetation management consulting, facility inspections, urban forestry, tree preservation and environmental consulting.
Land Management Group is "client-focused and strives to provide timely solutions to complex environmental challenges," Wise said in the release. "Operating in the southeast U.S. with an emphasis on coastal systems and regulations, the partnership provides Davey Resource Group with an expanded set of services, new geography, strong leadership and a talented team of scientists."
Davey says Land Management Group has more than 15 employees who will join the group, which is employee-owned. The release said that Christian Preziosi, president and environmental scientist, will continue to lead the office as area manager.
"Our staff at Land Management Group is very excited to join the proud tradition and client-focused approach embodied by DRG," Preziosi said in a statement. "In particular, we look forward to both the technical and business support of the Davey Tree Expert Company as we continue to strive to provide the best services possible for our clients."
Target Specialty Products introduces Turf Fuel brand
Target Specialty Products recently announced it now offers a complete line of professional turf solutions under its brand name Turf Fuel, which the company says are designed to provide solutions to the needs of turf professionals.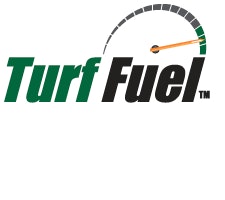 The company says the Turf Fuel is a complete line of unique products and solutions for needs ranging from plant nutrition, to soil and foliar surfactant management technology and is designed to enhance plant strength and prepare intensely managed turf for extreme growing conditions, improving soil moisture management and maximizing pesticide performance.
"The Turf Fuel product line is part of a key element of Target Specialty Products' strategy going forward," said David Helt, president of Target Specialty Products. "Turf Fuel products are designed to provide exceptional, cutting-edge performance and differentiated value to our turf customers."
Target Specialty Products says its Turf Fuel product development division is working on the next generation of soil remediation products, as well as substantial enhancements in foliar adjuvants.
Every ingredient, the company says, is added for a specific reason and at an agronomically beneficial value. Target Specialty Products says Turf Fuel's product development philosophy is designed to be simple, to give plants the nutrients and stress fighting components they need in the best raw material forms possible and create strong plants.
"Turf Fuel products immediately improve turf performance even under intense stress such as high heat, drought, traffic, shade, poor soil conditions, poor water quality, aeration recovery, nutrient deficiencies and many other similar issues that are true problems for turf professionals" said Todd Griebe, head of Turf Fuel products' division, at Target Specialty Products. "We have developed a unique and complete line of products under the brand name Turf Fuel that provide effective solutions for Turf Professionals."
"Through extensive university and field research, we have developed our unique Nutrifense and Soil Sync technology platforms to give turf an edge and reduce the stress associated with growing fine turf surfaces," said Mark Jull, product manager for Turf Fuel Products, at Target Specialty Products. "We work with our sales team and our customers very closely across USA and Canada to provide continuous feedback and input from them to guide us to continuously innovate and continue to look for modern solutions to the old problems turf professionals face every day."
Husqvarna Group and Gardena restructuring consumer brands division
Husqvarna Group says it will now gradually exit from low price point product segments and brands, particularly in petrol powered walk-behind lawnmowers and garden tractors.
The group says the extent of the exits and associated adjustments to the manufacturing footprint and brand portfolio are being reviewed. The changes will be realized in two steps, as customer commitments for the 2019 season will be honored. Step two, for 2020, is being reviewed.

"We will focus our remaining consumer forest and garden operations in North America to areas where we have proven to bring customer value, such as in handheld products, premium garden tractors, zero-turn lawnmowers and particularly robotic lawnmowers," says Kai Wärn, president and CEO of Husqvarna Group."The reorganization will facilitate reallocation of resources towards these offerings that have the greatest potential for growth and profitability."
"Exiting non-core segments and brands is a decisive step to reduce complexity in the group which will enable us to put an even stronger focus on our high margin business in Husqvarna and Gardena," Wärn continues. "As a consequence, we will dissolve our Consumer Brands Division into the Husqvarna and Gardena divisions."
Hardscape North America announces schedule for conference sessions
The schedule of conference sessions for the 2018 Hardscape North America (HNA) has been announced, and a new VIP pass will give attendees access to all seven conference sessions, as well as the six hardscape demonstrations for a 50 percent discount.

HNA says each conference session lasts an hour and 15 minutes and is approved for Interlocking Concrete Pavement Institute (ICPI) Installer Continuing Education hours. HNA says topics will include a wide range of profit-boosting, crew management and how-to tips from recognized industry experts.
"The conference sessions are where contractors can learn about hot industry topics and pick up innovative ideas to help grow their businesses," said Charles McGrath, executive director of the ICPI. "We have a dynamic lineup of presenters."
The cost of the VIP pass is $189 for members or $229 for non-members, and a la carte tickets for the conference program are $50 per session.
Conference sessions include:
Wednesday, Oct. 17
Pitfalls and Reasons Why Most Hardscape Contractors Are Not More Profitable
4 – 5:15 p.m.
Attendees will learn how to avoid the most common mistakes hardscape contractors encounter. (Monroe Porter)
Thursday, Oct. 18
Production Management and Crew Motivation on the Hardscape Jobsite
8 – 9:15 a.m.
Learn how to create uniformity between projects, consisting of the procedures, skills, production methods and crew motivation tips that will bring your projects to a higher standard of quality, increased efficiency and optimal customer satisfaction. (Frank Gandora)
Estimating Projects with Confidence and Profit
10 – 11:15 a.m.
This seminar will demonstrate the importance of an estimating strategy and show how to develop and implement the strategy to become more profitable and get a better return for your effort. (Jerry Gaeta)
Using a Dashboard to Steer Your Hardscape Company on the Right Path
1:30 – 2:45 p.m.
Learn how to create an executive dashboard and explore Key Performance Indicators (KPI's) to help keep you on a course for profitability. (Leslie Shiner)
Friday, Oct. 19
How to Design, Sell & Build Outdoor Kitchens and Living Spaces
8 – 9:15 a.m.
A discussion that will include design ideas and specifications to help you create the perfect kitchen surrounded by an outdoor living space. (Jeff Rak)
Super-Sizing Your Sales Through Upselling
10 – 11:15 a.m.
Attendees will learn firsthand how upselling will increase profits while adding value to customers. (Gary Ross)
Smart Prospecting, Simplified
1 – 2:15 p.m.
Learn how to develop a message that will grab your prospect's attention, identify your target market and the issues they're facing, discover the number of touches it takes to close the sale and why the proper follow up is important. Attendees will learn to identify the importance of pitching less and probing more. (Gary Ross)
Early bird registration for HNA is available for $15, and fees will increase after Thursday, Sept. 6. Registration includes access to both HNA and GIE+EXPO indoor exhibits, access to the 20-acre outdoor demonstration area, entrance to the HNA Hardscape Project Awards presentation on Thursday, Oct. 18 and three free concerts at Fourth Street Live.
John Deere announces winner of "Small Machines. Big Impact." contest
John Deere reports that Neil Behnke, a volunteer with the nonprofit organization Black Forest Together, was recently chosen by the public as the grand prize winner of the second annual John Deere "Small Machines. Big Impact." contest at the 2018 John Deere Classic Chairman's Dinner.
As the winner, John Deere says Behnke will take home his choice of a new model from the full portfolio of John Deere small-, mid- and large-frame G-Series skid steers and compact track loaders (CTLs), with a WorkSite Pro attachment to help with his project, "Rising Above the Ashes."
This project, John Deere says, helps residents of Black Forest, Colorado, clear their land of dead, dangerous trees, resulting from the most destructive fire in Colorado's history.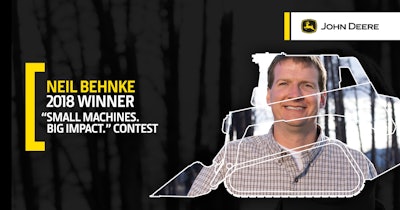 June 11, 2013, fire spread across 14,000 acres in 10 days, destroying more than 500 homes, causing $85 million in damage and claiming two lives.
"My family loves the quiet beauty of Black Forest," said Behnke. "I remember what this place once was, and I know what it can be. I want to see this community grow and thrive again."
Because of the overwhelming response to the contest, John Deere also announced that it will help the two runner-up finalists in completing their community projects with a yearlong lease on a skid steer or CTL from John Deere Financial.
The runners-up are Kobus Applegrijn of New Port Richey, Florida, and Anita Will of Ridgefield, Washington. Through West Pasco Habitat for Humanity, John Deere says Appelgrijn's project, "Restoring Neighborhood Pride," uses the help of over 50 volunteers to revitalize 40 badly deteriorating homes to help create a thriving community.
John Deere says Will's project, "Trailblazing Outdoor Connections," is transforming Whipple Creek Regional Park from a dilapidated area into a community staple, with over 8,000 volunteer hours donated since restoration began in 2011, growing annual visits from 1,000 to 54,000.
John Deere says that all three finalists will receive a $2,000 stipend to help in the completion of their projects, donated by John Deere and their local dealers. These finalists' local dealers are: 4Rivers Equipment in Colorado Springs, Colorado; Dobbs Equipment in Lutz, Florida; and Papé Machinery in Portland, Oregon.
"These deserving finalists have inspired us with their enormous compassion and generosity," said Graham Hinch, division manager, John Deere Commercial Worksite Products. "We are eager to follow their projects and see all that they accomplish in their communities using our G-Series machines."
This year, with over 370 entries, John Deere says they selected three finalists based on the potential impact of the project on their local community, how much the machine would be used to enhance the project and alignment with one of these John Deere Corporate Citizenship priorities: improve food security, education or community development.
The company says that online and text voting was then opened to the public from June 4 to June 24 to help choose which of the finalists' community projects would come to life with the power of a G-Series machine.
Michelin announces acquisition of Camso
Michelin recently reached an agreement to acquire Camso, and whereby the two companies' off-the-road (OTR) operations will be combined to form a new division to be managed from Quebec, Canada.
Reporting net sales of US$1 billion, Michelin says Camso has been designing, manufacturing and marketing OTR mobility solutions since 1982. Michelin says Camso is a market leader in rubber tracks for farm equipment and snowmobiles and in solid and bias tires for material handling equipment.
By joining forces with Camso, Michelin says it will create the world's number one OTR market, headquartered in Quebec. Michelin says the business will benefit from the expertise of Camso's management team.
Michelin says the transaction is expected to deliver the following benefits:
In marketing and sales.
In the agricultural market, the creation of a unique player providing its customers with a comprehensive range of premium radial tires and tracks.
In the construction market, Camso will reinforce Michelin's offering with its bias tires and tracks offers.
In the material handling equipment market, Michelin will leverage Camso's renowned Solideal and Camso brands to become the market leader in solid tires.
"Michelin and Camso have many values in common," said Jean-Dominique Senard, chief executive officer of the Michelin group. "This acquisition is a wonderful mutual opportunity. Michelin will benefit from all of Camso's skills in the off-the-road mobility markets and Camso from the full range of Michelin's expertise in the specialty markets."
"Joining up with Michelin's off-the-road teams is a fantastic opportunity for Camso because of the similarity of our cultures as well as our growth potential," said Pierre Marcouiller, executive chairman of Camso. "Camso will achieve its ambition to become the global off-the-road market leader and will contribute its dynamic teams, its technical and manufacturing assets and its customer-focused mindset. The transaction has received the backing of all Camso's shareholders."
Michelin says discussions and studies with Camso helped the company identify significant opportunities to increase sales and reduce costs, thereby unlocking up to US $55 million in synergies by 2021.
As part of the transaction, Michelin has made the following commitments:
The OTR division's decision-making center will be based at Camso's headquarters in Magog. The management teams, including the top executive, will work out of the Magog office.
Headcount at Camso headquarters (300 employees, of which 100 in R&D) will remain stable, and existing R&D operations and production jobs in Quebec will be maintained.
The new skill sets required to oversee this global business, and the anticipated growth in the division's net sales, will lead to the creation of new high-quality jobs in the Magog region in the coming years.