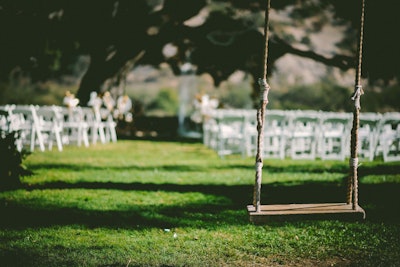 Not every wedding will need a landscaper, which is why the task might feel foreign to you. But extending your services to include landscaping for a couple's nuptials can be a rewarding decision for you and them.
Of course, your first go-round might be as intuitive as your normal job. So here are four things to know before you add "wedding landscaper" to your repertoire.
1. Meet the couple
As with any other landscaping job, you have to come up with a plan first. For a wedding, you'll be hired to draw up a design or install it — or both.
The only way you can know what you're supposed to do is to meet with the couple and their wedding planner if they have one. Bring along your team, too, so that everyone's aware of the task at hand. Seeing the space in person will give you a better feel for the scope of the job, the size and amount of plants you need, etc.
Before this meeting, you shouldn't make any promises or plans with the couple to be wed. You need to see the space before you commit to a particular design — it may be impossible based on the dimensions, for example. But, once you've had your first meeting, you can verbally commit to their ideas or present compromises that'll work in the given location.
You should also use this meeting as an opportunity to learn about the wedding's colors and theme. The couple will probably tell you all about the look they're going for, and you should use their vision to inspire the plants you choose.
2. Get started ASAP (if necessary)
Not all wedding landscaping plans will require you to work for months in preparation. Let's say you're bringing in soft landscaping — some potted plants and other movable installations. You'll have to design them and sketch the arrangements, but you won't have to do much work between the initial meeting and the wedding.
On the other hand, a more involved landscaping job could very well require you to get started as soon as you see the venue. For instance, you could be working with a client's backyard. If you visit for your initial meeting and notice the grass looks lackluster, you'll have to start refreshing the turf long before the wedding.
An even more involved design might require you to put in permit requests if you plan to modify the landscape in a major way. This is especially true in a residential area — in fact, in some places, working without a permit might mean you have to remove everything you've done, lose your investment and start the entire project from the beginning.
3. Don't forget lighting
Landscaping isn't only about greenery, but you already know this — you've probably incorporated lighting into your designs before. But this is more than just an illuminated pathway or home facade.
Weddings rely on lighting to create the intimate, romantic atmosphere that makes them so memorable. As the landscaper of an outdoor ceremony, reception or both, it's your job to bring in just the right amount of light to set the whole thing off.
First, you'll want to check with the venue's owners to see their rules regarding lighting. Once you know what your limits are, head to the venue at the proposed time of the nuptials. That way, you can see how much light the sun will be providing — if it's dark, all of the lighting responsibility falls on you.
Of course, the married-couple-to-be probably has a vision for the lighting design. Be sure to ask them what they hope to see during your initial meeting. Check in along the way, too — even if you get the right string lights, they might be the wrong strength or color. The more you communicate with them, the more likely you're going to nail the final look.
4. Clean it up
Prepping for a backyard wedding might mean you're revamping a pre-existing feature into something else. For example, a patio could become a dining area, ceremony space or dance floor. As such, your big day prep should include a power-washing session to remove all of the dirt — no one wants a dingy surface at a wedding.
To that end, be sure to take stock of all the pre-existing structures in the space under your charge. If necessary, schedule professional cleaning(s) so that everything looks shining on the big day. Just like the aforementioned lackluster lawn, these are the types of services you should schedule as soon as possible, so you can ensure they'll happen before the wedding.
Say "I do" to wedding landscaping
With these four tips in mind — and your pre-existing skills and knowledge — you're more than prepared to delve into this new venture. In other words, don't be afraid to say "I do" the next time someone asks if you landscape for weddings.
EDITOR'S NOTE: This article was written by Kacey Bradley. Bradley has a communications degree and writes for sites like U.S News, SUCCESS, and her own blog, The Drifter Collective.