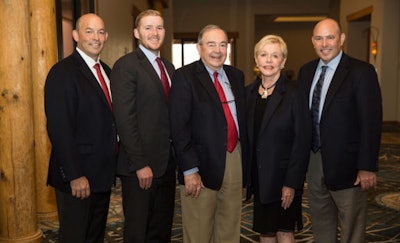 Ewing Irrigation & Landscape Supply recently announced its fourth generation of family leadership. Jack York, son of Ewing president and chief executive officer Douglas W. York, joined the green industry wholesale distributor to open a new Ewing location in the New York tri-state area and will serve as its branch manager.
"Starting with my grandfather, King Ewing, we've grown the company with a focus on caring for our customers and creating a family-like culture," says Doug York. "I am proud to continue that tradition and legacy with my son joining Ewing."
The company says they have had a tremendous year of growth, expanding into the Midwest, Mid-Atlantic and Northeast. With Jack York's experience in the area with Ewing, the company says he'll support their long-term expansion efforts while building upon the success and future of the company.
Ewing adds that with his experience as an investment banking analyst, York will also support the company as a national business development analyst. The company says York grew up working with the company, beginning in the mailroom and as a service professional and truck driver at the Phoenix branch. During college, Ewing says he interned in the purchasing department as a buyer and in the finance and accounting departments.
"I'm excited to be coming back to the family business because there are a lot of changes happening throughout the green industry," says York. "I believe inserting myself at the ground level in the midst of all that change will be beneficial to my development and can also help the company navigate those challenges."
James Martin Associates welcomes new chief business development and operating officer
James Martin Associates (JMA) recently announced that Brian Stanley has joined their team as chief business development and operating officer.
The company says with the continued growth in the Chicago and Boulder metro areas, with the recent purchase of Schwake Stone and the seven-acre facility in Mundelein, Stanley will be directly responsible for operations with a focus on business development at JMA, LID Landscapes and Schwake Stone.
"With his extensive industry track record, Brian is an ideal candidate to help support and lead the executive management team," says Jim Martin, president.
JMA says Stanley has deep industry experience working with multiple branches in multiple states, including Rentokil Initial, Moore Landscapes, BrightView (formerly The Brickman Group) and most recently Synagro.
In these positions, ranging from COO to regional vice president, JMA says Stanley was responsible for profit and loss management, operational performance, organizational health, sales leadership and development, finance operations and more.
"James Martin Associates has created strong client-centered relationships through the delivery of high-quality design and service in landscape design, residential maintenance, commercial maintenance and snow management," says Stanley. "This reputation throughout the marketplace has been earned through the incredible tenure and experience from the field and management personnel. I'm humbled and thrilled to have the opportunity to work with and contribute to the growth of James Martin Associates into the future."
Martin added that Stanley fit in well culturally with the company. "His character and core values aligned with a well-established set of beliefs and disciplines at JMA," Martin says.
Along with the day-to-day management responsibilities, the company says Stanley will also partner with the executive team to create strategic, long-term goals that the company says will set them up for success into the next decade and beyond.
"He's someone who has the experience, wisdom and judgement to make both me and the team better," Martin says.
Stanley began his tenure effective Oct. 29.
NALP to host leaders forum in Aruba
The National Association of Landscape Professionals (NALP) announced that Leaders Forum, its executive-level education and networking event, will be held in the Hyatt Regency Aruba Resort Spa & Casino in Aruba, Jan. 24-26.

NALP says the Leaders Forum brings together many of the top lawn care and landscape CEOs, owners, managers and leaders for a few days of networking, peer learning and education.
NALP says it is partnering on the education with the business consultants at Aileron. Founded by Clay Mathile, the entrepreneur and former CEO and owner of the IAMS pet food company, NALP says the education sessions will focus on how to retool your business to do more with less; how to build the right team for business – matching your leadership style to your business needs; and how to get the maximum results from your team.
NALP says the event will also include plenty of networking time, and attendees are encouraged to bring their families and key staff for team building and development skills.
"Leaders Forum offers CEOs, executives and emerging leaders the time to network and dive deep into business strategies and insights – that's why people love this event so much," says Sabeena Hickman, CAE, NALP CEO.
To find out more about NALP's Leaders Forum click here. Early bird pricing is in effect until Nov. 28. NALP says the Leaders Forum is approved for Landscape Industry Certified recertification at one CEU per hour of instruction attended.
The event is sponsored by Caterpillar at the Platinum level, Rancho Mesa at the Gold level and John Deere at the Silver level.
Toro announces 2019 Super Bowl Sports Turfgrass Training Program winner
Toro recently announced this year's winner of the annual Toro Super Bowl Sports Turfgrass Training Program. Wilson Morgan, majoring in crop, soil and environmental sciences at Auburn University, was selected to assist the grounds crew in field preparations for Super Bowl LIII at the Mercedes-Benz Stadium in Atlanta, Georgia.
Since 1967, Toro says it has partnered with the National Football League (NFL) to provide equipment and expertise to help prepare the game field and multiple practice fields leading up to the Super Bowl. In 2003, Toro says they and the NFL established the Super Bowl Sports Turfgrass Training Program, which they say was developed to recognize one student each year who has shown exemplary leadership in turfgrass management.

Toro says the program encourages emerging professionals to further grow their knowledge base by assisting the grounds crew for this high-profile game.
Toro says Morgan will work alongside NFL field directors Ed Mangan, George Toma and the Super Bowl grounds crew at Mercedes-Benz Stadium on turfgrass maintenance, logo painting, field preparation for media day, halftime preparation and field cleanup.
"I've had some excellent mentors in my life who helped me discover my dream of one day becoming a football field manager," says Morgan. "I'm so grateful for this amazing opportunity to learn from the best of the best and apply what I learn to my future career."
Toro says Morgan plans to graduate from Auburn University in the spring of 2020, and he is currently a member of the grounds crew for the university. Toro notes that Morgan has been responsible for helping maintain all athletic fields on campus, specifically during the baseball and football seasons.
Toro says Morgan also served as an intern on the Miami Dolphins grounds crew at Hard Rock Stadium in Miami Gardens, Florida, in the summer of 2018.
To be considered for this program, Toro says entrants must undergo a comprehensive application process. Toro says Morgan was chosen due to his ambition to pursue a career in turfgrass management, as well as the leadership he has shown among the student workers as part of Auburn's grounds crew.
Toro says applicants must be enrolled in at least the second year of a two-year turfgrass program, or in at least the junior year of a four-year turfgrass program.
"We're thrilled that Wilson Morgan will be part of the Super Bowl Sports Turfgrass Training Program this year at Mercedes-Benz Stadium in Atlanta," says Boyd Montgomery, CSE, CSFM, regional business manager for sports fields and grounds, North America at Toro. "Wilson has shown outstanding leadership skills in his current role at Auburn University, and we hope this experience helps contribute to a good foundation as he works to finish up his education and start his career as a sports field management professional."
The game will take place on Feb. 3, 2019, and Morgan will be on site helping prepare the field during the week leading up to the Super Bowl.