John Deere recently updated its line of Worksite Pro attachments with three new angle and five new pickup brooms.
The company says the BA72C, BA84C and BA96C angle brooms and the BP72C, BP84C, BR60C, BR72C and BR84C pickup brooms were designed for effortless cleanup in turf, snow and construction applications. John Deere says that like all Worksite Pro attachments, these angle brooms are optimized to work with John Deere skid steers and compact track loaders, and they are also compatible with most competitive models.
"With new OSHA silica dust exposure rules, contractors are in need of attachments with options that meet these requirements and make contractors more competitive bidders," says Jessica Hill, program manager, global attachments, John Deere Construction & Forestry. "We designed a new class of brooms to deliver more durability and job site protection to help our customers get the most of out of their investments."
John Deere says the pickup brooms are solutions for dust mitigation challenges and restrictive barriers, and they feature a 26-inch diameter brush with standard 50/50 poly-wire segments and optional all-polypropylene brush segments.
The company says the BR models use bolts for precise brush-contact adjustment, while the BP models incorporate a tool-free system for fast, easy adjustment. John Deere says BP models feature a 0.5-inch single-bevel cutting edge; BR models have a 0.625-inch double-bevel cutting edge.
The company adds that optional 25-gallon broom-mounted or 30-gallon roof-mounted water tank kits are available for dust-suppression applications.
John Deere says an adjustable baffle on BP pickup broom models increases hopper capacity by 22 percent, and a front caster wheel on BP models allows the brush to follow ground contours, while a front bumper on BR models provides extra strength and protection when sweeping close to walls or obstacles.
The company adds that an optional 20-inch gutter brush with wire bristles can be mounted on the right or left side of any model pickup broom for collecting material close to curbs.
John Deere says the BA model angle brooms are ideal for turf and snow removal applications and feature a hydraulic-angling range of 30 degrees to the right or left of the machine.
The company says the 32-inch diameter brush features standard 50/50 poly-wire segments, and optional all-polypropylene brush segments are available for work on softer surfaces.
The company adds that an optional hood extension provides 180-degree brush coverage, while a rubber deflector prevents snow from blowing back onto the machine when winter strikes.
Case announces fourth-annual Dire States Equipment Grant
Case Construction Equipment recently issued the call for entries for the 2019 Dire States Equipment Grant.
Launched in 2016, Case says the Dire States Grant provides one winning community with $25,000 in free equipment use to help offset the costs of building or repairing a critical piece of local infrastructure. Submissions can be made here. The entry deadline is March 31, and the winner will be announced in April.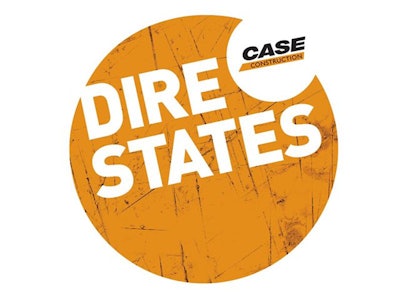 The company says representatives of municipal, county and other local governments are eligible to apply, and entrants will be asked to describe the project and provide a detailed assessment of how that local piece of infrastructure will benefit the community.
Examples of suitable infrastructure projects include: road/bridge repair or construction, utility pipe replacement, erosion control along lakes and rivers, wastewater system improvements, school projects and park/recreational construction. All projects that fall within the 16 core categories of infrastructure, as identified by ASCE in its Infrastructure Report Card, will be considered.
The 2018 winner was Surrey, North Dakota, and Case says the community used the grant to significantly transform the city's rainwater runoff and roadway drainage.
"We wouldn't have been able to complete this amount of work in 100 years – and this has saved Surrey more than $100,000 in work that otherwise wouldn't have been done," says Keith Hegney, public works director, Surrey, North Dakota.
"Surrey represents the ideal Dire States entrant — a community that was able to show the compounding benefit of infrastructure improvements on other elements of the city's systems and future growth," says Michel Marchand, vice president — North America, Case Construction Equipment. "Entries for this grant have increased exponentially each year, which highlights the continued need for a greater focus on local infrastructure funding and development."
"While Federal funding is critical to long-term sustainability of the nation's infrastructure, it's the network of local projects that most directly impact our daily lives," says Athena Campos, senior director of marketing, Case Construction Equipment. "At Case, we're working together with our dealers and customers to make a difference in building those local communities."
Drafix Software announces new office location
Drafix Software, Inc. announced the move of their offices to a new location within the Kansas City area.
The new offices, the company says, are located at 647 Southwest Blvd., Suite 201, Kansas City, Kansas 66103. The company says that all phone numbers, email addresses and other contact information will remain the same.
"Our new location offers us needed additional space and gives us room to grow as we approach our 25th anniversary coming up in 2019," says Pete Lord, president of Drafix Software. "Although the actual moving distance was only a couple of miles, we have moved to a completely different state. We love the Kansas City area and are proud to still call it home; even though we are now located on the other side of the state line in Kansas. We look forward to serving our customers from our new location for the next 25 years."
Vermeer Southeast dealership offers employee stock incentives
Vermeer Southeast says it is now 100 percent employee-owned through an employee stock ownership plan (ESOP).
The company says its leadership will remain under the direction of former owners Kris Den Besten, Todd VerSteeg and Jim Dees.
"For more than 50 years, Vermeer Southeast employees have shown their commitment to serving and caring for our customers," says Den Besten. "We are excited to take this step forward in establishing the ESOP structure, which will benefit our employees who work hard every day to take care of our customers."
The company says research shows that an employee ownership structure creates a positive work environment as employees all work toward a common goal. In the upcoming months, the company says its employees will learn more about the new ESOP structure.
"Our core values rooted in biblical principles will propel us forward as we continue working toward a common goal of providing excellent customer service and growing our company into the future," says Den Besten.
Vermeer Southeast says the combination of committed employees, excellent leadership and a fresh employee-owned plan is sure to be a recipe for success and outstanding customer satisfaction at the company.
Morbark announces acquisition
Morbark LLC announced the completion of Denis Cimaf, Inc., based in Roxton Falls, Quebec.
The company says this transaction represents their second acquisition since private equity firm Stellex Capital Management LP acquired Morbark in 2016. The company says the acquisition of Rayco Manufacturing in Oct. 2017 brought a lineup of innovative equipment into the Morbark family across multiple product categories.

Morbark says Denis Cimaf specializes in the development of high-performance brushcutter-mulcher attachments for excavators, skid steers, forestry tractors, graders and other types of heavy equipment.
Morbark says the company manufactures three main lines of products: theDAH series, industrial mulcher attachments for excavators; the DAF series, attachments for skid steers and other dedicated carriers; and the EWF series, dedicated hydraulic power packs.
"The Denis Cimaf team and I are extremely excited to be joining the Morbark family," says Benjamin Denis, the newly appointed general manager of Denis Cimaf. "Denis Cimaf is a fantastic business with committed and passionate associates, a great track record and enormous global potential. Being part of the Morbark family will enable us to continue to grow the business farther and faster."
Dave Herr, chief executive officer of Morbark, commented, "Denis Cimaf's line of attachments are complementary to our current tree care and industrial product lines. In fact, Denis Cimaf mulcher heads have been an available option on our Rayco carriers for many years. The company's patented mulcher head design has enabled them to become the mulcher head attachment of choice among intensive vegetation control, land clearing, roadside transmission lines, pipeline maintenance and forest fire prevention contractors."
Belgard announces availability of Madria slab in Midwest
Belgard recently announced the availability of its latest product, Madria slab, in the Midwestern market.
The company says this product offers an ideal look for contemporary outdoor living spaces. Features include:
The look of wide wooden planks in a durable low-maintenance paver
Satura color technology, which provides natural woodgrain variegations and distinctive hues that are resistant to stains and fading
Satura coating adds value and allows homeowners to forgo sealing Madria slab for 10 years
Easy installation by means of concrete slabs with peerless dimensional precision, and the added option to be installed in an overlay application
Saunders Brothers introduces new concept in boxwoods
Saunders Brothers, Inc. says it will unveil a new generation of boxwood development and production with NewGen Boxwood at MANTS 2019.
The company says this new boxwood is a focused response to be used as a tool to address boxwood blight. Saunders Brothers says NewGen intends to raise the bar for boxwood to meet the changing dynamics of a new generation of the American garden and gardener.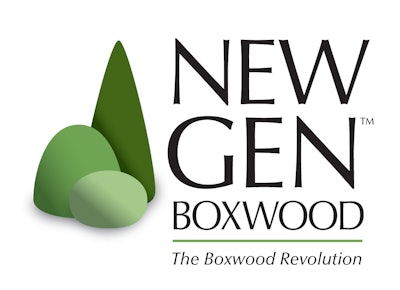 The company says the mission of NewGen is to be the standard bearer for a distinctively better family of boxwood that fulfills key promises of better tolerance of boxwood blight, better resistance to boxwood leafminer and the 'wow factor' in appearance.
"As the brand name implies, we believe NewGen Boxwood represents the future of boxwood – for Saunders Brothers and the industry as a whole," says Bennett Saunders, general manager of Saunders Genetics. "To meet the threat of rising pest and disease pressure, as well as maintain boxwood as the foundation of the landscape and garden, we felt we needed a new approach. We have focused our attention on new and improved genetics, more thorough testing methods and protocols, partnering with like-minded growers and establishing a distinguished brand identity."
NewGen will be previewed at this year's MANTS, and Saunders Brothers says it will devote 2019 to introducing the program to the industry and its customers and building production on the three initial NewGen selections scheduled for limited market availability in late 2019 and full availability in spring 2020.
At this time, the company says three NewGen licensees have signed on to grow and distribute the product line in 2020. They include: Overdevest Nurseries, New Jersey; Prides Corner Farms, Connecticut; and Willoway Nurseries, Ohio.