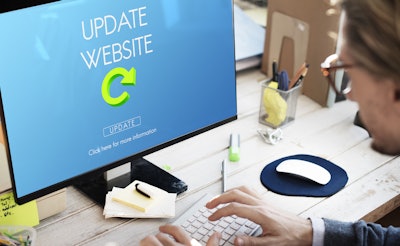 With the start of the new year comes the opportunity to revamp and update your landscaping company's website. Yesterday, we talked about the aesthetic side of the updating process; now, take a look at searchability and security aspects that accompany this kind of process.
Being found online
If your website isn't showing up in routine lawn care and landscaping searches, there's a problem.
If your website is going to become one that drives visitors and potential clients to it, you'll need to take time to make sure a few things are up and running alongside the site itself.
For sites that don't already have a tracking system installed, you'll miss out on a fair amount of data about local search traffic, as well as any issues Google might be having with your website.
According to Carl Sorensen, marketing director and web developer with Island Pro Mowing & Landscaping Inc. in Vancouver Island, British Columbia, verifying your website through Google Webmaster Tools can show you how many clicks and impressions your website generates in search results pages, as well as what keywords people are searching for.
By having this information at your fingertips, you'll have a variety of options at your disposal with your presence online.
If you find yourself wanting to keep crews busy in certain parts of your coverage area, Sorensen says building targeted pages on your website can help with that.
"Create a new page in your site for every city or town you service," he says. "Write a few paragraphs about the area, include a photo and list all the services you provide to property owners there. If somebody from that area is searching online for a service you offer, there is a very good chance they'll find that page."
The final technological tip Sorensen recommends is the use of backlinks and citations, which are sure to push your company further up on the pages of search results, but these don't always come easily.
Backlinks are when another website puts a clickable link on their website to yours, and a citation is when another website simply mentions your business name, address and phone number (your NAP).
When both are acquired, Sorensen says they will help your website rank higher in search engines.
"Some good backlink sources for a landscaping or lawn care company would be your local chamber of commerce or other professional organizations you are a member of," says Sorensen. "And don't overlook sponsoring a youth sport team or a local event, especially those that list their sponsors on their website. These local backlinks are hard to obtain but carry weight with search engines."
For citation sources, Sorensen recommends your local Better Business Bureau and websites such as Houzz, Yellow Pages, Yelp and more. The best part about citations, Sorensen says, is that most of them will be free, but they will take more time on the keyboard to enter in your data multiple times.
"Get active with your website now because it takes a few weeks for search engines to react to the changes you've made," says Sorensen. "Get your webmaster tools set up, add a few pages to cover your target service areas and try to acquire a few backlinks and citations. Your business will thank you."
Security
Along with making sure your landscaping company's website looks good and is bringing in an ample amount of traffic, it's important to remember that an emphasis should be placed on cyber security.
Your company has important information that needs to be kept safe, and if there's a cyber breach of that data, it could spell disaster for your company and customers.
According to the Federal Trade Commission, there are five key principles businesses need to base their data security plans on: take stock, scale down, lock it, pitch it and plan ahead.
Make a detailed inventory of the data your business collects, where it's stored and who on your staff has access to it. This will help you be able to identify potential risks.
Go through the information and decide what's important and what can go. Only keep sensitive customer information on file if you need it for the business. Other than that, only keep information that you see will be essential for you to operate your company.
Keep the information protected with a system that works best for whatever storage methods your landscaping company uses. Also, remember that encryption and email authentication can help you make sure only the intended recipients are able to view shared files over the internet. Having this authentication can also help you keep customers from falling prey to phishing scams.
Be sure to take a close look at the personal information of both customers and employees you have on hand, as important files and records are often targeted by thieves to commit fraud or identity theft. If you don't think you'll need it, go ahead and delete it.
Finally, train your employees on what the best practices are for keeping company data secure. Be sure that passwords are strong and complex, and teach employees how they can recognize security threats. The more educated they are on how to spot these threats, the more likely it is that you'll be able to notice and report suspicious activity.