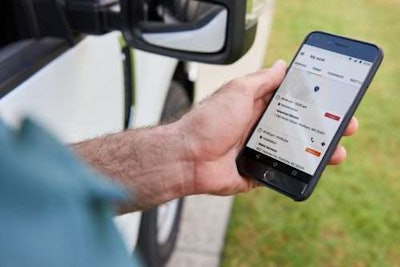 A recent consumer survey by Verizon Connect, a fleet management software company, showed where technology is headed for mobile contractors and service fleets such as professional landscapers.
The Verizon Connect Survey was conducted by Wakefield Research among 1,000 U.S. adults, ages 18 and older, between Nov. 5 and Nov. 8, 2018, using an email invitation and an online survey.
The survey looked at U.S. adults to reveal their biggest fears around needing service providers, as well as their expectations when they hire them.
Time is top of mind for consumers when it comes to service events, and 65 percent of respondents cited viewing their service provider's estimated time of arrival (ETA) as the most important feature on a service provider's mobile app. The survey also notes that 32 percent want to see their provider's live location on a map.
The survey says that consumers also listed notifications of job status (54 percent), viewing online billing (44 percent), rating and reviewing their service provider (41 percent), appointment rescheduling (34 percent) and the ability to make on-the-spot payments (30 percent) as important features of a service provider mobile app.
"In today's connected world, we have gotten used to instant gratification — we want live notifications from all our on-demand services — from food delivery to ride-sharing," says Jay Jaffin, chief marketing officer at Verizon Connect. "Our research revealed consumers are also holding service providers to similar standards."
Verizon Connect says it offers a full suite of fleet and mobile workforce management software for commercial customers of any size.
As a user of Verizon Connect's services, TruGreen announced in September 2018 that it was working with Glympse to deliver an ETA and more information to its residential and business customers.
TruGreen says when customers use the company's app or any mobile device, they will receive a unique link via SMS text, email or mobile app notifications that will allow them to view the latest service timing information provided by Glympse, and TruGreen customers will also be able to reschedule their appointments if the need arises.
To make all of this possible, Glympse says its real-time location technology has been integrated with the Verizon Connect field service software platform that TruGreen uses to plan, deliver and execute its customer routes, track customer jobs and monitor driver safety.
TruGreen says it uses the technology from Verizon Connect to optimize more than 100 thousand jobs to customers' homes and businesses daily by using its fleet of more than 7,000 vehicles.
The company says these optimized routes put driver technicians at customer locations with the right size of trucks — where the hose is located — facing lawns for service.
Once a TruGreen service specialist is en route to an appointment, the customer will be able to see the location of the specialist on a live map with the ETA down to the minute.
"Many of our customers want to know when their specialist will arrive so they can be home or be sure that pets are secure and gates are unlocked, so it's critical that we are able to share updates and ETAs," says Ken DeWitt, chief information officer at TruGreen. "By integrating Glympse into the Verizon Connect field service platform, TruGreen is able to streamline communication to customers to create a more personalized consumer experience."
TruGreen has also integrated Glympse with its customer service system, he says, so that representatives can better answer customer inquiries.
"Plans are also underway to integrate with TruGreen's IVR (interactive voice response) self-service system, allowing for a truly omni-channel experience," DeWitt adds.
EDITOR'S NOTE: Aaron Huff is the Senior Editor of Commercial Carrier Journal (CCJ), another Randall-Reilly publication.