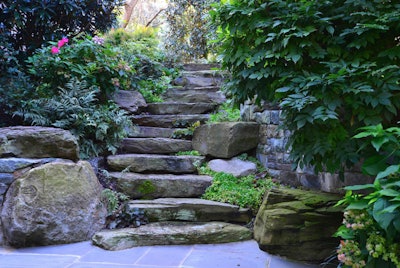 Houzz, Inc., the home renovation and design platform, recently announced its community's picks for Best of Houzz 2019.
"Best of Houzz is a true badge of honor as it is awarded by our community of homeowners, those who are hiring design, remodeling and other home improvement professionals for their projects," says Liza Hausman, vice president of industry marketing for Houzz. "We are excited to celebrate the 2019 winners chosen by our community as their favorites for home design and customer experience, and to highlight those winners on the Houzz website and app."
The badge is awarded in three categories: design, customer service and photography. Design awards honor professionals whose work was the most popular among the more than 40 million monthly users of Houzz.
Service awards are based on several factors, including a pro's overall rating on Houzz and client reviews submitted in 2018. Architecture and interior design photographers whose images were most popular are recognized with the photography award.
The winners' profiles will feature the 2019 badge to help homeowners identify top-rated professionals on Houzz.
Below are the landscaping professionals who won in the design category.
Greenhaven Landscapes Inc. based in Lake Bluff, Illinois
C&H Landscaping based in Lakewood Colorado
Studio H Landscape Architecture based in Newport Beach, California
Just in Thyme Landscape Design based in Cupertino, California
Randy Thueme Design Inc. – Landscape Architecture based in San Francisco, California
Capitol Hardscapes based in Bethesda, Maryland
Holder Design Associates based in Kentfield, California
Stepstone, Inc. based in Los Angeles, California
CG&S Design-Build based in Austin, Texas
Gorski Landscaping based in Buffalo, New York
NALP names 2019 Woman Entrepreneur of the Year
The National Association of Landscape Professionals (NALP) has named H. Jaclyn Ishimaru-Gachina as the 2019 Woman Entrepreneur of the Year.
The award recognizes a member who has demonstrated entrepreneurial spirit, advanced the landscape industry through their actions and serves as an example to current and future female entrepreneurs.
Ishimaru-Gachina is the president and co-founder of Gachina Landscape Management, based in Menlo Park, California. She took on the role of president and CEO after the passing of her husband, John Gachina in Dec. 2015. In 2018, Gachina Landscape was certified by the Women's Business Enterprise (WBE) Pacific Region and is also a minority-owned business.
The company says its strength comes from its diversity as 91 percent of the employees are a minority and the organization represents cultures from over 10 different countries.
Gachina Landscape has grown from three employees to a staff of over 450 people. Ishimaru-Gachina actively oversees the day-to-day operations. Her initial mission was to honor John's legacy by leading the company and not selling.
She continues to support his vision for sustainability, water management, farm-to-table, client satisfaction and valuing employees through continuous improvement. The company will celebrate its 31st anniversary in July.
Ishimaru-Gachina supports multiple community outreach programs throughout the year with volunteers, landscape materials and cash donations. Her company was named in the top 25 woman and minority-owned companies by the San Francisco Business Times the past three years.
Ishimaru-Gachina is the 5th recipient of this award as it was established in 2015. The award will be presented during LANDSCAPES 2019 in Louisville, Kentucky in October.
"Creating a work environment that promotes diversity, that couples the "The Gachina Way" – respect, courtesy and professionalism, has allowed women to thrive within our organization," Ishimaru-Gachina says. "It is very inspiring to see so many women at the National Collegiate Landscape Competition, who have chosen the landscape industry. When interviewing female candidates, I am encouraged by their greater numbers. These women are self-confident, knowledgeable, driven and prepare/inspired to make an impact. We encourage them to intern with us and after graduation join our team. The fact that 45 percent of the senior management team is female speaks volumes."
Project EverGreen works with STMA to renovate Lindo Park
Project EverGreen, the Sports Turf Managers Association (STMA), the city of Phoenix Parks and Recreation Department, local businesses and residents joined forces on Jan. 21 to work on the half-a-century old Lindo Park in South Phoenix, Arizona.
The volunteers worked together to create a proper ball field for the 22-acre park. The project has an estimated value of more than $50,000. STMA had more than 100 sport turf managers on site for the project.
"We were thrilled to be part of this important project and bring a well-managed and playable ballpark to a deserving community," says Kim Heck, CAE, CEO of STMA. "To use our professional expertise and know-how and bring a plan like this to life is a win-win for everyone."
Lawn care professionals, landscape contractors, sports field managers and more worked on surveying the field to determine proposed elevations for the playing surface, laying out grass edges along 1st and 3rd base lines and re-inspecting the irrigation system for proper coverage.
Other tasks included fertilizing and silting seed for 60,000 square feet of outfield turf, rebuilding the pitcher's mound, installing a new home plate, and grading the infield surface.
"Neighborhoods deserve a healthy park or community green space that they can call their own," says Cindy Code, executive director of Project EverGreen. "Thriving parks create a community hub for neighbors – young and old – to connect and helps to instill pride in their community and confidence in area residents and creates a place for adults and youth to exercise and have fun."
Project EverGreen has renovated more than 32 community parks since 2006. The city of Phoenix Parks and Recreation Department and community leader Muriel Smith nominated the park for a new ball field.
"This is an exciting project for the community," says Councilwoman Felicita Mendoza, who represents District 8 where the park is located. "We're grateful that Lindo Park was selected by Project EverGreen and for the volunteer service and financial support of STMA and local businesses to make it possible. The new ballpark will enhance the recreation center and other amenity upgrades made to the park in recent years."
Advanced Turf Solutions names new CEO
Green industry supplier Advanced Turf Solutions has promoted its co-founder and former president Victor Garcia to Chief Executive Officer.
Alex Cannon, co-founder, has stepped down from his role as CEO but will continue to serve as chairman on the board of directors. Vice president Scott Brame has been promoted to president.
"I am honored to have served as the CEO of Advanced Turf Solutions," say Cannon. "I am proud of the success we have achieved as an independent and employee-owned company, and I am exceptionally proud of the service we continue to provide to the golf, lawn and landscape, and sports turf markets. After spending 43 years in the turf industry, I feel it is the right time to step back and make room for new leadership. The board and I are confident that Vic is the right leader for our future."
In addition to his role as chairman of the board, Cannon will continue to be involved in the business by focusing on new business opportunities and being a resource to the management team.
Garcia has been an integral part of the leadership team from the beginning. He was previously vice president for the company and became president in 2013.
Brame is a 30-year turf industry veteran and is a second-generation golf course superintendent. He joined Advanced Turf Solutions in 2006.
STMA names 2019 board of director members
The Sports Turf Managers Association announced its 2019 Board of Directors. STMA conducts its annual elections electronically in late November and the board officially takes office during the Conference & Exhibition each January.
Jody Gill, certified sports field manager (CSFM) and grounds coordinator at Blue Valley School District in Overland Park, Kansas, has been elected president. Gill will serve a one-year term.
"Throughout my professional career, STMA has always supported my pursuit of knowledge and growth in the sports turf industry," Gill says. "It is a privilege to contribute to our organization's continual growth and collaborate with colleagues to elevate the importance of maintaining safe playing fields globally."
Other STMA officers elected to the board include:
Immediate past president – Sarah Martin, certified sports field manager (CSFM) and foreman I and turf manager, Reach 11 Sports Complex for the City of Phoenix, Arizona
President-elect – Jimmy Simpson, CSFM, facilities management coordinator, Town of Cary (Cary, North, Carolina)
Commercial vice president – Boyd Montgomery, CSFM, certified sales executive (CSE), regional business manager, The Toro Company (Minneapolis, Minnesota)
Secretary / treasurer – Nick McKenna, CSFM, assistant athletic field maintenance manager, Texas A&M (College Station, Texas)
The director fulfilling a second-year term is:
Academic director – Jason Kruse, Ph.D., University of Florida (Gainesville, Florida)
Parks and recreation director – James Bergdoll, CSFM, director of park maintenance, City of Chattanooga Public Works (Chattanooga, Tennessee)
Members elected to director positions include:
Professional facilities director – Stephen Lord, CSFM, head groundskeeper, Cincinnati Reds (Cincinnati, Ohio)
Commercial director – Jeremy Bohonko, national sports field specialist, Ewing Irrigation and Landscape Supply (North Charlotte, North Carolina)
At-Large elected director – Clark Cox, CSFM, assistant athletics director of sports turf and landscaping, University of South Carolina (Columbia, South Carolina)
Members appointed to director positions include:
K-12 Director – Jeremy Driscoll, grounds supervisor, St. Marks High School (Wilmington, Delaware)
Higher education director – Joshua Koss, CSFM, landscape services manager, San Diego State University (San Diego, California)
At-Large appointed director – Sun Roesslein, CSFM, NAAC stadium manager, Jeffco Schools (Golden, Colorado)
Next year's conference will be held in West Palm Beach, Florida, Jan. 14-17, 2020. The following year's conference will be held in Savannah, Georgia, Jan. 19-22, 2021.
ASV names 2018 dealer award winners
ASV Holdings, Inc. has listed its 2018 dealer award winners. The awards recognize top-performing and loyal members of its group of dealers at the annual meeting.
Ontario-bases Regional Tractor Sales as was named the 2018 Dealer of the Year thanks to its exceptional sales, performance and loyalty. The dealership has been selling the ASV line since 2005.
CSTK of Kansas and Missouri won the Rookie of the Year award. ASV says this dealer went above and beyond expectations in its market, developed a marketing strategy that drove sales and brand name awareness.
"ASV is only as good as our dealer network and we depend on every single dealer," says Justin Rupar, ASV vice president of sales and marketing. "We are proud to show our appreciation for these loyal dealers promoting the ASV brand promise in every aspect of their business."
The brand also recognized 20-year dealers such as Alberta-based Barda Equipment and Wisconsin-based Duffy's Sales & Rentals.