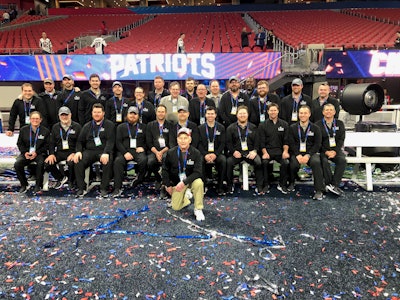 One lucky turfgrass student recently had the chance to participate in the Toro Company's 2019 Super Bowl Turf Training Program in Atlanta, Georgia.
This year, Wilson Morgan, junior in the College of Agriculture at Auburn University in Auburn, Alabama, was chosen to work alongside the Super Bowl grounds keeping crew and see just what goes into preparing the fields for this extravagant event.
"This (trip was) all because of the Toro Company and the opportunity they have set aside for these lucky students each year," Morgan says. "Without Toro, there was no chance that an undergrad would get to work for the Super Bowl. I'm just extremely blessed for getting this opportunity and getting to meet those people."
As a high school student, Morgan says he first began learning about the green industry during a greenhouse management class. It was in this class where he first read an article regarding field experts in a magazine from the Sports Turf Management Association (STMA).
"I saw all the equipment that was being used to manage turfgrass and how advanced they were, so I realized that if people are using these types of machines, it must be a pretty significant industry," Morgan said.
With his interest piqued, Morgan began researching collegiate routes for turfgrass management. As an avid Auburn Tigers football fan, he was thrilled to find that Auburn University offered degrees in this green industry area.
Once a freshman at Auburn, Morgan began connecting with fellow students involved with the grounds keeping crew for Jordan-Hare Stadium, which ultimately led him to accepting a summer position with them later that year.
In the summer of 2018, Morgan was also offered the opportunity to work alongside the grounds crew for the Miami Dolphins in Miami, Florida. It was during this time that he was first introduced to the idea of submitting an application for Toro's Super Bowl Turf Training Program.
Morgan says he submitted his application in September and was notified in November that he had been chosen.
"We knew Wilson would be an excellent choice for this opportunity to work alongside some of the greats in turf management," says Boyd Montgomery, regional business manager, commercial products division at Toro. "His passion for his craft and his willingness to learn made him the ideal candidate. Wilson would take on any task that was asked of him, and he always did it with a smile."
Morgan says during his trip, he was able to assist the grounds crew with field preparation for both the main stadium and the practice facilities for each team. The first task he had when arriving was to prepare the Georgia Tech practice facility for the Patriots.
The next few days of his visit included working around the array of rehearsals taking place, continually testing the firmness of the field, addressing any inconsistencies they found in the turf and keeping the areas clear of trash. Once rehearsals wrapped up on the Saturday before the game, Morgan says the process of painting the field began and he began taking in the full spectacle of the event.
On the day of the game, Morgan says his reaction to seeing the full stadium resembled that of when he first stepped foot into Jordan-Hare Stadium.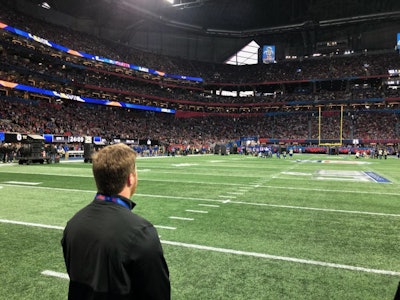 "Being on the ground level, looking up and seeing a whole new stadium, that's always awesome," he says. "But once we started working, it was all very familiar. All week, we were in this flow of work that was flawless and seamless, and it all just felt normal until the pre-game started. Then, seeing those two teams walk out, that's when it really sank in that I was at the Super Bowl."
Morgan says the experience as a whole was one he will never forget, but the best part for him was the fellow grounds crew members he had the chance to work with and learn from.
"Wilson has an incredibly positive attitude and was a true asset as we worked to prep the field for the big game," says Montgomery. "We truly hope this experience helped to shape his — what we believe to be — very bright future in the turf care industry. Simply put, Wilson is going to go far in this industry. His commitment to the task at hand coupled with his positive attitude was truly inspiring during the preparations leading up to the big game."
After graduation, Morgan says he plans to pursue a career in turfgrass management, but he's not quite set on which avenue he plans to go down just yet. Along with his experience with college football and NFL field preparation, he will have the opportunity this summer to travel to Philadelphia to work with the Phillies in the world of MLB.
"These past three years working for Auburn have been some of the best years of my life," he says. "I've really enjoyed the collegiate level and I loved working for the NFL. And after this summer, I'll have a little taste of those big three that I'm really considering, and then I'll be able to narrow that down when it comes time to start applying for things."
While Morgan says he was blessed to be introduced to the green industry at a younger age, he has found that more and more middle, high school and college students continue to go uneducated on the fact that the green industry can offer thriving career paths.
"I think if it could grow at the high school level and get people thinking early on that this would be a possible job or career, that would help," he says.
Communicating these career paths to younger students, he says, should be a top priority in the green industry, but he also adds that it's important to let them know upfront that it is an industry that involves hard work and dedication.
"We'll say, 'this isn't for everybody,' but I love it," he says. "I wouldn't say it deters you from advertising your career, but when you talk to people about jobs they want to do, this is kind of untraditional. And you know you love it but you know it's really hard work, and you just don't know if the person you're trying to sell this industry to is going to love it as much as you do."