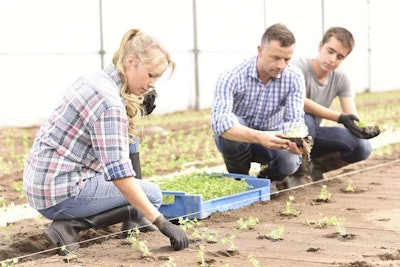 At the National Association of Landscape Professional's (NALP) recent Workforce Summit held in Alexandria, Virginia, it was announced that NALP had launched their Landscape Management Apprenticeship Program.
According to Missy Henriksen, vice president of public affairs for NALP, their partnership with the United States Department of Labor (DOL) allows this program to be a registered apprenticeship program that provides formalized, prescriptive training.
"One of the greatest things with the Apprenticeship Program is that it moves our industry from being considered an unskilled trade to a skilled trade," Henriksen says. "That DOL designation makes this considered in the government's mind a skilled profession."
The ins and outs
Since the program is a landscape management apprenticeship program, Henriksen says it will cover the 17 competencies of landscape management and maintenance. A full list of those competencies and more information can be found in the Landscape Management Apprenticeship Program Handbook.
The program also provides a nationally occupied credential, which means if the apprenticeship is completed in one state and the apprentice later moves to another state, the certification from this program will still be recognized.
NALP has also applied for college credit for those who've completed the program, and if it is approved, those who successfully complete the program should be eligible for college credit at 300 schools across the country.
While this might not necessarily be what solves the current nationwide labor crisis, Henriksen does see it as a silver bullet to the industry.
"Everybody going through the program will be offering a similar type of educational experience for every man and every woman that goes through the program because this leads to a national credential," says Henriksen. "You are providing the structured, on-the-job training. You don't need to worry that you are teaching one specific way. You are training your company's way in the 17 competency areas."
Through this program, apprentices must complete 2,000 hours of on-the-job learning and 144 hours of related instruction in classroom or classroom-style instruction. Henriksen adds that there is an online training portal NALP offers that will fulfill the requirements for the 144 hours. All program hours can be done simultaneously; the on-the-job hours do not have to be completed before the classroom hours and vice versa.
The classroom-style instruction covers three main areas of the program: landscape maintenance, landscape installation and irrigation. NALP says you do not have to use their online program if you plan to partner with local technical schools or colleges that offer the same curriculum, but said curriculum must be approved by NALP to ensure it meets the necessary requirements.
Training must be offered under a company-provided mentor in each competency area, and if there are areas of the 17 competencies that your company doesn't offer, Henriksen recommends partnering with colleagues in your area who can do training swaps. All 17 areas must be accounted for in order to complete the program.
Rewards will also be offered to apprentices for skills that are gained during their time in the program.
"As the apprentice's competency and knowledge increases, the individual will receive compensation increase," says Henriksen. "In fact, they are required to receive that increase at least six months into their apprenticeship program."
Who can be an apprentice?
Henriksen says that the qualifications for enrolling in the apprenticeship program are similar to those typically set by landscaping companies hiring apprentices or interns.
Participants must be 16 years or older, they must be eligible to work in the United States and they must have completed high school or have a GED. Applicants should submit their official high school transcripts, GED or HSED certificate to NALP. If you are working with high school seniors who haven't graduated yet, they will not be officially recognized in the apprenticeship field until NALP is provided with proof of graduation.
Along with these guidelines, NALP says all apprentices must also meet the individual qualifications required by their employers, such as passing substance abuse policies set by the company, and apprentices must be able to physically perform the duties of a landscaper to be eligible for the apprenticeship.
Silver bullet
With the landscaping industry now being recognized as a skilled trade, Henriksen says the industry as a whole will get more attention from teachers and guidance counselors.
"We've started to check the boxes that are so important to these guidance counselors," she says. "It automatically puts us in that reputable, recommended path."
Henriksen says that of the companies who have already participated in apprenticeship programs, the resounding opinion was that they are extremely valuable when looking at retention rates.
Having apprenticeships in place, Henriksen says, will greatly reduce your company's turnover rate because the employees are feeling more valued. When a company invests in the education of their employees, their loyalty is strengthened from that kind of individual investment.
Participating in the program, Henriksen says, creates more highly skilled employees while also offering a recruiting advantage. She adds that it also allows the green industry to compete with other industries with apprenticeship programs that are recruiting eligible workers.
"We're showing people that this isn't just an industry where people 'cut grass' all day," she says. "This is an industry where you really need to learn a lot in order to work your way through the profession."
Financials
For members of NALP, there is a one-time enrollment fee of $500 to participate in the program. For non-members, that cost is $1,000.
For each apprentice a company chooses to put through the program, NALP members will pay $100 per person, and non-members will pay $200 per person.
If your company does choose to utilize the optional online training courses provided by NALP, the cost for all three would be $737 for NALP members and $921 for non-members.
NALP fully expects all apprentices to complete the program in a year, but sometimes it can take a little longer. If an apprentice is in the program for longer than two years, there will be a $50 carryover fee.
According to Henriksen, there are millions of dollars available for apprenticeships, and in some states across the country, the fees for this program can be paid or subsidized by your state.