After having another record-breaking trade show, GIE+EXPO has announced its 2019 show will have extended hours and more educational opportunities.
The trade show will be held Oct. 16-18, 2019, at the Kentucky Exposition Center in Louisville, Kentucky. Last year, GIE+EXPO allowed contractors an extra day on the floor with traditional Dealer Day, now opening up to the entire industry starting at 3 p.m. while dealers, retailers and media could preview the show floor from 12 to 3 p.m. on Wednesday.
Now the indoor show floor will be open an hour earlier for dealers, retailers and the media on Wednesday, Oct. 16, running from 11 a.m. to 3 p.m.
The indoor exhibits will open to the entire industry at 3 p.m. on Wednesday and run until 7 p.m. On Thursday, Oct. 17 the show will be open from 9 a.m. to 5 p.m. On Friday, Oct. 18, the show will be open starting at 8 a.m. The outdoor demo area will be open until 1 p.m. and the indoor exhibits will be open until 2 p.m.
GIE+EXPO is also offering two new educational opportunities during the show. The Irrigation Association will host "Secrets of a Successful Irrigation Business," which will have a panel discussion of irrigation contractors, landscape professionals and manufacturers. The National Association of Landscape Professionals will present a session on snow and ice management.
These workshops will run simultaneously from 12:30 to 1:45 p.m. right before the opening keynote. The cost to register for one is $85.
"The Irrigation Association is excited to be a more formal participant in GIE+EXPO's education program this year," say Deborah Hamlin, Irrigation Association CEO. "Someone said to me recently, 'There are probably more landscapers out there dabbling in irrigation than there are irrigation contractors.' Most landscapers come into contact with irrigation systems, whether they are responsible for them or not. We would like anyone touching an irrigation system to do it right. Water is a precious resource and we can't be wasting it with broken or poorly maintained systems."
On Friday, there will also be special presentation held by industry economist Brian Beaulieu. He will discuss the state of the economy and OPE industry. This session is set for 9:30 a.m. and is open to all attendees as part of their registration.
"GIE+EXPO is the place to be if you're in this business and our new 'economy keynote session' is another example of the type of business education that attendees can get here at the show," says Kris Kiser, managing partner of GIE+EXPO and OPEI president. "Brian is an expert in delivering econometric and industry data in a way that everyone can understand and is designed to help attendees develop better business plans based on sound economics."
PERC's redesigned website provides a tailored experience for landscape professionals
The Propane Education & Research Council (PERC) has recently created a new look for its website to highlight all that propane can do, including how propane equipment can help landscape contractors.
Propane.com was redesigned from scratch in part to help landscapers and turf professionals who are interested in learning more about propane fleets find all the information they need to know with ease.
"With the new propane.com, landscape professionals are able to find all the information they need about propane's substantial cost savings, reduced emissions and increased productivity – all of which will help their business thrive," say Jeremy Wishart, PERC director of off-road business development. "The site has even more educational content than before, plus it's all presented in a way that makes it much more intuitive and approachable for those in the landscape industry interested in transitioning to propane-powered mowers."
Some of these resources include case studies, video testimonies, fact sheets and information about the Propane Mower Incentive Program.
Project EverGreen's "Our Winning Green Space" contest is now open
Project EverGreen along with Exmark, the Sports Turf Managers Association (STMA) and The Foundation for Safer Athletic Fields for Everyone (SAFE) are teaming up for the third annual "Our Winning Green Space" contest.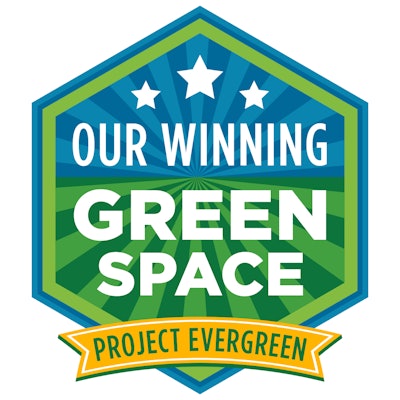 Municipal parks and recreation departments, public works departments and non-profit agencies may enter the contest for a chance to win an Exmark commercial mower package, including Lazer Z X-Series zero-turn and Commercial 30 walk-behind mowers, all valued at $15,000, as well as a "Healthy Turf. Healthy Kids." park renovation.
Those who wish to enter must write an essay and include photos as to why the city deserves the new equipment and renovated green space. Entries must explain how the prize will benefit the community by providing a healthier, safer place for children to play.
Entries can be submitted from now until April 26, 2019. Click here to enter.
"Project EverGreen is thrilled to partner with Exmark and STMA on this opportunity to raise awareness of our 'Healthy Turf. Healthy Kids.' Program and the importance of safe, natural grass play fields for kids," says Cindy Code, Project EverGreen executive director. "It's also a fun opportunity for cities to share their story and compete for a field make-over."
Previous winners include the In Memory of Community Garden and the Warrendale Community Organization based in Detroit, Michigan, in 2017 and the Parks and Recreation Department in Clinton, North Carolina, in 2018.
Bayer establishes new Western sales region
The Turf and Ornamentals (T&O) business of Bayer, within the Crop Science division, has realigned its sales team, creating a new Western sales region.
This reorganization is part of Bayer's efforts to better meet the needs of its turf management customers across the United States. Doug McCullen has been promoted to Western Regional Sales Manager for the newly established region, which will serve customers from California through West Texas and up into Wisconsin.
"In our quickly evolving green industry, turf management professionals need more customized, regional recommendations than ever before," says Will MacMurdo, head of the Bayer U.S. Turf and Ornamentals business. "With this natural realignment of our sales team, we have refined the conventional split between cool-season and warm-season turfgrass regions to introduce this new Western region and ultimately sharpen our focus on the unique needs of our customers in each region of the country."
Prior to his new role, McCullen was an area sales manager who helped customers in the Pacific Northwest region. He also has 20 years of experience as a distributor sales representative and a golf course superintendent.
"Having walked in the shoes of our customers for many years, I know all too well the unique needs and countless challenges turf managers face in the Western states," McCullen says. "In this new role, I look forward to leading our Western regional sales team in delivering the more tailored regional support our customers deserve.
Mike Ruizzo will continue to serve warm-season turf Bayer customers as Southern regional sales manager and Eric Lentz will server cool-season turf customers as Northern regional sales manager. This realignment does not impacts sales teams in production ornamentals.