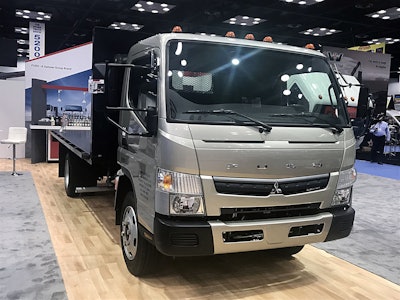 Fuso at the Work Truck Show in Indianapolis on Wednesday debuted its new FE180 gasoline-powered truck.
The first Class 5 gasoline cabover on the market – and part of the Fuso FE GAS Series that debuted last year – is exclusive to the North American market.
It is powered by General Motors' 6-liter V8 engine, featuring a power output of 297 hp and 361 lb.-ft. of torque.
"The gasoline truck is the new standard for our medium duty market," says Bill Lyons, Fuso vice president of sales and operations.
Lyons notes users of medium duty trucks are not truck drivers by trade and often are turned off by the complexity of diesel powertrains.
"They're landscapers, plumbers and electricians," he says. "They want more simplified solutions. You don't have the SCR … and those type of things."
"Customers want gasoline," adds Fuso Truck of America President and CEO Justin Palmer, who notes many other medium duty OEMs have also begun to incorporate gas engines into their lineups.
"Gasoline is gaining [medium duty] market share every year," Lyons adds.
Fuso's GM engine is matched to a commercial-grade, PTO capable Allison 1000 Series transmission. The powertrain includes Allison's FuelSense 2.0 with DynActive shifting, which can deliver up between 2 and 6 percent improvement in fuel economy.
The Gaffney, S.C.-assembled FE180 GAS was designed with larger 19.5-inch tires versus the standard 17.5-inch found in international markets, which allows for more parts commonality for larger fleet customers.
The truck, expected to hit dealership lots by year's end, features an estimated payload capacity of 11,185 pounds.
EDITOR'S NOTE: Jason Cannon is the equipment editor for Commercial Carrier Journal and Overdrive. Reach him at [email protected].