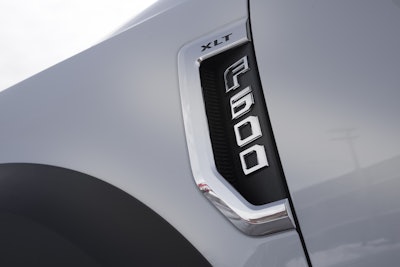 Ford is introducing a new "tweener" model aimed at commercial customers who find themselves needing more payload than what an F-550 can provide, but don't need the full capability of the F-650 model.
The all-new F-600 chassis cab, which made its debut at the Work Truck Show in Indianapolis Tuesday night, features a Class 6 maximum GVWR of 22,000 pounds in a Class 5 Super Duty package, hitting what super duty chief engineer Michael Pruitt calls the "sweet spot in capability."
"2019 is a really, really big year for us because we're beginning to introduce lots of new product," says Ford North America president Kumar Galhotra, noting that Ford will have replaced 75 percent of its product portfolio by the end of 2020.
Ford's latest all-new big truck for the 2021 model year signals somewhat of rebirth of an F-Series original.
With a gross vehicle weight rating between 14,000 and 16,000 pounds, the two-ton F-6 was part of the original lineup in 1948. Later badged F-600, it wasn't included in the Super Duty product line when it debuted for the 1999 model year as production wound down on the large truck a year earlier.
While the new F-600 is the same size as an F-550, it uses upgraded driveline and chassis components, as well as higher-weight-rated 19.5-inch tires and wheels, to achieve a higher GVWR. It will be available with a choice of gasoline or a diesel powertrain – Ford's new 7.3-liter gas V8 or a third-generation 6.7-liter Power Stroke diesel – and in 4×2 or 4×4 drivetrains.
While Ford has yet to release power ratings for its all-new 445 cubic inch, 7.3-liter V8 gasoline engine, which was announced last month for F-Series Super Duty pickups, the company says it generates more torque and power than the 6.8-liter V10 engine it replaces. Ratings for the third-generation 6.7-liter Power Stroke diesel are also not yet available.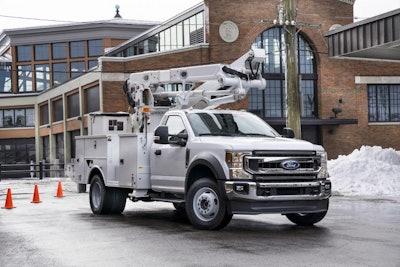 An all-new 10- speed TorqShift automatic transmission is available across all engine offerings with available live-drive power takeoff provision with up to 300 lb.-ft. of torque. Ford transmission systems manager Greg Stout says the new 10-speed is fundamentally similar to the 10-speed that debuted on F-150 last year but according to the manager.
"It shares the same architecture and power flow – the same number of clutches and the same number of planetary gears – but the parts are bigger, beefier, stronger, just to match the engine capability," Stout says. "This transmission actually has fewer than 10 percent parts in common with the F-150 transmission. And those are things that don't carry any torque because this transmission was designed to specifically complement the new [engines]. This obviously has a lot higher torque requirements and customer duty cycle requirements than our F-150."
F-600 can be ordered early next year and will be available mid-2020.
All Ford commercial vehicle product lines are updated with standard modems with 4G LTE Wi-Fi for up to 10 devices to help keep drivers and crews connected while on the job or on the road. New Ford Telematics and Ford Data Services are available across the lineup, enabling fleet managers to enhance uptime and asset utilization, optimize running costs, improve driver behavior and protect their fleets using Ford OEM-grade telematics software, integrating with the company's existing telematics service provider or taking vehicle data directly into their own IT systems.
Ford is also offering updates to its heaviest models, the Class 6-7 medium duty F-650 and F-750. These trucks will come equipped with either the new 7.3-liter gas engine or updated 6.7-liter Power Stroke V8.
An updated instrument panel includes a new steering column, wheel and cluster, while new standard AM/FM stereo radio with Bluetooth functionality and USB ports makes getting in the cab and driving the new F-650 or F-750 as familiar as driving a Super Duty pickup.
Production of model year 2021 F-650 and F-750 begins early January 2020.