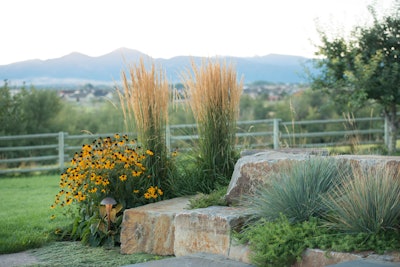 Blanchford Landscape Group
Ornamental grasses have become a popular commodity for customers over the past few years, as they can fit well in almost any type of garden theme.
Ornamental grasses are an excellent choice for the landscape because there are so many different varieties, colors, and sizes, says Mary Dresser, RLA, ASLA, Registered Landscape Architect with Earth, Turf, & Wood, Inc., in Denver, Pennsylvania. They also tend to be deer resistant which can be a plus in certain areas of the country where deer are a problem.
Having ornamental grasses present can also add movement, height, depth, and long-season color.
Carrie Rule, a landscape designer with Blanchford Landscape Group in Bozeman, Montana says that ornamental grasses can be a nice addition to plant beds as a backdrop to smaller plants. They can also work well around a patio and even provide some privacy screening.
Dresser agrees.
"Depending upon placement, they can also be used as a privacy screen," she adds. "We often use ornamental grasses around pool areas for this very purpose. It's nice that most ornamental grasses are very easy to care for and require limited maintenance."
Dresser says she'll also use ornamental grasses as a border between spaces in plant beds.
Cutting back
When it comes to warm-season ornamental grasses, it's best to cut them back in the fall or by mid to late spring.
Warm-season grasses will turn brown when the temperatures get cold, and once this has occurred, it's safe to trim them back at pretty much any time.
For landscapers working in fire-prone areas, cutting back this brown grass to just a few inches tall can help cut down on potential fire fodder, as well as give your customers a cleaner and tidier look in their yard.
If you aren't located in an area prone to fires, unless your customers specifically ask you to take down the height of the grass, it can be left alone with the seed heads to give the landscape a bit of a filled-in look in the winter months.
If you do leave the trimming until spring, it's recommended that you make sure to cut the grasses back to the ground by late spring before new growth has time to start.
While some varieties of ornamental grass can look good during winter, that's not the case with each one, so use your discretion when choosing which you should and shouldn't cut back for winter.
According to Rule, if you live in a snow-prone area, ornamental grasses can really get matted down with snow and start to look unattractive. The individual grass blades can also break off and blow around in the landscape or make your plant beds look messy.
"Sometimes cutting back grasses is just a smart choice to help maintain a neat and tidy landscape," she adds.
Even as the weather gets cooler, cool-season grasses will still typically look good. Leave the foliage intact until spring and as soon as any snow or ice clears out, cut the grasses back then. At this time, leave about 1/3 of the plant behind, as trimming this type of grass too aggressively can harm the plant irreparably.
Ornamental grass care
According to Rule, ornamental grasses typically require limited care, especially if you choose native grass material that is already found in your area. These are commonly low-maintenance options and tend to be drought-tolerant and require little to no fertilization.
In fact, Rule says that she tends to avoid fertilizing as certain ornamental grass types can get so large that they become problematic. When ornamental grasses grow too big, they may need to be cut. Rule recommends clumping some out and discarding it.
"Karl Foerster, in particular, tends to grow very large and can really take over an entire area if not maintained," she says. "When this happens you can start to see dieback in the center which is not very attractive."
Ornamental grasses can also be divided and regrown in other areas of the property if desired.