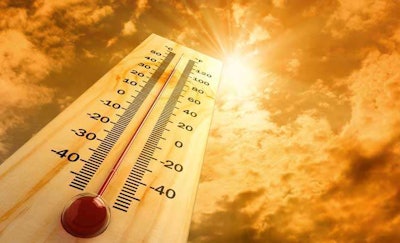 While landscaping may have many advantages over a typical desk job, being required to brave the elements isn't one of them. Often, landscapers must perform grueling work in extreme heat or endure subzero temperatures for hours on end. Although most landscape workers take precautions by wearing extreme weather gear and taking regular breaks, others have pushed themselves to dangerous points.
In one notable instance, a landscape mowing assistant died while working on residential lawns due to heatstroke. To protect your landscaping team from the elements and maximize their productivity, it's essential that your employees have the proper gear. From scorching hot summers to freezing winters and everything in between, here is how to outfit your team for extreme weather.
Extreme heat gear for landscape workers
According to the Centers for Disease Control and Prevention (CDC), hundreds of people die from heat-related illness each year. Just because your workers are young and healthy doesn't mean that they can't succumb to heat illness as well. To protect workers from sunburn and heat illness, it's important for your workers to wear gear that wicks away moisture and protects their skin from UV rays. Here are a few must-have clothing items that your landscaping team needs to stay safe in the heat and humidity.
Headwear—Even with a full head of hair, you can still get sunburned on the scalp. To block the sun's UV rays, make sure that you outfit your employees with UV-blocking hats to protect their scalp. Although many landscapers opt for a simple ball cap, the best landscaping hat for hot weather is a wide-brimmed hat that covers the back of the neck.
Neckwear—If you opt for a regular hat, offer your employees neck protection with a neck shade. A neck shade can be worn underneath regular hats and hardhats to keep the neck cool while protecting from sunburn. Note that hard hats are required by OSHA in instances where flying debris could potentially injure workers.
High-performance blend shirt—When temperatures soar into the 90s, no ordinary cotton t-shirt is going to do. Your landscaping team needs breathable clothing that works as hard as they do. Outfit them in moisture-wicking t-shirts made from high-performance synthetic blends to help them stay cool and dry while they work.
High-performance blend pants—Similar to performance blend t-shirts, high-performance pants are designed to repel moisture and heat without sacrificing durability. Don't forget to look for stretchy, durable fabrics, such as a polyester blend, that are designed to move with your team.
Landscape workers may be required to wear other gear such as vests or other forms of personal protective equipment (PPE). When shopping for these items, pay close attention to the fabrics. Some fabrics may add more insulation that could increase their risk of heat illness. You can also purchase vests and other garments with ice-pack pockets. These garments help workers combat the heat by storing ice close to the body, effectively lowering their body temperature.
Cold-weather gear for landscape workers
Winter poses significant challenges for landscape workers. Landscapers who offer snow removal and other cold-season services must take care to outfit their employees in cold-weather clothing that is designed to keep them insulated and flexible, no matter how far the temperature drops.
Headwear—Although the amount of heat loss from the head is often overexaggerated, it's still critical to protect the head and, occasionally, the face when temperatures drop. Frostbite can occur on any exposed part of the body, including the ears, nose, and cheeks. For freezing temperatures above zero, have your employees wear a moisture-wicking beanie made from wool. Anything below zero or with a high wind chill may require your employees to wear a balaclava to protect their entire face.
Moisture-wicking base layers—Layering is the best way to keep warm in the winter, and it all starts with a great base layer. The ideal base layer shirt is moisture-wicking, thin, and lightweight, providing insulation without weighing you down. When it comes to a base layer bottom, take into consideration how often your team bends down and moves around. You'll probably want to look for moisture-wicking base layer pants that are lined with warming fleece while not being too bulky. It can't be stressed enough how important it is for your first layer to be moisture-wicking! It's the layer closest to the skin, which means that it needs to work hard to repel water and keep your team dry.
Insulated mid-layer—The next layer is your mid-layer, which should add extra insulation. Mid-layers are thicker and heavier than your first layer and are usually made of fleece material.
Insulated outer layers—Your final layer is meant to protect against the elements. Before purchasing this layer, consider what your team will need for the weather. For instance, an insulated soft-shell jacket is a great option when your team is braving both wind and rain, while freezing temperatures may require a heavy duty cotton duck jacket to help them conquer the cold.
Waterproof boots—There is nothing more miserable than working with cold, wet feet. A pair of waterproof work boots with moisture management is the key to keeping feet dry and warm. Consider looking for boots with excellent traction and slip-resistance as well. De-icing walkways can be a tricky business.
Insulated gloves—If you've ever tried tying a rope or working machinery with cold fingers, you know that decent gloves are a necessity on the job. To keep everyone's productivity high, be sure to purchase waterproof, insulating gloves that offer both flexibility and durability.
Staying safe and productive with the right gear
Outfitting your team members in the right gear is only a part of keeping them safe in extreme weather conditions. In addition to wearing seasonally appropriate clothing, it's essential that they know their limitations. New employees are especially at risk of suffering from heat or cold illness. Allow them to acclimate to the cold and make sure that all your employees know how to recognize the signs of cold stress or heat illness. Even with the best landscaping gear in the world, your team still needs to take breaks and play it smart.
EDITOR'S NOTE: This article was written by Natalie Bucsko. Bucsko serves as the marketing communications specialist for RefrigiWear. From the Dahlonega, Georgia, headquarters, Bucsko oversees all content, including the website, knowledge center, blog, catalog, email, and social media.