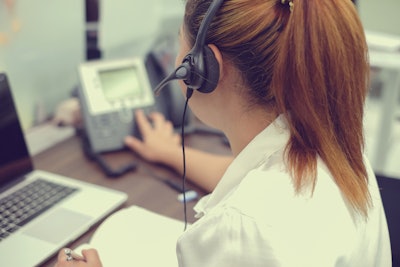 Competition for customers can sometimes be fierce in the professional landscaping world, and one thing that will make you lose potential customers quickly is not returning their calls in a timely manner.
When looking for a new landscaping company to work with, customers typically are calling around to compare prices and services before deciding which company fits their needs, as well as their budget.
During this research period, it sometimes happens that these interested customers aren't receiving prompt callbacks or aren't hearing back from companies at all. This slow or nonexistent move to call a customer back spells out a loss of immediate and future business, but this is where your landscaping company can stand out above the crowd.
Studies show that as many as 40 percent of outdoor service companies aren't responding to customers calling for information within five days of receiving the calls.
With the amount of time, effort and money that's typically spent on a landscaping company's sales and marketing leads, it seems unreal that companies would let such a prime opportunity go to waste.
The problem, essentially, boils down to poor management of your leads. When leads are properly managed and addressed, it can ultimately lead to better online reviews and word-of-mouth recommendations.
Take a look at a few tips to keep in mind when working to enhance your landscaping company's lead management practices, as well as how to set realistic goals and standards for lead management.
Set a time limit for lead responses
To establish a functional and profitable lead management system, it's important to begin by establishing a response time with your sales and marketing team. If there is one set time period they all must work with, there's a much higher chance of securing new customers.
In the green industry especially, it's vital that you get back in touch with interested customers quickly, as it's very likely that another landscaping company is located very close to you.
For example, if you were to set this time limit to one or two days after receiving the customer's request for information submission or voicemail, it could significantly cut down on that customer moving on to another company to get a quote.
Whether it's an email, text, call or another form of communication with the customer, be sure to respond in some way to let him/her know that you received the question and are interested and eager to provide the information or work with him/her.
Also, don't worry about your prices when calling customers back. You may have the highest prices around or at least higher than your closest competition, but the fact that you responded so quickly will play in your favor when it comes down to choosing time.
Be sure not to overdo it or be pushy when trying to reconnect with the customer, as this can be an instant turn-off. If your first attempt to call back isn't successful, leave your contact information with the customer and tell him/her when you plan to call back again.
If you aren't successful after a second or third attempt to reach the customer, just leave the ball in his/her court. If he/she is serious about doing business with you, he/she will respect the effort you made to contact him/her and should reply back.
Another way to ensure your leads get into the hands of your sales team is to set up an automated system that will send new leads directly to sales representatives instead of just to a general inbox.
Additionally, setting up a customer relationship management (CRM) system can help your sales team set up a lead distribution system, as well as assign new customers to specific sales representatives.
Utilize technology
While the traditional methods of tracking leads may have proven beneficial in the past, it's important to look to the future and take advantage of technology as well.
Having the ability to answer questions in a timely manner, check availability and schedule appointments and provide project quotes could be what wins you the business of an interested customer over your competition.
Make it easy for customers to navigate your website to ask questions, live chat with a representative or submit forms requesting a quote and this will encourage more online interaction.
Whether it's investing in call-tracking software, automatic email software, conversation analytics or call recording, be sure to look into as many options as possible, and choose the technology that will specifically help your team, not just what happens to be the most popular, the most expensive or the cheapest option.
Another way to bring in more customers is to have an attractive, secure and easy to find website they can visit.
If your website isn't showing up in routine lawn care and landscaping searches, there's a problem. If you want your company's website to become one that drives viewers and potential clients to it, you'll need to take time to make sure a few things are up and running alongside the site itself.
For sites that don't already have a tracking system installed, you'll miss out on a fair amount of data about local search traffic, as well as any issues Google might be having with your website.
Something else that might turn potential customers away from your website is having to fill out too many forms or jump through too many hoops to submit a request for information. Focus on the necessary information, such as name, phone number and email address, but leave other fields optional so the customer doesn't see it as such a daunting task to fill out.