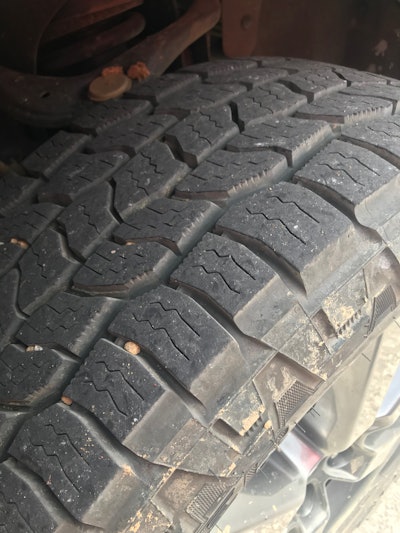 It's been 12,521 miles since we launched our extended tire test of Cooper's AT3-XLT pickup tire – an addition to Cooper's A/T3 truck tire lineup but with fitment that more specifically targets usage segments while offering plenty of tread variety for mixed surfaces.
Our test set of rubber – in 275/55R20 – was provided by Cooper and mounted to a 2017 F-150 4×4 in December for an extended trial throughout this year. Over the past three months, they have spent plenty of time on highways, surface roads (dirt and paved) and trekked various traction conditions in both two and four wheel drive.
The short version: These tires have been nothing short of excellent, handling everything that has been thrown at them with an uncommon blend of strength and finesse.
The more detailed version: Scott Jamieson, Cooper's director of category management, says the AT3 was developed with Even Wear Arc Technology, "which means the tire shape is engineered to strategically balance pressure at the tire-to-road contact area, promoting on-road even tread wear and superior handling."
We measured 16/32nds of tread depth off the rack and after 12,000-plus miles, that's down to a respectable 11/32nds across all four. The set was first rotated at 6,000 miles with the front tires showing nearly 2/32nds more wear than the rear. I wanted to swap them sooner than a typical rotation to be sure that could be attributed to the additional weight on the front axle. It was.
Under and over-inflation can wreck an extended test like this so air pressure in these tires has been meticulously, almost compulsively, maintained at 40 psi. As a result, wear patterns across all four tires appear even if not identical.
The most surprising result of this test to-date is what the tires haven't done – get louder. These Coopers were mounted following a set of factory tires with a less aggressive tread pattern. I fully expected a noticeable uptick in road noise filtering through the cab, but that's not happened … yet. Cooper has embedded a subtle sawtooth pattern within the shoulder of the tires that stop lateral air movement within the tread blocks themselves, which create a barrier to road noise. And they work. You get all the cool look of a gnarly mud tire with none of the noise.
I'm still expecting some hum as we get deeper into the rubber but I have dialed back my expectations.
Stone ejector ledges built into the inner tread pattern have done an excellent job of kicking out gravel and large rocks, preventing stone-drilling in the casing and keeping them from being rocketed at trailing cars at highway speeds.
Handling has been excellent and predicable, and without the left- or right-hand tug you often feel when running some all-terrain tires.
Alabama saw heavy and persistent rains late winter and into early spring, giving the Coopers ample opportunity to get wet and muddy. Traction in both conditions has been outstanding thus far. The tires were crafted with what Jamieson calls "Aqua-Vac channels" – a design feature that moves water through the pattern of the tread to maintain an adequate contact patch with the road in wet conditions.
There has been an expected but marginal reduction in fuel economy. With the factory highway tires strapped on, the EcoBoost-powered F-150 was regularly topping 21 mpg across a blend of in-town and highway driving. With the beefier AT3, it's dipped about .5 mpg. I noted the .5 mpg drop in the first installment of this test in January and it's remained consistent.
I honestly expected it to be much more, so this has been a pleasant surprise.
The XLT tire and companion LT tire feature an up to 60,000-mile warranty. Cooper's AT3 line is available in 29 sizes for wheel sizes 15-inch up to 20-inch.
Note: The final installment of our test will be posted around the 24,000 mile mark. Click here to read part one.
EDITOR'S NOTE: Jason Cannon is the equipment editor for Commercial Carrier Journal and Overdrive. Reach him at [email protected].