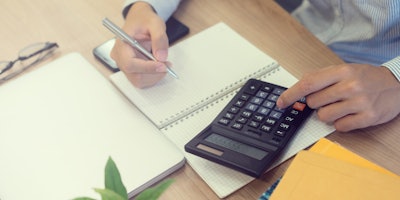 The lawn care industry is well-known for its low barrier to entry, but there is a difference between the businesses that get started and can barely make ends meet and the ones that are able to become profitable and grow.
One major difference between these two is the ability to estimate jobs properly. While the struggling business owner will take their profits at face value, the successful lawn care operator will dig deeper to find out where they are making mistakes and learn from them. Below are a handful of the common issues lawn care companies can struggle with when starting out and how to overcome them.
Bidding too low
Low-balling is one of the most obvious estimating mistakes a lawn care operator can make, as it tends to be a combination of several factors. The market for lawn maintenance services is extremely competitive, so it's natural to want to be cheaper than the other options to win business. Yet this will only end up hurting you in the end as you will only get customers who care about the price and will balk anytime you consider raising your rates.
The other element that causes low-balling is undervaluing your services and not charging for what they are worth. Customers tend to buy based off of perceived value, so it is important you let them know that your higher pricing is due to better customer experiences and end products.
Knowing your operational costs will help you be able to determine the prices you need to set to make a profit. Don't be afraid to raise your rates when your overhead grows.
Not pricing based on the specific job
When you're swamped with customers wanting to know how much it will cost to have their yard maintained, it can be tempting to streamline the process and create blanket rates for lawns of a certain size, but you really need to be using man hours to determine your prices.
This is because even when two yards are the same size, it doesn't necessarily mean that you or your crews can mow them in the exact same amount of time. One lawn may be a simple flat yard, while the other features a number of trees to maneuver around, and the owner has to be present to put away the dog every time before crews can mow the backyard.
Tracking your time on jobsites is crucial to ensure that you are charging the right amount for the job.
"When you strip away the actual mowing, trimming, edging and blowing – you see that owning a lawn care business is truly a numbers game," writes Gene Caballero, co-founder of GreenPal and author of The Beginner Blueprint. "Keeping track of everything from your expenses to your time is what's going to make the difference between your success and floundering or even sinking."
Not consistent with the market
While you shouldn't blindly copy your competitors' pricing, as they all have different overhead costs than you, you do need to be aware of the average range for the area. If you are wildly overpriced for the area, you won't be able to win any business at all.
Being competitively priced but not the lowest price available means you'll stay in the same ballpark range as the other lawn care providers in the area. Your job will be convincing customers that they will receive better service from you for a slightly higher price than if they went with the cheapest company in town.
Overpromising and underdelivering
Similar to being overpriced, overpromising on a job is a quick way to lose money and customers. It is much better to underpromise and overdeliver, as you can exceed client expectations this way.
If your business specializes in lawn care maintenance, yet you have a client ask you about installing their irrigation system or repairing their current system, don't be afraid to tell them that's not one of your services and suggest a business you trust instead. By focusing in on the services you are skilled at and prefer to offer, you're able to make the best usage of your time and not disappoint customers by attempting jobs out of your wheelhouse.
Not responding in a timely manner
It may seem like a no-brainer to get back to your potential customers with an estimate in a timely manner, especially when you're first starting out. Yet some lawn care companies will let their voicemail fill up regardless.
No matter how busy you think you are with current customers, you can't assume that it will always be the case. Both residential and commercial customers tend to choose the company that contacts them first, so make a point to contact your leads. If you truly are booked up and can't take on any more work, let them know.