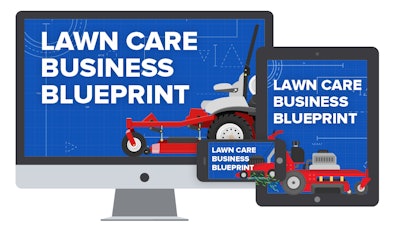 There's no handbook to life but there is a guide to growing your lawn care business successfully.
Best of all, this blueprint to building your lawn care business from the ground up is free. So, what's the catch you might ask? There is none.
Gene Caballero, co-founder of GreenPal, which is an online marketplace that connects lawn care professionals with local customers, says he created the guide after noticing a lot of their small business owners who use GreenPal had the same questions.
"A lot of people that come to the lawn mowing business or come to the landscaping industry are first time business owners," he says. "They've never run a business. Some of them have never even done landscaping maintenance work and what we wanted to do is create a comprehensive intro guide where you could go from scratch, literally nothing, to making $60-70,000 net profit a year running your own lawn mowing business."
Caballero says readers of the guide can do this with GreenPal's help or they can do it all on their own.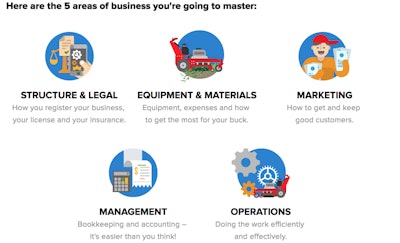 "It can be one of the best industries for someone to get into who wants to be their own boss, who wants to be their own business owner," he says. "It is a beautiful business in many ways because the barriers to entry are so low. If you want to work hard and you want to really service your customers and do a good job for people, you can really improve your position in life through this business and this industry, if you are willing to put in the work."
While Caballero acknowledges that almost anyone can get into the industry if they want to, it is a hard business with its own set of challenges.
"There are drawbacks," he says. "It's seasonal. The actual execution of the work can be daunting and hard. Sometimes just dealing with the equipment and even customer expectations are difficult, so there's a lot of things you have to learn as you go and become good at, but anyone can do it."
The first guide is for beginners, providing step-by-step tactics as to what all a lawn care operator needs to do and know to end up reaching at least $60,000 net profit in a year's time.
The Beginner Blueprint took around six to seven months to create with Caballero conducting research among different sized lawn care companies on the GreenPal platform to determine what kind of questions lawn care operators have when they are just getting started.
"This particular book is for the person just getting started," Caballero says. "It might be for the person who's mowing 10 yards a week and they're a fireman. Anybody getting started, this is the guide for them."
The Beginner Blueprint includes nine chapters on subjects such as the necessary paperwork, finding and retaining clients, properly pricing jobs and other aspects of running a lawn care business.
Caballero himself got into the industry after deciding to switch from bartending to lawn mowing. He says he wanted to chart his own course, but most businesses would require him to go into considerable debt and would be a huge risk.
Instead, he found the lawn care business checked all the boxes he was looking for by allowing him to start a company without going $500,000 in debt, as well as the opportunity to eventually sell the business if he wanted.
"It's not rocket science," he says. "It's not like you're having to reinvent the wheel. All you have to do is work hard and outserve your competitors. Show up on time, do a good job, return phone calls and follow a game plan, such as this blueprint we've laid out, and you can be successful in this business and not have to take on a huge amount of risk that could ruin you."
Despite being in the industry for over 20 years, Caballero says most of the fundamentals of the industry are the same and it's actually become easier for landscape maintenance businesses to get started today.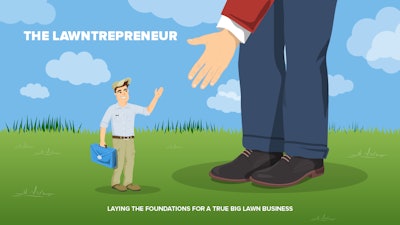 "You still have to service your clients on a timely basis and do a better job for them than your competitors are at a fair price," he says. "We now have tools to run this kind of business and connect with our customers."
The Intermediate Blueprint, which Caballero published yesterday, focuses on getting lawn care companies to $200,000 a year in net profit. He says this guide is suited for the lawn care operators who is doing 60 or 70 accounts a week and may be making $30-40,000 a year in net profit, but they want to get to $100,000 a year in net profit.
This guide goes into more of the nuts and bolts of running a lawn care business and how to have the proper systems in place when scaling your business.
"If you don't watch your expenses, particularly around labor, you can find yourself in a situation where you're losing money and you're stuck," Caballero says. "I've seen this happen time and time again, especially in this business where small business owners will try to hire employees too quickly, and they don't understand the unit economics around labor hours."
Caballero says the best way to avoid making mistakes like this is to take your time and learn the ins and outs of the business before trying to scale up.
A third Advanced Blueprint can be expected in the future.