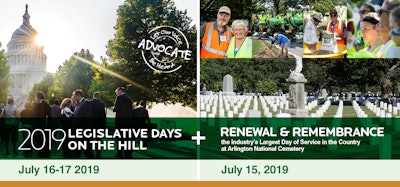 The National Association of Landscape Professionals (NALP) recently announced a few important bits of information regarding the upcoming Renewal & Remembrance event, which will take place on Monday, July 15.
NALP says that Arlington National Cemetery has informed the organization that they are going to be extremely strict about the registration cap this year, and if you have not registered for the event, please do so as soon as possible.
Registration will officially close on Monday, July 1, and those who are not pre-registered will not be allowed to participate in the event. For those trying to secure a hotel room, there are still rooms available at the Residence Inn, which is connected to the Renaissance. To make reservations and/or book your hotel, please click here.
NALP says that the security specifications have changed for those bringing equipment. If you do plan to bring equipment in and have not touched base with NALP's equipment champion, Tyler Maly, please do so as soon as possible.
When registering for the event, NALP says to be sure you add on the dinner, which will celebrate 23 years of Renewal & Remembrance and will feature special guests. The dinner will be held Monday, July 15, and the cost is $15 per person for adults and teens. Children are $25.
NewGen Boxwood introduces first two program selections
NewGen Boxwood, marketed by Saunders Genetics, LLC, says it will unveil the first two introductions in its boxwood program at Cultivate19, July 13-16, in Columbus, Ohio.
The two varieties will be available in the marketplace beginning in early 2020, and they will be named Buxus NewGen Independence 'SB108' and Buxus NewGen Freedom.
The company says it began with research and development by Saunders Brothers Nursery in Piney River, Virginia, as a response to heightened disease and pest challenges to boxwood beginning in the early 2000's.
NewGen Boxwood says an involved process of testing and selection has resulted in a new standard for modern boxwood characterized by demonstrated better tolerance of Boxwood Blight and better resistance to Leafminer. The company says that NewGen Independence and NewGen Freedom are the first introductions to be released.
"We're excited to be able to offer these introductions to the industry and consumers," says Bennett Saunders, general manager of Saunders Genetics. "The discovery of Boxwood Blight in 2011 and the spread of Leafminer before that signaled a need to raise the bar in boxwood genetics. After these initial years of work, we think we're on the track to a new era for boxwood. NewGen Independence and NewGen Freedom opened the door for us."
The company says the NewGen Independence is a very deep green medium-sized boxwood that holds its rich color all winter, and it is rated for Zone 5B-8 with further testing underway. With a medium growth rate, the company says Independence will be 3' tall x 3' wide in 15 years and 4.5' tall x 4.5' wide in 25 years.
The company says it performs well in the sun, part sun and shade, and strong branching withstands moderate to heavy snows. NewGen says the recommended uses would be in formal plantings where a medium-sized plant is desired including as a replacement for English Boxwood in foundations plantings.
The company says Freedom is a relatively vigorous rounded cultivar, slightly taller than it is wide. With a fast growth rate of 3 to 5 inches per year it reaches 4′ tall x 3.5' wide in 15 years and 5.5' tall x 5' wide in 25 years, the company says Freedom is rated for Zone 5-8 with further testing underway.
The company says it performs well in sun, part sun and shade and features glossy green foliage paired with a uniform and tight habit. NewGen says both varieties meet the company's requirements for high tolerance to Boxwood Blight and better resistance to Leafminer.
Arborjet helps treat series of trees in Sanford Village Park
Arborjet, Inc. and Dave Sutton of Tri-City Tree Doctor recently treated a series of trees at Sanford Village Park in Sanford, Michigan, almost 30 years after they first worked to rehabilitate the same trees, which were originally in danger from stress and later infested from the highly invasive Emerald Ash Borer (EAB).

"My son, Dustin Sutton, first worked on this project back in 1988 as an Eagle Scout candidate with his local troop," says Dave Sutton, owner of Tri-City Tree Doctor. "The trees in the park were stressed due to a hot dry summer. Years later, the trees were threatened by the Emerald Ash Borer."
A native of Asia, the EAB has killed millions of trees in the U.S. and Canada since its discovery in 2002 and is regarded as one of the most destructive forest pests in North America.
"We worked with Joe Aiken and Joe Doccola, director of research and development at Arborjet, who initially donated the treatment as a scientific trial, fortunately it worked, and today all 36 trees are thriving," added Sutton.
As part of their "Saving America's Iconic Trees" program, Arborjet says it donates treatments like this all across the country. The company says the campaign targets America's most beloved trees, which are often located in public parks, gardens and other historic sites.
Ewing Irrigation & Landscape Supply opens new location in Lehi, Utah
Ewing Irrigation & Landscape Supply recently opened a new location in Lehi, Utah, in April. Located at 305 S. 850 E. unit 106B, this new Ewing location will service a variety of green industry professionals, including irrigation and landscaping contractors, golf course superintendents, sports field managers and more.
The company says the store's opening comes as Ewing is celebrating 27 years in the Utah market.
"Ewing is dedicated to serving green industry professionals in Utah, just as we have for nearly three decades," says Duane Richards, regional manager for Ewing in Utah. "The first Ewing location in Utah was established in 1992, so we understand the unique needs of our customers here and are dedicated to helping them grow their businesses."
The company says the stores stock a wide variety of products for green industry professionals, including irrigation supplies, fertilizer and chemicals, tools and accessories, golf course products, sports field materials and much more.
To celebrate nearly 30 years in the market as well as the grand opening of Ewing Lehi, the company says contractors can attend upcoming summer events at the following Ewing Utah locations:
Livewall transforms Bata Library at Trent University
The transformation of the Bata Library at Trent University features a 278-square-foot (26-square-meter) green wall installed in the atrium with the LiveWall Indoor Living Wall System.
The architectural and academic heart of the main campus of Trent University in Peterborough, Ontario, the Bata Library is a revered building in Canadian architecture.
Constructed in 1967, the Bata Library is a prominent landmark on Trent University's Peterborough campus, and was designed by architect Ronald Thom (1923-1986).
Completed in 2018, the transformation project, which was planned and guided by the Toronto studio of Perkins + Will, transformed the building into a true library of the future. Installed and maintained by green infrastructure specialists Ginkgo Sustainability, the Bata Library green wall is almost 7 feet in height and was constructed in two side-by-side sections each 20 feet in length.
In total, it includes 150 LiveWall modular planter boxes manufactured in a bluestone color. The modular planters contain inserts that hold the growing medium and a total of 380 plants. The plant palette is a mix of seven different tropical plants with dark green, light green and white foliage.
"The living wall is recessed between existing concrete pillars in the library's atrium," says James Mallinson, B.Arch., OAA, LEED AP, project architect, Perkins + Will. "It connects two adjacent seating areas to create an inviting open space, softens the center of the interior and complements the tone of the cedar ceilings."
"Thom wanted excellent design that harmonizes with natural settings and natural beauty," says Dr. Leo Groarke, Ph.D., president and vice-chancellor, Trent University. "Featuring a living wall in the re-design of the Bata Library is a wonderful way to honor this legacy."
"The library has always celebrated a vital connection to nature and the outdoors," says Shelley Strain, LEED AP, GRP, sustainability coordinator, Trent University facilities management. "The living wall symbolizes and strengthens this connection."
Case dealer Ina Store supports Team Rubicon, Habitat for Humanity
Case Construction Equipment dealer Ina Store recently supplied a compact track loader and grapple bucket to Team Rubicon for a land clearing project in Baldwin, Michigan.
The site will be developed by Habitat for Humanity of Lake County Michigan into a new Veterans Village development that provides 850-to-1,000-square-foot homes for qualified veterans, active military and spouses of those who have served.
Team Rubicon says it deployed teams and heavy equipment operators to clear the area, allowing the first phase of the project to move forward.
"We live, work and have raised families in this region of Michigan, and the opportunity to give back to an ambitious project that will help bring important services to our military veterans was a no-brainer," says Dean Smallegan, vice president at Ina Store. "We look forward to seeing this project come to life in the coming months and years."
Shawn Washington, the executive director of Lake County Habitat for Humanity, says she has a grand vision for the overall project. In addition to the single-block operation with Team Rubicon, she says she plans to engage the veteran-led disaster response and community service organization in prepping other sites throughout the community that would be part of the project.
Washington adds that the operation is a perfect fit due to unlimited time constraints, which would allow volunteers to also deploy to higher-priority disaster response situations, as needed.