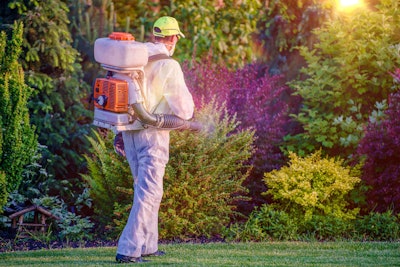 After a long, drawn out battle with Montgomery County in Maryland, legal options to challenge the county's ban on pesticide usage on private lawns have been exhausted.
Since 2015, a coalition of county lawn care, tree care and landscape professionals, as well as individual residents and homeowners associations, have strived to educate the county council on the fact that state and federal pesticide regulations ensure public health is not at risk.
The county had passed the legislation back in 2015 and was set to ban the usage of pesticides on private properties starting Jan. 1, 2018, but Montgomery County Circuit Court Judge Terrence McGann struck down the ban, citing it exceeded the county's power.
The National Association of Landscape Professionals (NALP) and the Responsible Industry for a Sound Environment (RISE) praised this ruling. The county appealed this 2017 ruling and on May 2, 2019, Maryland's Court of Special Appeals upheld the county's ban of landscape pesticides on private property.
Maryland's Court of Appeals denied the petition of Complete Lawn Care, Inc., et al, v. Montgomery County seeking judicial review of the court's decision to uphold the ban.
"We continue to believe the residents of Montgomery County should have the option of using state-approved pesticide products to treat pest and plant health problems on their private property," says Karen Reardon, RISE vice president, public affairs. "It will now be illegal for county residents to treat lawn and landscape pest and plant health problems on their own private property with state and federally approved pesticide products they can buy from retailers, and state-licensed lawn and landscape professionals will not be able to apply these products either."
Residents in other counties will still be able to treat their lawns with the products they purchase or can hire a landscape company to treat their property.
"We believe the law will have a negative effect on pest control," Reardon say. "It also potentially will create a market for unlicensed applicators to treat lawns in the county. Such applicators do not participate in the training and certification required of licensed applicators. Unlike previously lawful applications, these applications would not have the recordkeeping required by Maryland Department of Agriculture (MDA) as part of its compliance tracking, and state-required signage may not be displayed. The county's ban apparently will rely on neighbor on neighbor enforcement, rather than the usual systematic regulatory and enforcement program at MDA."
NALP initiates search for next CEO
The National Association of Landscape Professionals (NALP) has initiated a national search to identify its next Chief Executive Officer. The organization's Board of Directors has identified the experiences and competencies that will be sought in the new staff leader and created an extensive position description to recruit candidates interested in serving the professional lawn and landscape industry, those prepared to strategically address its trends, challenges and opportunities.
Heidrick and Struggles, a Chicago-based executive search firm, has been retained to facilitate the selection process. Expressions of interest should be sent to Heidrick & Struggles.
A complete position description can be found here.
NALP is a national trade association based in Fairfax, Virginia, representing nearly 100,000 landscape industry professionals in the United States, Canada and overseas. NALP is a $7 million 501 (c)(6) organization, with a $4 million 501 (c)(3) charitable foundation. NALP's 4,000 members specialize in lawn care, landscape design and installation, landscape maintenance, tree care, irrigation and water management and interior plantscaping. Members also include students, consultants, industry suppliers and state associations.
Star Roses and Plants introduces Bloomables
Star Roses and Plants, known for The Knock Out Family of Roses, has launched its new brand, Bloomables.
The company says this collection has Star Roses and Plants' best flowering genetics that are easy to grow for both the grower and consumer. Bloomables is comprised of 35 carefully selected varieties.
"These varieties of roses and woody plants look great at retail and offer high reward in the garden," says Bradd Yoder, president of Star Roses and Plants. "This one-of-a-kind lineup is the only program to focus on the blooms and flowers of plants, allowing consumers to have a garden that blooms all season."
The varieties feature noteworthy flowers, strong plant performance as well as unique textures or interesting foliage. This new brand will be available at retail in spring 2020.
The tag lists the common name of the plant first, as well as why the plant is special or how it can be used in the landscape.
"We want to boost consumer confidence by making roses less scary and simplifying shrubs," says Kyle McKean, director of marketing at Star Roses and Plants. "We hope to do that through our tags, containers and other point of purchase materials."
For grower questions or inquiries about the program, contact your territory manger or call customer service at 1-800-457-1859.
Excel Industries names new director of quality
Excel Industries, a manufacturer of commercial and residential turf equipment sold under the Hustler Turf Equipment and BigDog Mower brand names, has appointed Bobby Kindle to the position of director of quality.
In this role, he will provide strategic and tactical leadership for the manufacturing quality team and be responsible for the over product quality plan, standards and key performance indicators.
"I'm excited to bring my expertise to Excel Industries," Kindle says. "The company has a strong leadership team in place and vision for the future. I'm optimistic about growing our quality management system and help evolve strategic plans."
Kindle has over 15 years of experience in leadership and industrial manufacturing. Most recently he was a quality engineer for Wesco Aircraft. Kindle has a Bachelor of Science in operations management from Southwestern College in Winfield, Kanas.
"We're pleased to have Bobby on board as we look to coordinate manufacturing, engineering and the integrated supply chain teams to drive product and process improvements," says Brent E. Edmisten, vice president of operations, supply chain management and engineering. "He has a strong track record of improving performance and is an excellent addition to the Excel Industries team."
Boss LM software releases version 9.0
Boss LM, business management software for the landscape and snow management industries, has announced the release of version 9.0.
According to the company, this latest version provides a more unified experience for users. Landscapers can navigate between business intelligence data and integrate third party satellite/aerial high-resolution photographs for property measurements.
Some of the main benefits Boss LM highlights are listed below:
Improved user response to reduce screen fatigue
Upgraded snow functionality – now manage hourly service providers
Enhanced mobile support – using responsive design, it optimizes the user experience on any device
Integrations with more Sage Accounting products
Integrations with third party tax services for calculating sales tax across the USA
Integrations with third party AP processing software

Pronovost introduces new snowblower
Pronovost, a manufacturer of a comprehensive line of snowblowers, has announced its new Cyclone 80" model.
It will be available from stock for the next season.
As with the 92'' model, the hydraulic wing option will also be offered on the 80'' unit. With the hydraulic wing option, the 80'' unit opens up to 102'', while the 92 '' unit opens up to 120''. A stationary wing option will also now be available for both models.