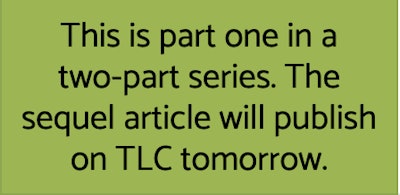 To be the oldest landscaping company on Hilton Head Island, South Carolina, is no small feat and even when The Greenery, Inc. was first getting started, founders Berry and Ruthie Edwards chose a name that would live beyond them.
"They didn't want it to be their names, which they could have done," says Lee Edwards, the couple's son and now president and CEO of The Greenery. "They had bigger plans for the company. They wanted to have something that was identifiable in the industry, but not necessarily have landscaper in the name."
Prior to The Greenery, Berry Edwards was in the textile industry, commuting from North Carolina to New York. After vacationing at Hilton Head, the couple fell in love with the island. They decided to move there and purchased Hillside Landscape Nursery, which was for sale by a mother and daughter pair.
The business started with six employees and two trucks in 1973. Fast-forward to 2019 and The Greenery has grown to about 650 year-round employees, and around 900 to 950 workers during the peak season, spread across 13 branches.
The Greenery started off doing design/build work but has moved mainly into the commercial grounds maintenance market over time. Depending on the branch in question, the client mix varies, but on Hilton Head Island the operations are split by commercial and residential work.
"We try and maintain a mix of about 75 percent of our revenue in commercial maintenance business and no more than 25 percent in our construction build work," says Bill Davoli, COO for The Greenery.
Inside an ESOP company
Davoli says the two elements that really set The Greenery apart from others in the business are their operational capacity to perform complex landscaping, such as interstate mowing, and being employee owned.
"I think the quality that we deliver at the crew level is significantly better than any of our competitors," Davoli says. "It also is a huge advantage in recruiting. We typically get better quality employees because they're coming here as owners, not as just an hourly employee."
Being employee owned is a major aspect of The Greenery's identity as a landscaping company. Every truck in the company's fleet features the company's logo and the phrase "employee owned" is right below The Greenery's name.
The Greenery has been employee owned for 11 years now after Berry Edwards decided to establish the Employee Stock Ownership Plan (ESOP) as a way to thank his employees for their loyalty after retiring in 2007.
"He wanted to reward the people," Edwards says. "He didn't want to sell the company to somebody else who wasn't going to run it the way he would like to run it. And so then he started the ESOP process."
Berry originally only sold 35 percent of the company and then when Lee decided to come run The Greenery, they sold the rest of the company to be a 100 percent ESOP company.
A third-party firm manages The Greenery's whole ESOP program and shares. The landscaping company is evaluated every year to find its value and then that number is divided by the number of shares in the company and that creates The Greenery's share price for the year.
In October, which is The Greenery's employee appreciation month, the company announces the new share price and has a big party to celebrate. The share price is listed for workers to see at every branch, every day.
According to Davoli, the only time the stocks went down in the history of the company was when The Greenery took out a loan to buy the rest of stocks to become a 100 percent ESOP company.
"There's a lot of federal regulations, a lot of processes that you have to follow," Davoli says. "You have to report all your financials every single year. There's a lot of regulation on it, but it's worth it."
The Greenery employees have to work for the company for a year and half before they are enrolled in the ESOP program and start off 20 percent vested. Each year, another 20 percent is added until after the employee is fully vested.
Employees can earn money from their stocks when they retire or when they leave the company. Davoli says that if an employee retires, The Greenery will pay the value of the worker's stock over the next five years.
"The other thing we've done in the past three years is that if you leave the company and you're not retirement age, what we're doing is we're buying back that stock anyway," Davoli says. "So, if you worked here for 10 years, decide to go leave for a competitor or go move out to California where we don't have an office, then typically within the first two years, we will basically convert your ESOP shares into cash within your 401(k). We think it's too valuable to let people have it that aren't currently employees in the company, so we buy it back."
Aside from enabling employees to own stock, The Greenery also encourages all of its staff to act as owners and welcomes input from all levels.
"My decisions matter in the long run," says Matthew Touw, an operations manager with The Greenery.
The company also has an ESOP communications committee composed of employees from every branch that meets every month to share ideas.
Recruiting and retaining labor
When it comes to finding labor, The Greenery casts a wide net and the ESOP program is just one of the lures it uses to recruit and retain its employees.
The landscaping company used to participate in the H-2B program but when Davoli joined The Greenery, they stopped using the program, as he did not want to count the business's operational capacity on something so unpredictable.
Instead, for the past three years they have been recruiting workers from Puerto Rico. The Greenery still doesn't put all its eggs in one basket, so it also uses internships, employee referrals and work vans to bring in labor from the inner part of South Carolina.
"There's not a shortage of labor," says Jerry Ashmore, director of workforce development & safety. "There's a shortage of good labor."
Ashmore says a good employee is someone who comes to work every day with a good attitude, is punctual and a team player. This ideal candidate is also safe, sets the example and embraces the company's culture.
Once The Greenery has found its good workers, it strives very hard to keep them by providing good benefits and treating them well. They also make of a point of providing a clear career path, so they know they have a future with the business.
"Anyone and everyone can be a rising star," says Jim van Dijk, regional manager for the Hilton Head Island branch. "They just might need some help and the next step."
Van Dijk himself has climbed this career ladder starting out as an intern, who came back later and worked his way through the ranks to his current position of regional manager.
"It's about having good people to work with," Edwards says. "Hiring good people, promoting good people, encouraging them and empowering them to do more and do better. That fits in with our whole employee ownership. We want everybody to act like an owner."
The Greenery strives to get this messaging through to new hires early on during its onboarding process by asking them what they think the company does.
"We try to explain to those people that very first day, the reason why we do what we do is because we want to make people happy," Edwards says. "We want to be part of their experience."
For The Greenery, being part of that experience can be a simple as stopping the leaf blower as someone is walking to the beach or smiling and greeting a homeowner out in their yard.
"We're hoping that what they'll do is come away from that first day and go, 'Wow, I've got a real opportunity here,' 'I might be able to make a career here,' or 'This could be a really satisfying job,'" Edwards says.
As The Greenery continues to provide career opportunities to its employees, it is opening a new branch in the north Florida/Jacksonville market. In 10 years, Davoli says he hopes the company is twice its current size throughout the Southeast.
"I've always said we're a growth-oriented company," Edwards says. "Not necessarily because we want to be the biggest, but we want to grow to provide opportunities for people. So, when I say we're growth-oriented, the obvious one is growing plants. The next is we're becoming a larger company. We're growing opportunities, growing careers, growing personally and professionally."
Check back tomorrow for part 2 of this series, where we'll look at The Greenery's three steps to success and its commitment to safety.