Aurora Resurgence, a private equity firm, has sold LandCare to the company's management team and a small group of investors, led by Scott Brickman, former CEO of the Brickman Group.
Terms of the transaction were not disclosed. After being acquired by Aurora Resurgence, LandCare introduced a new management team in 2014. The company restructured and rebranded under current CEO and former Brickman EVP Mike Bogan's leadership.
"We are pleased with the impressive turnaround that LandCare realized over the past five years," says Sean Ozbolt, a board member of Aurora Resurgence. "Its success provides a testament to how our investment process and partnership approach drive significant financial improvement and deliver strong value for our investors, the company and its customers and employees."
Andrew Fohrer, board member of LandCare says that the company has created a model corporate culture and is an employer of choice in the landscape services industry.
"With Aurora Resurgence as a partner, we have been able to rebuild LandCare from the ground up, creating one of the leading landscape services companies in the United States," Bogan says. "We are thrilled to have the opportunity, in partnership with an industry veteran like Scott Brickman, to continue leveraging our passion for landscaping and customer service to build upon our recent growth for our customers and hardworking employees."
Steel Green Manufacturing and Toro settle lawsuit
The Toro Company and Steel Green Manufacturing have settled their litigation after Toro filed a lawsuit in the United States District Court for the Southern District of Indiana on Oct. 1, 2018, against Steel Green.

In March 2018, The Toro Company acquired all of the assets of L.T. Rich Products, Inc., a Lebanon, Indiana-based manufacturer of stand-on, zero-turn sprayers and spreaders marketed under the trade name "Z-Spray." Matt Smith, Mike Floyd, Scot Jones, Brent Mills, Craig Conyer and James Kepner were employees of L.T. Rich who continued to work at the L.T. Rich facility following the acquisition.
The employees listed eventually left the L.T Rich facility to form Steel Green Manufacturing in early July 2018. Steel Green manufactures stand-on, zero-turn sprayers and spreaders that competed with the Z-Spray products from Toro.
Before quitting, some of the listed employees removed a significant volume of information from The Toro Company's computer systems, much of which Toro considered sensitive, confidential and trade secret, according to the joint statement from Toro and Steel Green.
In the lawsuit, Toro alleged the employees misappropriated trade secrets from Toro and gave Steel Green an unfair advantage. Steel Green denies these allegations of ever using Toro's information. Steel Green asserts that the storage devices that contained the information that the employees removed were returned to Toro before the lawsuit was filed.
The companies have agreed to settle their differences.
"The settlement includes the Court's entry of an agreed injunction, in which Steel Green and its employees will refrain from certain activities, including the use of the information that certain of the employees listed above removed from The Toro Company's computer systems," the joint statement says. "The injunction also prohibits the sale of machines and parts by Steel Green during certain months in 2020. The other terms of the settlement are confidential."
The injunction will prevent Steel Green from selling Z-Spray parts during February and March and Steel Green machines during March and April of 2020. Steel Green says that during this time it will continue to manufacture machines and provide customer support.
The company says Steel Green dealers and distributors are not affected by the injunction except for Steel Green's manager for one month in April of 2020. All other dealers will be permitted to sell Steel Green machines during that time.
"We are incredibly grateful for the support and encouragement we have received from the lawn care community," says Brent Mills, general manager for Steel Green. "We are committed to building the best equipment and providing the best customer service in the industry, and we are planning to be around for a long, long time."
LANDSCAPES 2019 offers technical track sessions
This year at LANDSCAPES 2019, held during Oct. 15-18 in Louisville, Kentucky, the National Association of Landscape Professionals (NALP) has added technical track sessions designed for front-line landscape professionals who want to increase their skill levels.
These sessions are available in Spanish and English.
Don't Plant a $300 Tree In A $30 Hole on Thursday, Oct. 17 at 9:45 a.m. to 11 a.m. will cover how to use proper planting techniques for trees, shrubs and perennials whether they come balled, burlapped or in a container.
Making Irrigation Systems Work: A Guide To System Components And Troubleshooting on Thursday Oct. 17 at 1 p.m. to 2:15 p.m. is a part one session covering common issues for irrigation components and how to diagnose issues in the field.
Low Voltage, Energy Efficient Landscape Lighting on Thursday, Oct. 17 at 2:30 p.m. to 3:45 covers the benefits, options and applications of solid-state lighting.
Basic Landscape Lighting Installation Practices on Friday, Oct. 18 at 8 a.m. to 9:15 a.m. is a hands-on session about proper wire connections, voltage drop and transformers.
Making Irrigations Systems Work on Friday, Oct. 18 at 10:45 a.m. to 12 p.m. is part two of the irrigation session and features hands-on training with irrigation systems.
Technical track sessions are open to all full registrants and can also be purchased separately as a package for crew members who will only be attending technical track sessions.
GIE+EXPO adds arborist demos
At this year's GIE+EXPO in Louisville, Kentucky, a 40-foot tree will be placed inside the Kentucky Expo Center to give attendees and opportunity to learn arborist techniques. The expo will be held Oct. 16-18.
The arborist techniques will be taught by women from the Women's Tree Climbing Workshop and the feature is sponsored by Davey Tree. Certified arborists Melissa LeVangie, Bear LeVangie and Rebecca Seibel-Hunt will share climbing instructions while in the tree.
Attendees will be able to learn basic techniques and systems on how to safely and efficiently perform tree care through eight sessions. The event is included with tradeshow registration.
The Women's Tree Climbing Workshop was created in 2009 by the LeVangies to "create a safe, encouraging, and empowering learning environment for women to climb trees" and they have taught workshops across the country for men and women.
"Davey Tree is excited to present the 'Climb Trees, Expand Your Horizons' program at GIE+EXPO, in collaboration with The Women's Tree Climbing Workshop and with support from SHELTER Tree," says Alex Julius, employee development and safety training specialist at Davey. "We think this is an excellent opportunity to highlight women in arboriculture and share basic industry-accepted climbing techniques and systems while aloft in a tree within the expo center's Freedom Hall. It should be a great time, and we hope lots of arborists – new and experienced – are able to attend."
Below are the session times:
Wednesday, October 16
3:30 – 4:30 p.m.
Intro to Climbing: Job Briefing, PPE, Purpose and Approach
4:45 – 5:45 p.m.
Basic Climbing Techniques: Climbing Equipment and Systems
Thursday, October 17
10:00 – 11:00 a.m.
Tree Entry: Throwline, Rope Installation and Tie-in-points
12:00 – 1:00 p.m.
Access, Ascent (Closed vs. Open System) and Movement
2:00 – 3:00 p.m.
Movement & Work Positioning
3:30 – 4:30 p.m.
Safety, Descent, and Equipment Management
Friday, October 18
9:00 – 10:00 a.m.
Tools of the Trade
10:30 AM – 12:30 p.m.
Climbing Systems: Stationary and Moving Rope Strategies and Basics of Rigging
Winners of the National Garden Bureau's "Year of" video contest announced
The National Garden Bureau has been promoting specific plants for more than 30 years with its "Year of" program and recently it held its first "Year of" video contest.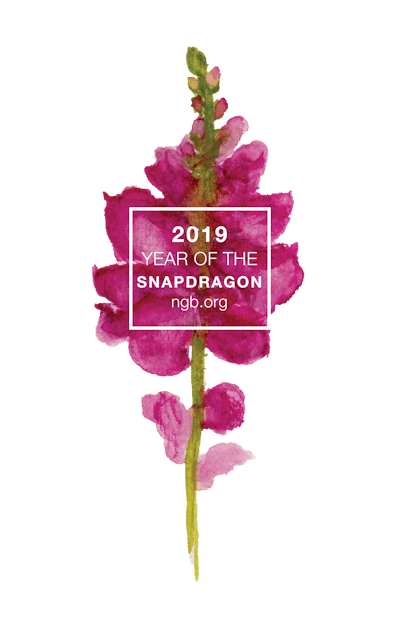 Below are the three winners of the #SnapdragonLove video contest that celebrates the Year of the Snapdragon in 2019.
First place goes to "Did You Know: Snapdragons In The Big House" created by Lee College Horticulture Program at the Ellis Unit in Huntsville, Texas. It has students at the Ellis Unit in self-deprecating roles as they explain certain "Did You Know" facts about snapdragons.
"My students love horticulture and love to share with others all the great things about plants, bugs and conservation," says James Langley, Huntsville Center technical chair and horticulture instructor. "When we started talking about ideas for the video, they wanted to do something serious and educational as my students are very serious about what they do and take pride in being in the horticulture field. However, during the filming of the Snapdragon video my students thought if it was a little cheesy instead of being serious, maybe people would enjoy the video a little more and find joy in raising snapdragons."
Runner up went to Ace of Else 3D who created an animated short that plays on parents who love to share their passion for gardening on to their children in "Snapdragons Animated Short." Another runner up video was created by Sarah Harding. "#SnapdragonLove" captures the essence of a child's nature experience.
ASV reaches multiple-location dealer agreement with Rish Equipment
ASV has made a dealer agreement with Rish Equipment, a distributor with locations in West Virginia, Virginia and Maryland. ASV products will be distributed at all fourteen locations and deliveries will begin the second half of 2019.
Rish Equipment will sell ASV's full line of compact track loaders .
"We are excited to announce our partnership with Rish, a historic tier-1 equipment dealer which offers new, used and rental equipment in each of its 14 locations," says Justin Rupar, vice president of sales and marketing of ASV Holdings, Inc. "They share our vision, with its mantra being to provide excellent service support with an extensive parts inventory, highly trained service personnel, mobile and on-site service to eliminate travel and minimize downtime. We have long prided ourselves in having the most maintenance-free machines available in the market and look forward to growing our business together with Rish and helping them to become a leading ASV distributor."
Echo names Golden Eagle as dealer for former General Power territory
General Power Equipment, a distributor for Echo for more than 25 years, has made the decision to discontinue distribution of Echo, Shindaiwa and Echo Bearcat products.
Golden Eagle Distributing Corporation has been appointed to serve the independent dealer network previously handled by General Power. As of Oct. 1, 2019, Golden Eagle will begin distribution in the territory exited by General Power.
Golden Eagle is the largest distributor of Echo and Shindaiwa brand outdoor power equipment in the U.S. and is wholly owned by Echo Incorporated, with distribution facilities located in Rocklin, California, and Wauconda, Illinois.
"We would like to thank General Power for many years of excellent and dedicated service to the Echo brands," says Tim Dorsey, president of Echo. "We are excited about the challenges and opportunities this brings to the Echo group."
Greenworks partners with Earth Day Network for Earth Day 2020
Greenworks Tools is partnering with the Earth Day Network as the exclusive outdoor power equipment sponsor of Earth Day 2020 in anticipation of the 50th anniversary of Earth Day next year.
Greenworks will pioneer 50 "acts of green" around the world to mark the 50th anniversary of Earth Day. Details about the planned activities will be announced later this year.
"At Greenworks, we have taken on a mindset that every day is Earth Day," says Mark Sewall, director of marketing for Greenworks Tools. "Whether it is snow removal equipment in the winter or string trimmers and leaf blowers throughout the growing season, by eliminating fossil fuels and providing a superior alternative to consumers and professional landscapers, we are doing our part year-round to help reduce the outdoor power equipment industry's impact on our planet. We are excited to join Earth Day Network in helping to further our shared mission: to make Earth Day 2020 the most impactful Earth Day in history."
Takeuchi hires regional manager
Shay Klusmeyer has been named regional manager for Missouri, Kansas, Oklahoma and West Texas for Takeuchi.
He will be responsible for achieving region market share through recruiting, goal setting, sales planning and performance evaluations. He will also focus on inventory control, program promotion, communication forecasting and direct rental account support.
Klusmeyer has eight years of sales experience and was most recently the regional business manager for Mahindra Americas. He has a Bachelor of Science in agricultural economics from Oklahoma State University and plans to graduate with a Master of Business Administration in December from Oklahoma State.
"Shay is a go-getter with an excellent track record and a really well-rounded portfolio in his professional career," says Kim Robinson, director of dealer development at Takeuchi. "We believe he can take us to an even higher level in his territory and are looking forward to having him on our team."
Head Harvester Steve Cesare featured at international business conference
Steve Cesare with The Harvest Group was recently selected to present his work at the 35th Business & Economics Society International Conference (BESI) in Vienna, Austria.
The conference highlights academicians and practitioners and provides a forum to present their research findings to the international business community.
Cesare presented on how owners and management can avoid becoming caught up in management theories that are too academic, cluttered, bureaucratic or impractical to actually implement in a business.
He instructed attendees to focus on the "Triple A" – alignment, achievement and accountability – when they need to decide on something.
Alignment – Business alignment is key. For example, at the organizational level, decision makers must ensure that marketing, sales, estimating and operations are properly aligned for production efficiency.
Achievement – Every decision must have a stated goal to track status. Goals will be more likely attained if key drivers are optimally aligned.
Accountability – Performance expectations, follow-up and recognition must be layered into every business decision. This ensures that roles and responsibilities work toward goal achievement and remain in alignment.
John Deere honors dealers for exceptional sales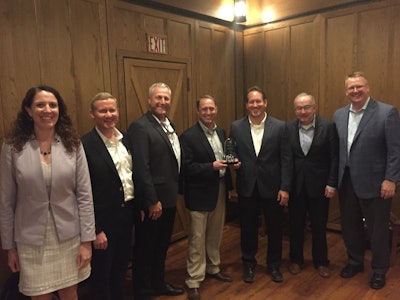 Six John Deere dealerships were recognized for their sales of commercial ZTrak and QuikTrak mowers.
The six dealerships are: Ag-Pro, SunSouth, LLC, Quality Equipment, LLC, TriGreen Equipment, LLC, James River Equipment and Everglades Equipment Group.
"We are beyond pleased to celebrate these dealers and their tireless commitment to not only John Deere, but to the customers that they serve each and every day," says James Dutton, John Deere product marketing manager, commercial mowing equipment. "It's important for us to express our gratitude and appreciation for those who serve professional landscape contractors and ensure that they are provided with the quality, top-of-line service required to keep them fully functioning."
Landscapers can register for Driven to Win: Racing with Jeffrey Scott
Landscape contractors looking to have a unique networking experience should consider registering for Driven to Win: Racing with Jeffrey Scott.
This event will be held Sept. 26-28 at the BMW Performance Center in Greer, South Carolina. Attendees will learn how to use speed as an advantage and learn to look further down the road and around curves.
"Anyone can become a better driver with a few adjustments in technique, e.g. taking a better line into the corners, and running all out with confidence on the straightaway," Scott says. "The same goes for your business. Learn to do both in this ultra-unique experience and make friends and memories of a lifetime."
The trip will include fine dining an evening prior to the event with networking, a day of competing on the track in brand new BMW M2, M4 and M5s and a half day of deep discussions applying lessons from the track to running a business.
Click here to register.