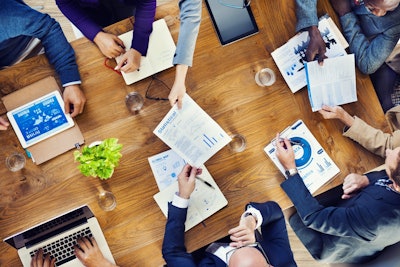 Without a dynamite sales team, your landscaping company could begin to suffer.
Having a dedicated team responsible for finding, maintaining and growing your client base is imperative, especially with how competitive the landscaping industry can be, but what does it take to create and sustain a successful sales team?
Take a look at what experts say you can do to help boost the morale of your current sales team, as well as continue to grow and build it.
Know your people personally
Your employees are more than just nameless faces in your landscaping company, and showing them this will help boost morale tremendously.
If your company's size is small enough, take time to meet with and talk to each member of your sales team. Don't just ask them about work; get to know them on a personal level and make them feel valued and included in your busy schedule.
"The line between work and home is blurred, so knowing who your team is outside of the office is just as important as who they are in it," Christopher Kingman with TransUnion told Forbes. "To drive cohesion, take time to get to know your people, who they are, what motivates them and what they want out of a career. This investment will pay dividends because as you buy into your people, they buy into you. Show you care, get to know them personally."
Along with knowing your employees, take time to get to know your current client base personally. Clients will be more inclined to talk with you, share success stories via customer satisfaction surveys and refer you to their friends and family if they feel you are easy to get along with and genuinely care about how they are doing.
"When you think about marketing from following what the masses are doing, that's when you have the least amount of success, in my opinion," says Daniel McCurry, owner of the Father Nature Landscapes Birmingham, Alabama, division. "What we have done that has been widely successful — and I feel like more people should do — is to try to align yourself with who your client is, what their problems are, where they are, where they're going, where they want to go and kind of being able to solve their world problems."
Collaborating and celebrating performance
Depending on which company you talk to, there are varying differences on whether sales needs to be treated as a competition or collaborative effort, but Tracy Avin with MBL Benefits Consulting told Forbes it is always important to foster a working environment that promotes helping each other succeed.
"I believe in bringing a team together who can support each other's efforts and share leads, building a stronger, further-reaching force," Avin told Forbes. "Share best (and worst) practices to learn from each other's experience in the trenches. Remember, an opportunity is not lost unless the prospect goes out of business or is acquired."
Another way to help boost your team's spirit is to celebrate a job well done. Sales teams thrive on performance and can clearly see what is and isn't working in the numbers that come back.
Instead of criticizing a sale that fell through or focusing too harshly on negative numbers, be sure to provide positive feedback for what can be improved on and encourage your team to go above and beyond on the next round.
"You can see the successes and cheer them on," Christian Valiulis with Automatic Payroll Systems told Forbes. "You can also see the failures, and your team learns to be accountable for their performance because of this. Whether it's a team win or loss, it's a sales leader's job to rally around that momentum."
Company-wide involvement, smarter targeting and sales
While it may seem like a farfetched idea, some experts recommend reaching outside of your everyday sales team members when it comes to gaining new projects and clients.
Parke Kallenberg with Advance Consulting Group says that every person in your company can potentially be a member of the sales team, whether they think so or not, and he says that taking this approach could end up being valuable for your landscaping company.
"The reality is if you rely on that one person to do all those sales, odds are you're going to overwork your employee," Kallenberg says. "If you get everybody to help, it becomes a lot easier."
Along with this mindset, Kallenberg also notes that landscaping companies need to start looking for ways to generate smarter targeting and sales methods within their team.
Kallenberg says that targeting sales in a smarter way will pay off in the long run, but it will also mean setting longer proposal-to-sale windows and becoming smarter about the way you sell.
"Growth by itself isn't always the solution," he says. "Smart growth cures a lot of problems. The way you do sales has to reflect who you are as a company. We have to drive our industry and you have to drive your company to that place where nobody can touch the value you offer."
Communication and weak spots
Regardless of the position you hold in your landscaping company, communication is key, but it becomes even more important when dealing with sales and clients.
If you're the head of a sales team, you might think it's overkill to be in regular communication with your people throughout the day, but it can actually help keep them on task and motivated.
Consider starting off your morning with a quick group meeting to get a rundown on what the tasks are for the day, what clients your group plans to talk with and any new prospects that are on the horizon. If you feel the need to, check in throughout the day with an email or two just to stay on the same page with your workers, but try not to impede their progress with constant contact.
Toward the end of the day, consider meeting up once again to recap what went well that day and what could be worked on for the following day. Depending on the size of your team, it could prove beneficial to either engage in weekly or monthly meetings to really deep dive into the numbers and clients.
Every member of your sales team will bring something specific and unique to the group, but it's true that each person will also come with certain weaknesses that will need to be made up for.
Instead of sweeping these weaknesses under the rug or chastising your team members for them, try pairing them with another team member who might excel in that area to provide a teaching opportunity.
"It is important to understand what that (weakness) is and leverage it to assist others on the team to succeed who are weaker in those areas," Cortez Armond with Firsthand Inc. told Forbes. "When reps find themselves improving due to the other members of their team, it builds more cohesion and less tense competition."