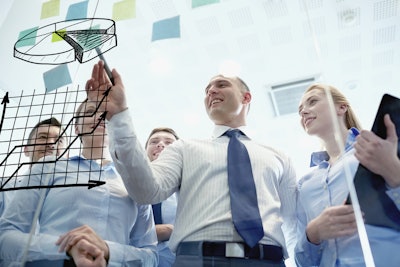 This is part one in a two-part series. The sequel article will publish on TLC tomorrow.
---
At the Gulf States Horticulture Expo held in Mobile, Alabama, Parke Kallenberg with Advance Consulting Group discussed how landscaping companies can get every member of their organization involved in sales.
Depending on the size of the company, most will have either one designated person assigned to sales or only a few.
"The reality is if you rely on that one person to do all those sales, odds are you're going to overwork your employee," Kallenberg says. "If you get everybody to help, it becomes a lot easier."
Take a look at a few methods Kallenberg says landscapers can implement to take company sales upward, as well as get the entire company involved and invested in the process.
Not a commodity
Kallenberg says that the green industry has done itself a disservice by making the work we do a price only item, and "we are better than that and have to be better than that."
With more and more pressure being put on the green industry regarding the nationwide labor shortage, Kallenberg says as an industry, we have to raise the value per hour of what we get. He also adds that we have to figure out a way to drive more people into the industry who love what they do and want to help solve people's problems, as opposed to just trying to make money.
Growing is always a hard pressure on your business, which is why Kallenberg says it's important that when you sell, you sell smart because sometimes the fast sale can turn out to be toxic.
By refocusing your selling efforts and turning them into a more hands-on activity that the whole company can participate in, Kallenberg says you'll reduce the stress on your team, as well as help your employee retention.
Smarter targeting, smarter sales
The first step Kallenberg suggests is to target sales smarter, which will mean setting longer proposal-to-sale windows and becoming smarter about how you sell.
Be warned, Kallenberg says the sales might not come as quickly as you want them to with this new method, but this doesn't mean the process is unsuccessful.
"Growth by itself isn't always the solution," he says. "Smart growth cures a lot of problems. The way you do sales has to reflect who you are as a company. We have to drive our industry and you have to drive your company to that place where nobody can touch the value you offer."
Being smarter with your sales begins with what people are saying about your company. Kallenberg says your company's reputation is based on how you are structured to sell, and this is the perfect time to reflect on whether you're building relationships with your clients or just performing a service for them.
While you're growing, Kallenberg says to always protect who you are, who your company is, what your values are and more because you don't want to dilute who you are and what people buy that is unique to you.
Take a look at how your sales team goes about pursuing leads and sales opportunities. Are they actively out in the field talking to new clients and looking for new leads, or are they sitting back at their desks waiting for something to fall into their laps?
Along those same lines, are your sales people selling the types of jobs that you want them to sell, such as projects already in the routes you currently have? If you have a certain area in mind that you want to begin working in, Kallenberg says to pick where you want to grow and go there.
"Where you focus, you will grow," he says. "If sales come in haphazardly, it will crush your bottom line."
Succession plan
Simply speaking, Kallenberg says a succession plan boils down to talking with your right hand men/women, telling them your plan for the company for the next few years, explaining to them how they will be asked to grow the responsibility and income of the company and what they need to do to make it happen.
"People who understand there's something in it for them will do amazing things," he says.
By explaining your overall goals and plans with your team, everyone will have the information necessary to do their jobs, set their goals, have a clear idea of the part they play in that plan and see how they will be rewarded for completing their portion of the plan.
Within this succession plan, Kallenberg says to take stock of how your company actually benefits the client. Talk to them about how they feel about you, your staff and the services you offer, and know how you personally affect their businesses or homes.
On that same note, Kallenberg says employees are the same way. You need to understand and communicate to your employees how your company can benefit them, as well as explain to them why they should be willing to take on more responsibility to help you sell and grow your company.
"One of the other maladies of the owner is you do too much of the work in leadership, and you don't get your number two, three, four person equipped to help run the business early enough," he says. "Then when you're finally ready to start stepping back or focusing on something else, the strain of you stepping away is hard for business."
"Growing and letting these people see the succession of where they can go and how they can help take over parts of the business will make it easier for you as the owner to step away and focus on other things," he says. "You have to grow smart, not just with your revenue but with your people too."
Check back tomorrow for part two of this article, where we'll take a look at how a bit of healthy competition among your sales team can help boost productivity.