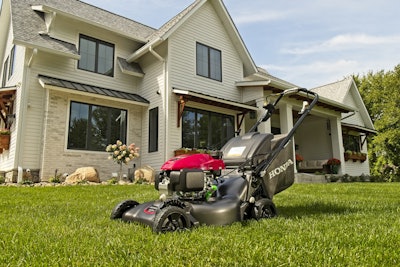 Honda Power Equipment has released its new HRN Series of lawn mowers.
Conceived and tested in Swepsonville, North Carolina, at the Honda Power Product R&D and Honda Power Equipment Manufacturing, Inc. (HPE) facilities, the company says the models are assembled at the Honda Swepsonville operation.
The company says the four new Honda HRN216 models — HRN216PKA, HRN216VKA, HRN216VLA and the HRN216VYA — offer a range of options and choices. Pricing and availability of the new models will be announced at a later date.
Replacing the Honda HRR Series, the HRN lawn mower offers a new Honda GCV170 engine and added features that optimize grass cutting while streamlining operation and maintenance.
Honda says the engine offers improved customer benefits in power and torque output, maintenance, and usability through a larger fuel tank spout, easier oil changes and reliable, dependable starting and re-starting.
Honda says the mower was designed from the ground up and was tested at Honda Research and Development Americas, Inc. (HRA). The company says these new mowers deliver nine percent more power and 18 percent more torque than the HRR models, which the company says allows the user to power through thick, heavy grass and enjoy a smooth, even cut.
"Regardless of how popular or award-winning our outdoor power products are, Honda product development teams continuously pursue innovations that elevate each product for maximum performance and ease of operation," says Will Walton, vice president, Honda Power Equipment. "The all new Honda HRN lawn mowers offer a powerful new engine, updated design and technologically advanced features that provide an easy, comfortable mowing experience and the smooth, groomed finish. The new models are one illustration of how we at Honda Power Equipment are contributing to the Honda Vision for 2030 — growth through the pursuit of quality and serving people worldwide with the joy of expanding the potential of lives."
Honda says the transmission has fewer parts for increased durability, and the new Honda GCV170 includes the Honda Auto Choke system. The company says the system is automatic and eliminates levers and cables.
Whether hot or cold, Honda says the engine starts easily and is ready for immediate mowing. Once the engine is running, the company says the Auto Choke will automatically return to an optimal operating position.
Honda says the GCV170 engine also features the Honda CycloFlow design, which produces increased turbulence in the cylinder and more stable combustion, resulting in easy starting and greater resistance to lower quality fuel. And even with more power and torque, the company says the engine produces less vibration, which reduces fatigue and makes mowing more comfortable and enjoyable for the operator.
Honda says other features include the Adjustable Smart Drive design that they say allows for ease of speed variation with a press of a wide paddle control on the handlebar. In addition, Honda says a 3-in-1 Clip Director lever located on the side of the engine cowling controls an entry shutter between the lawn mower deck and the grass bag, allowing the operator to easily mulch 100 percent of clippings, bag 100 percent of clippings and rear discharge.
Takeuchi Manufacturing announces new leadership appointments
Takeuchi Manufacturing has announced changes at the annual shareholders meeting in May.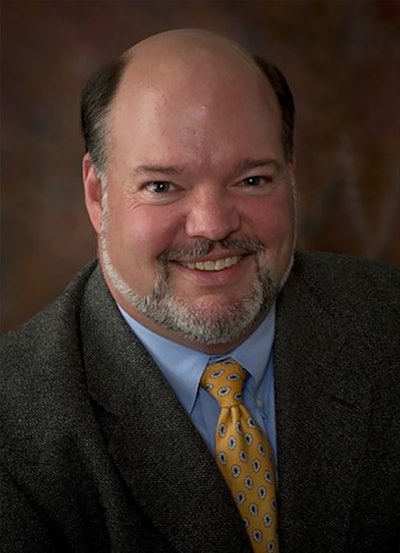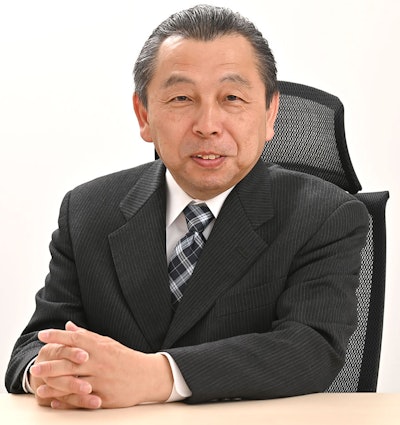 Founder and president, Akio Takeuchi, has stepped down and his son, Toshiya Takeuchi, will now serve as president of Takeuchi. He is the second president in the history of Takeuchi Manufacturing.
Other appointments include Clay Eubanks, president of Takeuchi US to the board of directors. The company says Eubanks has been with Takeuchi US for over three decades and most of the company's existence.
In his early years, the company says he held various positions within the sales group before he was promoted to manage the sales team. In 2003, Eubanks was named president, and under his leadership and guidance, the company says Takeuchi US has reached new sales goals and gained market share throughout the U.S. and Canada.
"I am honored and humbled by this appointment to the board of directors," says Eubanks. "I have watched this company grow to become the company it is today. When you have been a member of a company for as long as I have, it's more like family. I am very proud of this company, its employees and where we are in the industry. I couldn't ask for a better place to be."
Eubanks' roles now include director of global sales. The company says he will be working closely with other subsidiaries and distributors to grow sales and expand their market share. With the success of Takeuchi US, the company says he is in an excellent position to share his knowledge and experience with other Takeuchi locations around the globe.
iQ Power Tools debuts 16.5" arrayed diamond blades
iQ Power Tools has brought to market two new 16.5" hard material blades for its proprietary line of dry-cut saws, which the company says are designed specifically to cut the hardest of materials.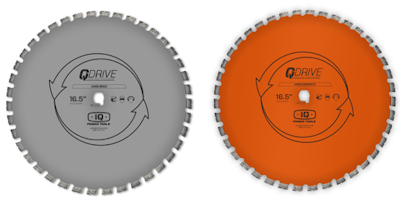 The company says these new blades incorporate the latest in diamond tool technology. iQ adds that the blades are optimized for strenuous work environments and designed with durability to cut materials like hard brick, hard concrete and stone products.
"iQ Power Tools is committed to quality products," says Sarah Hurtado, iQ's marketing manager. "Testing is paramount to meet our quality objective. We literally make tens of thousands of cuts when designing each blade. We're continuously listening to customer feedback and researching new materials in our blade development."
iQ says the cool cut technology is a proprietary composition of diamond concentrate, metal type and flange thickness that cuts tools while reducing vibration and movement. This technology combined with the built-in vacuum, the company says, keep the blade cool during cutting. The company adds that the blade will also stay cool to the touch.
The company says the vacuum system also removes the cutting debris, so the blade is not regrinding the same material, reducing friction and heat.
Deep South Turf Expo announces keynote speakers
The Deep South Turf Expo, held in Biloxi, Mississippi, at the Mississippi Coast Convention Center Oct. 1-3, has announced its keynote speakers for this year's event.
Dr. Bruce Clarke of Rutgers, Center for Turfgrass Science and an extension specialist in turfgrass pathology at Rutgers, has focused his research on the identification and control of biotic and abiotic diseases of cool-season turfgrasses.
This has involved the use of field studies to assess pathogen dynamics, as well as the controlled environment and greenhouse studies to ascertain the relationship between environmental stress, cultural management and disease development. He has also conducted research on disease forecasting and detection systems and the identification of disease resistance in turfgrass germplasm.

"The principal goal of my outreach program has been the development of best management practices for the control of turfgrass diseases such as anthracnose, dollar spot, gray leaf spot and patch diseases caused by root- and crown-infecting fungi," says Clarke. "My research findings have been utilized by turf managers in North America, Europe and Austral-Asia to improve disease control and turfgrass quality while reducing chemical inputs through the use of improved disease management strategies. As director of the Rutgers Center for Turfgrass Science, I am also responsible for providing leadership to foster internationally recognized research, undergraduate, graduate and continuing professional education and outreach programs in support of the turfgrass industry."
Clarke is a native of Cresskill, New Jersey, and earned his undergraduate degree in forest management and his Ph.D. in plant pathology from Rutgers.
"Dr. Clarke has that uncanny ability to relate to and connect with whomever he meets," says James A. Murphy, Rutgers University extension specialist in turfgrass management. "His communication skills are outstanding in all situations: one-on-one, small groups or large audiences. He can communicate with persons of any background, and he is just as effective listening as he is speaking."
Dr. Beth Guertal will also serve as a keynote speaker. Guertal is a professor of turfgrass and nutrient management in the Department of Crop, Soil and Environmental Sciences, and was named the Auburn University College of Agriculture's first Rowe Endowed Professor.
Guertal has taught various turfgrass and educational subjects in Cuba, Argentina, Spain, England, Mauritius, China, New Zealand and Canada, and she has worked extensively with turfgrass managers in the Southeast.
Currently, Guertal is the president of the Crop Science Society of America, and as such she helps to lead all turfgrass scientists in the nation. She currently teaches soil fertility to all students in Crop Science. She will speak on "Fertilizers Demystified: Debunking Common Myths and Setting the Record Straight," discussing various fertilizer facts, myths and perceptions in the presentation, with welcome interaction from the audience.
Hailing from Alabama, Rodney Smith, Jr. will also serve as a keynote speaker.
"I traveled all 50 states mowing free lawns for veterans as a way of thanking them for their service and my last two states, Delta Airlines sponsored my trip to Alaska and Hawaii," says Smith. "I'm very grateful for them. It was a beautiful experience just to meet all the different veterans and the different branches and hear their stories. Some went to World War II, some went to Vietnam, some went to Afghanistan and hearing all their stories is amazing. I believe if one serves their country you know we should put them up on high, and I come across so many veterans that struggle to get their lawn mowed. That should be the least of a veteran's worries."
The Deep South Four Ball Tournament will be reprised and held on Monday at The Preserve and on Tuesday at Fallen Oak. While teams are battling it out over the Four Ball Tournament at Fallen Oak on Tuesday in the two-day tournament sponsored by Beard, Greenville and John Deere Golf, the Preserve Golf Club will host the Scramble Tournament as it has for the past four years. Ameriturf will sponsor the tournament and Redox provides drinks for both tournaments.
Following the Scramble at The Preserve, everyone is invited to come out in the late afternoon to attend a Tail Gate Picnic that is being planned by the expo's partners, Aqua-Aid, Beard, Greenville Turf & Tractor, Jerry Pate Turf & Irrigation, John Deere Golf, Ladds, Residex and Simplot.
2019 Farwest Show offers seven classes for pesticide recertification credit
The 2019 Farwest Show will offer seven classes that are eligible for pesticide recertification credit hours as part of its continuing education program.

Experts from across the industry will cover various topics to include sanitation, bio-control, weed management and boxwood blight. Classes will be delivered in English with Spanish translation available, or Spanish language. The show is set for August 21–23 at the Oregon Convention Center in Portland, Oregon.
Registration for recertification credits is required. Two different pesticide class pass options are available for attendees. The three-day pesticide class pass ($119) offers six hours of recertification credit taught in English with Spanish translation, and one hour that is Spanish-only as well as a 3-day trade show pass.
The one-day pass ($49) offers two hours of credit on Wednesday and Friday, and three hours of credit on Thursday as well as a three-day trade show pass. Each pesticide pass holder will also be able to access the Spanish-only seminars.
To register online, click here.
Ransome Attachments offering Cobra screening buckets
Ransome Attachments says it has finalized a deal with Cernos Oy to add the Cobra screening bucket to its lineup of multi-functional attachments.
The company says the move is intended to complement another recent addition – the Gyru-Star compact screening bucket – and to bring the Cobra's added crushing functionality to its customers on the heavier side of the market.
Cernos has been manufacturing this bucket in Finland for the past 26 years and has been primarily distributing it in Scandinavia. Under new management, the company says it is now expanding into new markets worldwide.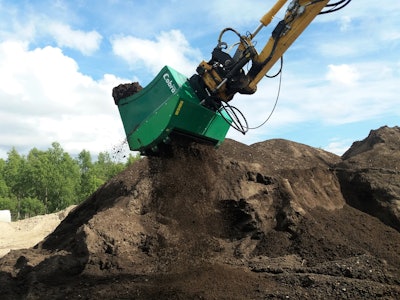 "The Gyru-Star is for topsoil screening with no crushing action, and it's designed for compact machinery," says Eric Ransome, owner. "The Cobra fits both compact and heavy equipment and can screen and crush construction debris and 'soft rock' materials including brick, sheetrock and asphalt for heavy industrial applications."
Ransome says it will offer the full line of Cobra models to fit various applications within the composting, topsoil, recycling, demolition, landscaping, pipeline and general construction markets. The company says its high screening capacity and adjustable grain size are designed to allow waste soil and other materials to be turned into usable products, which supports the Cobra tagline "Ecological Recycling."
The company says the Cobra can be adjusted for pure screening, which is ideal for topsoil, compost, mulch, peat and sand. The end product is often used for stockpiling and pipeline backfilling and padding. The company adds that the Cobra can also be configured for screening and crushing materials including concrete, rubble, glass, drywall, asphalt millings, rock salt and coal.
While designed for heavy-duty operations, the company says the Cobra fits the gamut of equipment classes from mini to full-sized excavators, wheel loaders, backhoes and telehandlers.
"From an engineering point of view, it's well-made, robust and will stand equally toe to toe with any other product on the market," says David MacLynn of Cobra.
"The Cobra compliments the existing product line of Gyru-Star beautifully," MacLynn adds. "The addition of this lineup means that regardless of the size of the customer's machine, application or budget, Ransome now has the solution."
Fecon introduces cab guard for mid-sized excavators
Fecon has introduced the new cab guard for mid-sized excavators to protect windows from flying debris.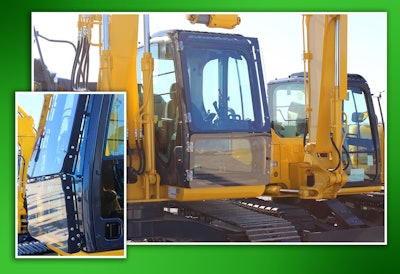 Designed with a universal fitment to most makes/models in the 8-12 ton class, Fecon says this add-on attachment installs in less than 30 minutes without special tools or modifications to the cab.
The company says the hinged polycarbonate frame allows for easy cleaning, and polycarbonate panels can be replaced without removing the guard frame, saving time and labor. A kick-open feature allows egress through the guard in emergency situations, and the company says it's ideal for mid-sized (8-12 ton) excavators tasked with land clearing, ROW mulching, forestry operations, pipeline work and more.
Fecon says the cab guard is available for all appropriate applications and as an option to Bull Hog mulching heads through Fecon's North American dealer network, through the company's parts department and will soon be available online from their eCommerce site.
Alamo Group acquires Dixie Chopper business
The Alamo Group has announced it has acquired the assets of the Dixie Chopper business from Textron Outdoor Power Equipment.
The business, currently based in Greencastle, Indiana, says it has been serving the market for nearly 40 years, and it has been shuttered by Textron in December 2018.
"We are pleased to announce that Alamo Group has acquired the Dixie Chopper brand and product line from Textron Specialized Vehicles, effective immediately," says Rick Raborn, executive vice president of Alamo Group's agricultural division. "Alamo Group will continue to manufacture, sell and support Dixie Chopper products as part of its Agricultural Division. The future manufacturing of the products will be located in our Gibson City, Illinois, factory, where the company also produces the RhinoAG implement line. We are committed to keeping our Dixie Chopper dealers informed and engaged during this transition."