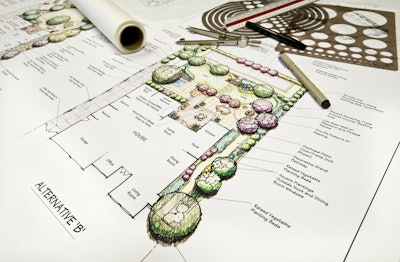 Whether you're new on the landscape architecture scene or have been working in the field for many years, having an impressive and updated portfolio is important.
While the contents of these portfolios may differ slightly between those currently working and those aspiring to be a landscape architect, it's good to know what should and shouldn't be included in a professional portfolio.
Take a look at what experts recommend keeping in your current portfolio, what can be taken out and what can be updated.
Maintaining a landscape architecture portfolio
As previously mentioned, a portfolio for a landscape architect just out of college will look very different from one for someone who's actively been in the field many years.
Evan Dintaman, landscape architect and senior manager of projects and partnerships with Out Teach in the Mid-Atlantic region, recommends making sure that your portfolio always reflects your latest work. Or, he says, if you aren't able to format your work into an actual portfolio, at least have updated information organized and on hand to present.
"I recommend keeping a record of your current work," Dintaman says. "It isn't always necessary to take the time to format your current work into a portfolio. Simply keep the records handy and format the portfolio when you need to."
There can sometimes be the temptation to let resumes and portfolios grow stale once you've grown comfortable in a company, but it's important to always keep these items updated with recent information in case you ever do decide to move on to a different job. Plus, having a current portfolio helps make the current company you work for look better, as you always have updated project information to show clients.
"Portfolios that are outdated are a red flag to future employers," Dintaman says. "Another red flag is not including work that is relevant to the job you are applying for."
As an example, Dintaman says if you are applying for a job to be an exhibit designer for a botanical garden, you wouldn't necessarily want to include samples of parking lot layouts you've done in the past.
Dintaman also recommends adjusting your portfolio to match your current position and job requirements instead of having general pieces present. As your career path changes over time, he says, so should your portfolio to reflect those changes.
As your concentration changes, your portfolio and resume should change to showcase your current skill set. If you see that another job you want to apply for has a need for certain skills, Dintaman recommends including said skills in your portfolio to show that you would be a qualified candidate for the position.
"Don't shy away from including specific writing samples, construction details or other graphic work in your portfolio," Dintaman says. "Portfolios don't always need to be concept renderings, color renderings or eye-catching 3D modeling samples."
Aspiring landscape architects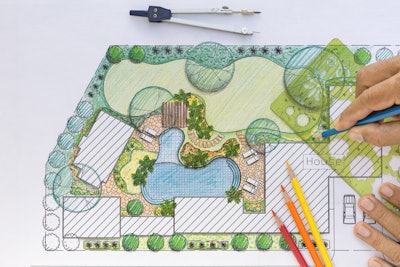 When it comes to landscape architects coming out of college, a portfolio will need to be slightly different, as there won't be as much work experience or project samples to include.
"While you may be limited on work samples as an entry-level designer, your portfolio can still demonstrate that you are a valuable asset to a company or organization," Dintaman says. "Use your portfolio to demonstrate your presentation skills, your ability to condense information and your technical writing skills."
As you compile samples and information for your portfolio, be sure that everything included serves a specific purpose. Dintaman recommends taking into consideration every project, club, activity, internship or job from your past and ask whether or not listing it will provide your future employer with important information about your ability to perform the job.
If a job you've worked does not prove relevant to the field of landscape architecture, don't bother listing it unless it shows some trait that would prove beneficial to the position, such as leadership roles or design opportunities.
One big mistake Dintaman has seen time and time again is young landscape architects overloading their applications with too much information.
"Unless you have been in the field for many years, your resume should be condensed onto one page," Dintaman says. "The purpose of the resume and portfolio is to earn an interview, not to answer every question a potential employer might have."
Before applying for a position, take time to sift through irrelevant information and make necessary cuts. Once in the interview, Dintaman says to allow the employer to lead the discussion and to keep answers informative and less lengthy.
Along with only providing relevant and concise information, Dintaman says it's important to always include high-quality photographs in your portfolio. If you aren't able to include high-quality pictures in your portfolio, Dintaman recommends not including them at all, as poor photos could deceive employers into thinking your quality of work is poor as well.
Dintaman also says to check and double-check that your files are downsized to ensure they can easily be sent via email, and he discourages the use of background colors or colored fonts on resumes.
Finally, Dintaman recommends getting involved with professionals in the green industry in some way to begin the networking process early on, whether that be through internships, field days or getting involved with professional green industry organizations.
"Don't pass up opportunities to gain professional experience and develop references within the industry," Dintaman says. "Portfolios and resumes are great at getting your name noticed and your foot in the door, but companies are looking for someone who can hit the ground running and has relevant experiences to build on."