Permeable pavers are no new invention, but with so many customers getting on board with more sustainable and environmentally beneficial practices, there could be a place for permeable pavers in their landscape.
Find out what experts recommend keeping in mind before diving into the world of permeable paver installation, the process of installing them, and what makes them stand out from traditional pavers.
Permeable pavement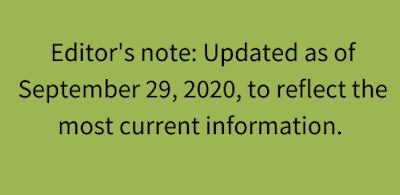 Permeable pavers are beneficial in helping with flooding and stormwater control, and they become the preferred option when working in urban environments where major flooding problems occur.
"For those unfamiliar with permeable pavers, they are installed with layers of varying-sized stone or aggregate underneath that filter and allow rainwater to replenish underground aquifers," says Joe Raboine, director of residential hardscapes with Belgard. "Permeable paving essentially mimics the way natural land absorbs water – meaning that any rain that falls on the surface is filtered and seeps back into the ground, instead of flowing into the nearest storm drain or stream."
Raboine says that many states are now requiring less impervious surfaces to be placed within 1,000 feet of a waterfront, and for customers with pools in their landscapes, permeable pavers can help with keeping the surrounding surfaces flat.
"When you have flooding in an urban area, you've got to move water somewhere," says Kevin Earley, director of commercial Belgard pavers. "In the suburbs and rural areas, we have plenty of land where we can use the natural surface and create a stormwater detention base, but in an urban area, we're really limited."
Earley says permeable pavers can also prove beneficial in older urban cities that have combined sewers. Earley notes than most older cities on the East Coast do have combined sanitary and stormwater collection sewers, which didn't really seem to pose a problem until the capacity of the wastewater treatment plants was exceeded.
In some places, Earley says, there is well over 50 percent of the surface area that's made up of impervious pavers, which means that too much stormwater is pulled into these combined sewers, and treatment must sometimes be bypassed.
In areas with such issues, Earley says there is some type of government regulatory consent water agreement with the Environmental Protection Agency (EPA) in place to help minimize overflows, and they will have a schedule to implement these strategies. One strategy that could be used to help out, Earley says, is the installment of permeable pavers.
A third area permeable pavers could lend a hand in is when dealing with land development.
"The big push today is low impact development (LID) and the use of green infrastructure to better manage stormwater," says Earley. "Permeable pavement is a green technology because it mimics nature in the way rainwater re-enters the environment. It distributes the water coming into the ground over a large surface area."
Installing permeable pavers
According to Raboine, traditional pavers can actually be transformed into permeable ones if your customer has existing pavers in the yard and chooses to go this route, but it will take some time.
"It's very much like the construction of a regular pavement section, but the big difference is the type of aggregates used to construct the system," says Earley. "We're using open graded aggregate, which provides storage space for water and high flow rates and permeability."
For customers who want to either completely start over or start from the beginning with permeable options, Earley and Raboine agree that it's important to begin the installation process by identifying what types of soil are present in the area to make sure you aren't creating a situation where the soil will be capturing water.
"You can design it for any type of soil; it's just a matter of making sure that you're not capturing the water and it's just sitting there stagnant," says Raboine.
Once the soil is examined and properly compacted, the open graded aggregate or drainage rock base will be installed. Because this is a flexible pavement system with no border, Earley says the pavers will interlock and be strong both vertically and horizontally, and they will also need to have an edge restraint added on. Once the aggregate is in place and compacted, a layer of bedding aggregate will be put down.
"The pavers have spacer bars that are larger than the traditional ones you might see in a backyard," says Earley. "We are creating between a quarter to one-half inch openings at the surface, and then we sweep in highly permeable chip gravel, which filters and drains the rainwater off of the surface to alleviate flooding, prevent run-off and create a safer pavement."
The type of aggregate used in the joints is crucial, according to Raboine, and you will want to choose a type that is smaller and angular to avoid them locking up. If the aggregate is too round, Raboine says it has a tendency to migrate out of place if there's heavy rain.
Benefits of permeable pavers
It goes without saying that the main benefit of having permeable pavers in the landscape is the fact that it will help with the removal of ponding water from the ground's surface, as that can not only be annoying to your customers but also a safety issue.
Earley adds that permeable pavers also become extremely beneficial in winter climates, as they will keep customers from worrying about ice forming on top of the pavers.
"When we manage snow and ice, we spend a lot of effort using salts to melt ice," says Earley. "What happens is the snow and ice melts during the day and then freezes at night. That is eliminated with permeable pavement because you've removed the water from the surface, so you can use less de-icing salts, which protects the environment, and you don't have to worry about the black ice that occurs on traditional impervious pavers."
A third benefit Earley has found is the ease of maintaining permeable pavers. Since everything takes place on the surface of the pavers, Earley says particulates will get caught in the upper inch of the joint, which means installers can access it, replace the aggregate and remove the dirt.
These pavers, he adds, are mortarless in the way they are assembled, which means that if a landscaper needs access to utilities or if there's a broken paver somewhere in the landscape, it can be easily located and fixed, unlike poured and placed pavers.
"Ten years ago, we were convincing the community that there is a better way to construct pavements through this permeable pavement concept, and we had to convince them that it worked," says Earley. "Today's question is, I know it works but how can they be maintained? We have the technology to clean permeable pavement, we just have to encourage more routine maintenance of these important stormwater control measures."
Downsides of permeable pavers
One of the main downsides Raboine has noticed when it comes to installing permeable pavers is the price point. These installations, he says, tend to be more expensive than traditional paver installation due to the fact that you are adding in more base.
Earley adds that, unfortunately, permeable pavers shouldn't be used in high speed roadway applications due to the amount of traffic. Since these pavers are also infiltrating stormwater to the environment, Earley says you must always be careful around sensitive, shallow aquifers and areas that are environmentally sensitive.
"Permeable paving within the residential market will continue to grow as more consumers become aware of the benefits to their home, property and local environment," says Raboine. "They provide a beautiful solution for hardscapes, as well as promote ongoing stewardship of our beautiful communities."