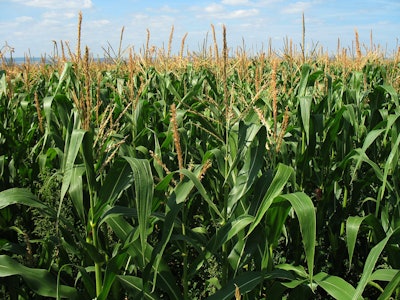 In the 1989 movie Field of Dreams, a mysterious voice whispers, "If you build it, he will come" and the Major League Baseball (MLB) and BrightView are putting that concept to the test and more than one person will be coming.
For a game between the New York Yankees and Chicago White Sox on Aug. 13, 2020, a temporary 8,000-seat ballpark is currently being built at the Dyersville farm in Iowa, where the movie was originally filmed.
"It's truly an honor to be part of this historic project and we are extremely excited to build and manage the field for the MLB game in Iowa," says Murray Cook, president of BrightView Sports Turf. "Our team will install and perform all site work and construct the ballfield, bullpens, fencing, and foul poles, as well as oversee the installations of the backstop net and various player related areas."
Seventeen acres of cornfield will be graded to make way for the infrastructure and a sand-based natural grass system will make up the field. Irrigation will also be installed to maintain the bluegrass sodded field.
Fans will be able to walk a path through the cornfields and by the original movie site before reaching the new ballpark. This will be the first MLB game played in the state of Iowa.
Each BrightView employee working on the project is a Sports Turf Managers Association (STMA) member. Nearly a dozen STMA members will be responsible for ensuring the field meets MLB standards on game night.
"Sports field managers ensure safe playing fields where athletes at all levels can achieve their dreams day in and day out," says Kim Heck, CAE, CEO of STMA. "This will be a historic event and we are looking forward to working with our Iowa chapter to make it a great experience for the thousands in attendance and the millions watching from around the world."
PERC releases new landscape contractor testimonial video
The Propane Education & Research Council (PERC) has added another video to its Straight Talk video series of end users experience with propane.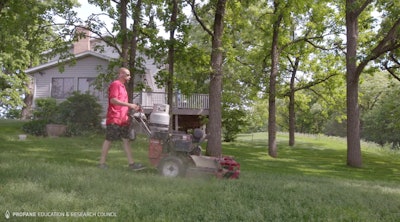 This video highlights Barnes, Inc., a Madison, Wisconsin-based landscape contractor that operates 75 propane-powered mowers.
Originally highlighted in a 2014 Straight Talk video, this new video shows what Barnes's experience with propane mowers has been for five years.
"Barnes is a textbook example of a contractor who starts by integrating just a few propane mowers into its fleet, and then ultimately expands its propane use into much more of the fleet after experiencing the fuel's numerous benefits," says Jeremy Wishart, director of off-road business development at PERC. "In just five years, Barnes has saved hundreds of thousands of dollars in overall fuel and maintenance costs from using propane mowers. We hope this new Straight Talk video can help show how a commitment to using propane can really make a difference for landscape contractors in both the short and long term."
The company has replaced all but its largest mowers with propane. Over the five years of using propane, the company has paid as little as $1 per gallon of propane and has saved additionally with PERC's Propane Mower Incentive Program, which offers $1,000 for new propane mower purchases and $500 for propane conversion kits.
The company has also started incorporating propane autogas into its vehicle fleet in 2016.
The Straight Talk series is a collection of video testimonies that let viewers learn about how propane helps various users. They give first-hand accounts on how propane saves on fuel costs, lowers emissions and what it's like to operate and service propane-powered equipment.
Click here to view the new Straight Talk video.
American Rental Association releases five-year forecast for revenue
The American Rental Association (ARA) expects equipment and event rental revenues in the North to surpass $71 billion in 2023.
This latest forecast projects slightly less growth for 2019 through 2022 than what was predicted in May.
"The market for the equipment and event rental industry remains positive, but there definitely are signs that the U.S. economic growth is slowing, and this projected slowdown is reflected in our latest forecast," says John McClelland, Ph.D., ARA vice president for government affairs and chief economist.
For 2019, equipment rental revenue in the U.S. is expected to be $55.7 billion, up 5 percent over 2018 with growth in the 2020 and 2021 at 3.8 percent, 4.1 percent in 2022 and 3.3 percent in 2023.
"Trade tensions and a slowdown in the global economy are headwinds for the economy with the risk of a recession happening in the U.S. within the next 12 months at about 35 percent," McClelland says.
As the U.S. economy decelerates this year, it is being exacerbated by uncertainty over trade and tariff policy, especially with China, according to Scott Hazelton, managing direct of HIS Markit, the forecasting firm that complies the data gathered for ARA.
"This uncertainty is likely to persist into 2020 and become further complicated by the presidential election cycle," Hazelton says. "The result is a modest reduction in our near-term economic outlook, particularly for the construction and manufacturing segments on which rental depends. We have slightly lowered our expectation for rental revenue growth, but we are not expecting a downturn."
Tree Hugger introduces reusable tree staking system
Tree Hugger's Tree Brace system has come to market after a long-term R&D program.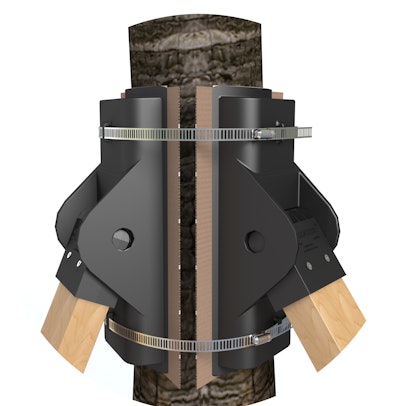 It can be supported with an easy-to-use molded system that can be used repeatedly. The Tree Brace is engineered to eliminate improver angles and provide optimal tree stability.
"Generally speaking, staking of a tree can take anywhere from 12 to 20 minutes," says Lloyd Gerber, president of Tree Hugger. "And sometimes, two installers are needed. Our new Tree Brace system can be installed in as little as five minutes and, generally, requires only one installer."
The staking system is made with molded polypropylene formulated to endure harsh weather. No special tools are needed to stake the tree.
"We currently offer a fixed tree staking kit and an adjustable staking kit," says Farrell Gerber, executive vice president of sales. "Both consist of Tree Brace molded polypropylene support holders, stainless steel bands with quick-engage clamps. Whichever kit is used, the installation process always is quick, easy and seamless."
The Tree Brace system is for sale through industry distributors. Click here to find out more about the product and a local distributor.
LandCare celebrates winners of its first case competition
BYU-Idaho seniors Ashley Pixton, Becca Smith and Sara Shirley won first place in LandCare's inaugural Case Competition (LCCC).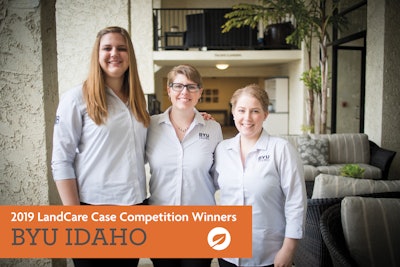 The competition is a case study where college students studying horticulture, agriculture and other related fields are challenged to solve a landscaping problem based on a specific branch scenario.
Students from across the country created written and visual presentations for their solutions. The winners were invited to present their solutions at LandCare's Account Manager Conference in Orange County, California, with all expenses paid.
They were each awarded $1,000 scholarships as well as a bonus trip to Disneyland.
"It was nice to have insight into a real company's challenges as opposed to having a classroom discussion on a theoretical situation," says Pixton, a horticulture student at BYU-I. "Getting to come and present our findings to the head of the company was a really exciting incentive and it motivated us to put our best foot forward."
LandCare hopes to expand the competition to even more colleges and universities next year.
"There's such a wealth of talent at the university level that we have yet to expose to our industry," says Tim Martinez, executive vice president at LandCare and creator of the LCCC. "Having the opportunity to engage these students and see what they can come up with is really fun and ultimately important for supporting and encouraging the next generation of landscapers."
Nufarm renews its commitment to GreenCare for Troops
Nufarm is recommitting $150,000 to help expand and diversify GreenCare for Troops, the program designed to aid military families and provide basic lawn care while their loved ones are deployed.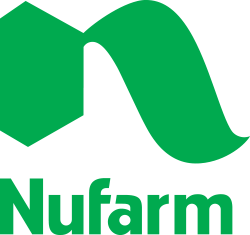 GreenCare for Troops reached a double-digit increase in active member, a 70 percent match rate among military families and an immediate volunteer match for three-quarters of all newly registered families, thanks to Nufarm's support in 2019.
"Nufarm is proud to be the lead sponsor of GreenCare for Troops and the good that it encompasses," says Sean Casey, Nufarm Americas VP Turf & Ornamental. "Military families face many challenges when their loved ones are deployed. GreenCare for Troops works nationwide to connect them with complimentary lawn care services. It's a great way for lawn and landscape professionals to give back and help military families relieve stress by coming home to a worry-free green yard. We encourage everyone to get involved by donating, volunteering or spreading the word."
Nufarm's contribution will be used to help expand and enhance the program that is managed by non-profit, Project EverGreen. There will be additional outreach for volunteer recruitment as well as more logistical resources needed to grow the GreenCare for Troops database and serve more families.
"Nufarm's incredible ongoing overall support to this incredibly worthwhile program is making a significant difference in the lives of military families and professional lawn and landscape contractor volunteers across the country," says Cindy Code, Project EverGreen executive director. "This ardent support has helped this nationwide to build upon its success and, ultimately, bring safe and healthy yards and landscapes to families in need of relief and peace in a green setting."
GreenCare for Troops has been around for 13 years in 2019 and has served more than 11,000 military families since it was started. Platinum partners include Toro and SiteOne Landscape Supply and silver partner Arborjet/Ecologel.
Vermeer Mid Atlantic acquires Vermeer Northeast
Vermeer Mid Atlantic, an All Roads company, is continuing its expansion into the equipment industry by acquiring Vermeer Northeast, a dealer partner of Vermeer Corporation.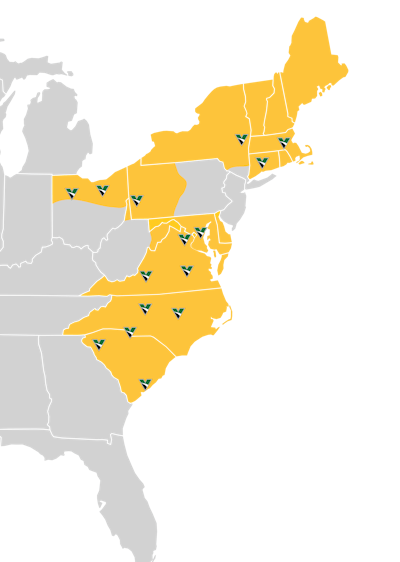 Vermeer Northeast has locations in New York, Massachusetts and Connecticut. The addition of these locations makes Vermeer Mid Atlantic one of the largest Vermeer dealer partners in the country with 15 locations covering South Carolina, North Carolina, Virginia, Maryland, Delaware, Pennsylvania, West Virginia, Ohio, New York, Connecticut, Rhode Island, Massachusetts, New Hampshire, Vermont and Maine.
"Vermeer Mid Atlantic's demonstrated market leadership is greatly enhanced by the addition of Vermeer Northeast," says Mark Boyle, president of Vermeer Mid Atlantic. "Vermeer Northeast is a highly talented team with deep expertise and a passion for delivering results to its first-rate customer base. We look forward to delivering exceptional service and building on the success the Vermeer Northeast team has established in the market over the last 50+ years."
Also to reflect the acquisition and changing geographic footprint, the two dealers will now go by Vermeer All Roads. Vermeer All Roads plans to invest in additional locations to better service its customers.
"We have great respect for and pride in our heritage and our brands which have been the foundation of our organization, including Vermeer Mid Atlantic, Vermeer Sales and Service Inc, and Vermeer Northeast," Boyle says. "We are excited about this new chapter and the opportunity to further expand our regional footprint under the Vermeer All Roads brand."
Arborjet hires new plant pathologist
Arborjet has recently hired plant pathologist and microbiologist, Dr. Ploy Kurdmongkoltham.
Kurdmongkoltham specializes in tree pests and diseases. She has a M.S. in plant biology from Jacksonville State University and DPM (Doctor of Plant Medicine) from the University of Florida.
She has considerable experience doing extension work including leading and coordinating Florida First Detector workshops, teaching growers, master gardeners and the public on identifying tree pests and diseases.
With Arborjet, she will train and conduct educational webinars as well as identify and isolate pure cultures of fungal and bacterial plant pathogens and conduct in-vitro efficacy trials along with other in-house entomology studies.
"I've always wanted to work in research and development ever since I started my masters," she says. "Being in the lab is a second home to me. I am excited to be working with the entomologists at Arborjet to hopefully aid in discoveries that will help their arborists and regional training managers preserve urban forests, by eradicating invasive species and diseases across the country."