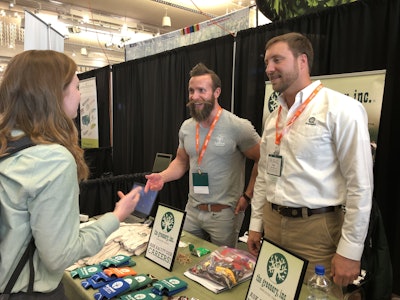 Yesterday, the National Association of Landscape Professionals (NALP) hosted a webinar on how to set up an effective internship program.
Jenn Myers, director of workforce development for NALP, led the webinar and covered the many aspects of how to create a successful internship program.
Internships have long-term potential for loyal, reliable employees and are also an investment in the industry by educating new talent.
Positive internships can result in students becoming your best recruiter as they share with their peers their experience with your company.
Before getting into minutiae of internship programs, Myers first set the record straight on what is and isn't an internship.
According to Myers, a student internship is "a working arrangement of prescribed duration with a guarantee that the student will rotate among several different aspects of the company's functional areas for one or two weeks each, completing planned modules that cover the duties and responsibilities of that area. There may also be minimum requirements of school/student/company to be met."
Second and third internships with the same company tend to be more in-depth and focus on a few select areas of interest.
Internships should not be confused with summer or seasonal work. If a student is only working for employment and pay, this is not an internship. These students are treated the same as any employee, but they can still gain valuable experience this way.
One of the most crucial elements of an effective internship program is for both parties to be clear about their expectations. The company needs to know what work situation they are offering and students need to be aware of what the work situation will be before seeking an internship.
"Interns are great, but they are high maintenance," Myers explains.
Before considering offering an internship program, landscape companies must first make sure they have the commitment, patience, judgement and follow through in order to create an effective program.
Internships require time, money, employees willing to mentor and willingness to explain why your company does things a certain way.
Myers says that most failed internships are due to unrealistic expectations. The employer can have impractical expectations about the program, the costs or goals while students can be disappointed by their experience, training or networking.
Failed internships hurt the intern, the employer and the industry. Students who have a negative experience may share with classmates and faculty and even change majors or careers. Faculty, in turn, may advise students to not intern with your company in response.
The first step to developing a solid internship program is to foster relationships with faculty members. Myers says one opportune time is during the career fair that is held during the annual National Collegiate Landscape Competition (NCLC).
Once students have already left the career fair for lunch, faculty members often still remain. This can be a prime time to network with those whose colleges are near your headquarters.
"Faculty wants what's best for their students," Myers says.
Other occasions to connect are at campus visits as a guest speaker or by directly emailing certain educators.
When it comes to actually selecting students to participate in your internship program, determine your minimum requirements just as if it was a full-time position.
Myers suggests requirements such as being enrolled in a horticulture or landscape-related degree program, a GPA of 2.5 or higher, a resume and face to face interview and an ability to travel to work each day.
"You cannot assume anything," Myers says. "Be very clear about the expectations and working conditions."
For intern candidates, Myers advises sending a written job offer that lists the pay, responsibilities, housing stipend, length of employment and so on that should be signed and returned to the company. Those who applied but are not receiving an offer should be informed, thanking them for their time and encouraging them to continue pursuing a career in the green industry.
Myers suggests having deadlines for your group of first choices so if they don't get back you, you can then pursue your backup group of interns.
When recruiting student out of your geographical area, you have to consider both housing and transportation for these interns. These will drastically affect the complexity and cost of your program.
Myers advises focusing sourcing interns from local areas first. If you do decide to provide housing for students, you will need to get creative with your options and look for nearby apartments or houses that have short-term leases available.
Other aspects to consider with housing include roommate selection, what amenities to provide, house rules for any issues and who is paying for the housing.
"If interns in company housing receive assistance with rent payments, you should consider providing the same stipend to those not in the company housing," Myers says. "This ensures all interns receive benefits."
Myers adds that typically interns who are provided company housing and transportation tend to get paid less, and those who pay for their own housing and transportation get paid more. Internship pay can range from $8 to $14 an hour, depending on regional averages and competitor pay rates.
A typical internship is a 10-week program with two-week modules, but Myers says this can vary based on the company and the situations, especially when working with non-traditional students. She says it is best to tailor the program to what works best for your company.
One way to make sure interns get the most out of each module is to have a documented list of training or work that should be done during their time with each branch or department.
Employees who will be working with the students need to have a clear understanding of the program and your expectations as well.
Just like a new full-time employee, students should go through an orientation that reviews company policies and procedures, safety and equipment training and introduces them to key staff members and their mentor.
When it comes to safety, you should assume the intern knows nothing and have the intern demonstrate they know the safe and proper use of each piece of equipment before allowing them to operate it in the field.
Be explicit with your expectations of the interns as employees, going over topics such as the dress code, code of conduct and timekeeping matters.
Two other major aspects of a strong internship program are mentors and evaluations. Mentors serve as the primary point of contact for the intern and take them under their wing almost as a big brother or big sister.
"Mentors should have strong coaching and training skills and be able to explain the relationship and purpose of tasks at a basic level," Myers says.
Mentors need to understand their roles and their responsibilities to all parties. They should attend intern-related social events and evaluation meetings.
Myers encourages having a meeting with mentors prior to interns arriving, to go over the guidelines.
As for the evaluations, it is important to collect feedback from the interns and this helps you know if their expectations are being met. A 30-minute evaluation should be held once a week, an hour-long review after 30 days and an hour-long final review.
Conducting exit interviews can help you gain insights on how to improve your program.
While some schools require no documentation of an internship, others may require detailed paperwork that is regularly submitted throughout the internship or at the end, so evaluations can help gather this sort of information.
Myers says that you will tend to hire back 30 to 50 percent of the interns who complete your program, and you should stay in touch with those you'd like to hire back.
Below is NALP's suggested program timeline:
First steps
Create internship plan
Get key company employees on board
Fall
Identify qualified intern candidates
Conduct interviews (in person or via phone)
Call references (at least three: two professional, one personal)
Winter
Determine final list of candidates
Send offer letters
Research housing options
Late winter/early spring
Follow up with candidate; determine final number of interns
Establish start and end dates for interns and create schedules
Identify mentors
Securing housing and furnishings; determine roommates
Spring
Conduct mentor meeting to review intern and mentor guidelines
Send checklists to interns
Narrow down dates for welcome party, group outing, farewell party
Late spring/early summer
Housing move-in
Orientation
Introductory meeting with intern and mentor
Welcome party
Summer
Company evaluations distributed to managers
Company evaluations received prior to 30-day meeting
30-day meeting with intern and mentor
Group outing (baseball game, boat trip, etc.)
Late summer
Farewell party
Finish and submit school evaluation (if necessary)
Final meeting with intern and mentor
Housing move-out
For more information about starting an internship program, click here.