Bret Achtenhagen's Seasonal Services, based in Mukwonago, Wisconsin, has been in business for 25 years and is focused on creating landscapes that will last for generations.
Bret Achtenhagen, president and CEO of Seasonal Services, got the landscaping bug while working for his brother's company, which focused more on the maintenance side.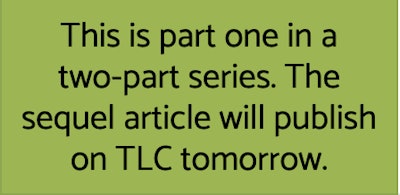 After parting ways with his brother, Achtenhagen started his own landscaping company.
"Every Achtenhagen I know has their own business," he says. "My uncle, my dad, my brother, my grandfather, everybody; we're talking way back to 1850. When I got the chance to build those first couple of retaining walls and plant a few gardens, I thought this is for me. And then, of course, being from an entrepreneurial background, I wasn't afraid of borrowing money or taking the risk at all."
The business is located on a 45-acre property with a barn that used to raise quarter horses and cattle. Achtenhagen rented the area from his father until he eventually bought the entire place.
Part of the land is still used to board horses, but the rest of the property Seasonal Services uses for training and testing out different herbicides.
"We may try a new herbicide here for a month or so before we try it in the field," he says. "We don't want to experiment ever on a client's property."
Business boomed and Seasonal Services grew quickly. Achtenhagen did the physical work for five years and then was the primary salesperson for 15 years. These last five years, he's stepped into the more traditional role of CEO. Achtenhagen's wife Amy ended up joining the business after the company's bookkeeper had a stroke.
"She's just culturally uplifting, socially uplifting and it provides a very nice family flavor to the business," Achtenhagen says.
Creating a healthy company culture
Over the past five years, Achtenhagen has devoted considerable time into developing Seasonal Services' company culture.
"Culture will kill a company," Achtenhagen says. "A bad culture will kill a company faster than low profit."
One major threat to Seasonal Services' healthy company culture was a particularly negative employee who happened to be a productive industry expert as well.
"The way by which he led was not what I envisioned," Achtenhagen says.
The company was losing good people due to the negative atmosphere and eventually Achtenhagen's business coach advised setting up business goals that would create a more constructive work environment.
"He would have to change how he behaved in order to achieve these goals over a long period of time," Achtenhagen says. "We held him accountable to the plan."
As the negativity was filtered out of the company, Achtenhagen decided to make culture No. 1 in 2006. The company now encourages a workspace of enthusiasm, teamwork, compassion, dedication and confidence.
"We still have challenges," Achtenhagen says. "But when you're with a team of people that are ready to roll up their sleeves, you feel like you can take on any challenge. You almost welcome challenges because you're proud when you overcome them. It's a very rewarding thing to overcome challenges."
Like any business in the green industry, Seasonal Services is faced with the labor challenge, but more specifically, Achtenhagen says he is looking for passionate people who will consider this industry a long-term career.
The company employs about 110 workers during the peak season and 60 people in the off season.
The number one source for new employees comes from current employees bringing in friends and family. Seasonal Services' number two source is from online platforms like Indeed and LinkedIn, but they are also trying out sharing job postings on Facebook as well.
Achtenhagen says they tried H-2B last year but despite the investment, they did not get selected in the lottery.
As for how Seasonal Services retains its current workers, the company holds four to six appreciation events a year with everything from pancake breakfasts to taco trucks. It also has an incremental PTO policy so workers can earn a considerable amount of PTO while they're working.
"We do our best to provide the best trucks and the best tools," Achtenhagen says. "We show them appreciation. We recognize them. Every time we get a compliment, it goes out in a company-wide email blast and we recognize the people who are mentioned in the compliment."
Achtenhagen says he empowers his employees to make decisions and spends a lot of time talking about the culture. He says he works to create a family atmosphere and preserve the balance between employees' professional and personal lives.
"They're the face of the company and success or failure is at their fingertips because they are the people representing the company to the public," Achtenhagen says.
"I think you take that environment that you come to work in, and you take that culture and you take it in and display that to our customers," Amy Achtenhagen says.
Attracting the right customers
Seasonal Services' customer base is mainly medium to high-end residential and Achtenhagen says they are looking for people who want a sophisticated, unique high-quality landscape.
"Sophisticated is a tough word," Achtenhagen says. "But I think it's still appropriate because sophisticated, to me, means not cookie cutter."
By homing in on people who love and are motivated by beautiful landscapes, Seasonal Services often receives a lot of repeat business from these customers.
When it comes to finding these leads in the first place, Achtenhagen credits his radio show that he has been doing for the past 10 years. He says this has positioned his company as Wisconsin's landscape experts with about 25,000 listeners tuning in every Saturday.
"The Designer Yard Show" on Newsradio 620 AM WTMJ is 37 and half minutes long and Achtenhagen will discuss a seasonally relevant topic on the show, but a majority of the time, he will answer homeowner's lawn and garden questions.
"We will spend 30 of the 37 minutes answering probably about 10 to 12 callers' questions," he says.
The questions can range from how to get rid of crabgrass to what is eating my tomato plants. Achtenhagen says he will address the caller's concerns and provide his speculation on what the likely problem is.
Achtenhagen stumbled upon the opportunity when "The Plant Doctor" radio show ended, and he happened to be the only person advertising landscaping on the radio channel. They asked him if he wanted to host a show and he was extremely intimidated at first.
"By week number six, it is like, 'This is fun and it's easy!'" Achtenhagen says. "And I would burst up at four o'clock in the morning ready to go. The phone started ringing immediately and now everybody knows who we are."
Aside from the radio show, Seasonal Services' other main lead generators are word of mouth and seeing the company trucks out and about.
Seasonal Services also takes advantage of occasions such as when the Metropolitan Builders Association has its Parade of Homes showcase as a chance to show off what the company can do design-wise.
When Seasonal Services does receive calls from potential customers, they make sure they are a good fit by finding out the scope of work they are requesting and how far away they are. The company tries to stay in a 45 minute or less driving range.
Kyle Kohlmann, a landscape architect with the company, calls Achtenhagen the people's landscaper, as they do a good amount of $5,000 to $10,000 jobs that help fill in schedule gaps, while the larger $100,000 plus jobs are what keep the company visible.
"We don't care who you are, we want to work with you if you are passionate about great design and great craftsmanship," Achtenhagen says.
"Details Matter" is Seasonal Services' mission statement and you can see how this belief is implemented in a number of ways.
Because the company wants its landscapes to stand the test of time, it makes a point to invest in products that last. When it comes to choosing what plants to use, Seasonal Services provides customers with plant palettes they know can handle Wisconsin's difficult climate. Achtenhagen says they are always looking for unique plant introductions but will monitor them for five years before including them in their designs.
Seasonal Services also advises clients when it comes to hardscaping materials, as some simply won't hold up as long as other brands. Since the company knows its high-quality standards, it warranties hardscapes for five years, irrigation and lighting for three years and plants for one year. If customers sign up for the tree and shrub care program, Seasonal Services guarantees the plants.
According to Kohlmann, they strive to take more time to come up with ideas and work with the site. He says he often tries to be more thoughtful with his designs and stays up to date on what other companies are doing. One of Seasonal Services' design goals is to make sure that every job is one of kind.
The company is also working to free up its landscape designers so they can go be out in the field more often.
"It's nice to see what's being built, to see what's being drawn come to life," says Nellie Mogge, a landscape designer who's been with Seasonal Services for three years.
Check back tomorrow for part 2 of this series, where we'll look at how Seasonal Services finds cost savings and its plans for the future.