Details matter at Bret Achtenhagen's Seasonal Services, based in Mukwonago, Wisconsin, and this goes beyond what happens on a customer's landscape but also goes into how the company is run and finds cost savings.
"It's not about the dollars," says Bret Achtenhagen, president and CEO of the company. "It's about the pennies."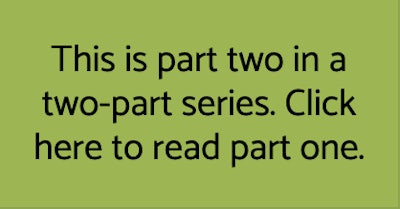 One tool that has allowed Seasonal Services to pinpoint where changes can be made is with the landscape software Asset.
"It's been a phenomenal tool," Achtenhagen says. "It encompasses everything: contact management, proposal generation, scheduling, accounts receivable, accounts payable, payroll (and) financial reporting."
Achtenhagen says they rolled out Asset around 2006 when the company was bringing in about $3 million in revenue.
"It was a very robust software for a $3 million company," he says. "But we knew we would be growing, and we grew into it. Through the deployment of Asset, we were forced to really look at our company and understand profit centers. We began to learn that different profit centers have different margins. They have different material margins, they have different labor margins and they have different profit margins. We became so financially astute."
It took the company two years to get a complete handle on everything. Achtenhagen compares it to going from having only controls for the volume, bass and treble of a song to having professional soundboard to play with.
"You can see the performance of the company in so many different ways," he says. "Data is king. In terms of running a business, data is your product. We're very good at spotting trends in our performance, trends in productivity, trends in sales."
Achtenhagen says every year, they learn different things about the company and spot new trends where they can fine-tune.
Another big chapter for Seasonal Services is when they hired Mike Schmeling as their CFO. Schmeling prides himself on helping others understand the numbers and finding those small areas that can be tweaked.
"I always say instead of fixing one thing a hundred percent, you fix one hundred things one percent," Schmeling says. "It's about observation."
Once a month, the management team conducts executive field visits to sites where they see if crews are doing anything that is inefficient with their time.
"You just constantly have to look at the job to make sure we are doing what we told the client we're going to do; no more, no less, and then look for opportunities that while we're there, like 'Hey, can we sell them additional pruning?'" Schmeling says.
The company also keeps running lists on areas they can work to improve on, such as how to track how much fuel each truck is using rather than having to enter it all manually.
Schmeling says everyone in the company has the mindset of thinking how they can do things better. When CRM program managers see one crew is performing better than others, they will find out what they are doing and spread it to the other crews. Likewise, if one crew is struggling more than others, they will determine what the issue is and eliminate it so there is consistency.
Finding that happy balance between staying on budget and providing quality work is a challenge, Schmeling says. He compares it to a pendulum swinging back and forth.
When it comes to how to analyze the data, Schmeling says there are an abundance of options.
"We have probably more metrics that we care to admit," Schmeling says.
This includes the BASS (Bret Achtenhagen's Seasonal Services) tracker, which displays properties' budget status. Red means a project is over budget. Green stands for under budget and yellow projects are either over or under budget by five percent. Another metric Seasonal Services looks at is its labor efficiency analysis that can be broken down by crew, by day and by week.
Schmeling shares the financials with the entire company once a month, including a financial statement for each profit center.
Seasonal Services breaks its two main departments, landscape design/install and landscape maintenance, into three profit centers each. The three profit centers for landscape design/install are landscape installation, decorative masonry and lighting/irrigation. The three profit centers for maintenance are landscape maintenance, turf and ornamental plant health care and snow removal.
"On the design/build install side, we're 95 percent residential and five percent commercial," Achtenhagen says. "On the maintenance side, we're 50 percent residential, 40 percent condominium/HOAs and 10 percent commercial."
Achtenhagen says they plan to reduce their HOA maintenance percentage and increase their high-end commercial maintenance.
Facing challenges
While Seasonal Services strives to be as efficient as possible, there are certain elements that are out of its control, like the weather and the economy.
This year in particular, Seasonal Services has been dealing with an abundance of rain that slashed into the company's spring production time. To make up for this, crews have been working longer hours and on Saturdays, but the overtime has been cutting into the bottom line.
Weather in Wisconsin is finicky at best, which is why Seasonal Services opts for 3-year maintenance contracts to compensate for weather changes.
"The only consistent thing is the inconsistency," Achtenhagen says.
When the Great Recession hit in 2008, Seasonal Services didn't feel the effects until 2010, as the builders they were working with still had so much work left in the pipeline.
"We saw it coming," Achtenhagen says. "We dug our heels in and we kept every key (person). We thinned out some poor performing people, kept the best. We hunkered down and we lost some money, but we came out of it leaner, meaner, better."
Achtenhagen credits the company's success to qualified employees, quality work and extraordinary customer service.
"Surround yourself with great people, even if you can't afford it," Achtenhagen says. "You have to surround yourself with great people and a great culture and you need to do that. You can't do it yourself."
Future of the company
Seasonal Services is always open to new innovations, but before it fully commits, Achtenhagen says he likes to know where things will be five years down the road.
Achtenhagen believes that battery power is where the industry is headed, but is still waiting for battery to be comparable to gas. He says it is close, but things are still changing so quickly that they're not ready to implement and deploy a switch to battery-powered equipment.
Schmeling believes that in 10 years, the business will have more than one location.
"Eventually as we keep on growing, there's no way we'll be able to service it off in this location," he says. "Just from an efficiency standpoint, as far as routes, we can only have so many trucks coming in and out of here."
As for an exit strategy, Achtenhagen says he would like to pass the business on to his son, Brady, but he acknowledges Brady won't be able to step in and lead anytime in the near future.
"The thing is, I started a zero-dollar business," Achtenhagen says. "He would be trying to take over something that might be a $15-million-dollar business."
Brady started working for the company in 2013 as a laborer and has become the number two salesperson in the company right now. Achtenhagen says he has the tools for the job but isn't properly seasoned yet. While Brady gathers more experience, Achtenhagen says the company can be easily run between Schmeling, Chris Huebsch, director of operations, and a director of sales.
"The exit strategy for me at this point would be to have an extraordinary Mike, an extraordinary Chris and an extraordinary sales manager," Achtenhagen says. "And then if they all voted for Brady to be the visionary when that time comes, we'd be in great shape."
Achtenhagen says it doesn't have to be Brady in the visionary position as long as the positions of CFO, director of operations, director of sales and visionary are filled with the best possible people for the job.