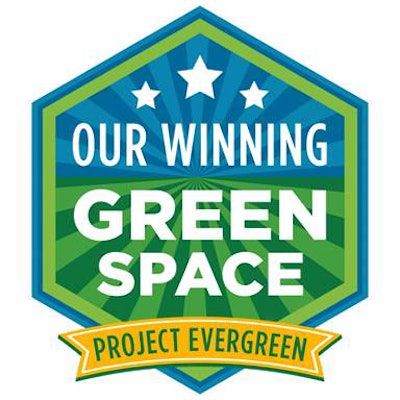 Project EverGreen has named the 2019 winner of the "Our Winning Green Space" contest.
The "Our Winning Green Space" contest is sponsored by Project EverGreen in partnership with Exmark Manufacturing, the Sports Turf Managers Association (STMA) and The Foundation for Safer Athletic Fields for Everyone (SAFE).
Logan Horne and the Louisa County (Virginia) School District, located in central Virginia at the crossroads between Richmond, Fredericksburg and Charlottesville, received an Exmark Lazer Z X-Series mower package that will help maintain the school district's athletic fields and grounds helping to create safer playing fields, as well as an athletic field renovation.
"Louisa residents and the neighborhood are the real winners," says Cindy Code, executive director of Project Evergreen. "Healthy and safe sports fields breathe new life into the environment and functions as the lungs of the community. Project EverGreen and our partners at STMA and Exmark were impressed with the quality of the application and the passion of Horne."
Since 2015, Project EverGreen says its GreenCare for Communities renovation projects have revitalized more than 1 million sq. ft. of athletic and recreational greens spaces in numerous cities across the United States including Atlanta, Cleveland, Detroit, Milwaukee; North Chicago, Illinois; Greensboro and Durham, North Carolina, San Antonio, Ft. Worth and Round Rock, Texas; East Harlem, New York City; Hazlet, New Jersey, Portland, Oregon, San Marcos, California and Phoenix.
Horne returned to his hometown of Mineral, Virginia, to teach turf management at Louisa County H.S. and oversee the care and maintenance of the district's athletic fields and grounds. The school district includes a high school, middle school and five elementary schools, and the grounds and fields are used by both students and residents for athletic competitions and recreation.
A professional turf manager by trade, Horne manages four athletic fields, about 15 acres of landscape, 2.4 miles of walking trails and a bee-keeping area. The students actively participate in the maintenance and have come up with new ideas to enhance the grounds, including building and installing benches, clearing trails and helping to build an outdoor classroom.
His love of turf and managing sports fields drives him to recruit at least one high school turf student a year to go into a career in sports turf management.
"Turf management is a unique program," says Horne. "Some kids would rather work outside and it's a great career opportunity. The kids love it. We have a very proud school and a lot of passion."
The scope of the playing field renovation project is currently being reviewed.
"We thank Project EverGreen and its partners for making this project possible," adds Horne. "It will leave a lasting footprint on our community for a lifetime."
Davoli promoted to chief technology officer at The Greenery, Inc.
The Greenery, Inc. recently announced the appointment of Janet Davoli as chief technology officer (CTO).
As CTO, Davoli will work with executive management to achieve the company's strategic goals and grow The Greenery through the use of technological resources.
With an MBA from Adelphi University and a BS in mathematics with a minor in computer science from Binghamton University in New York, the company says Davoli is an accomplished executive with extensive experience in technology design and implementation, operations, business development and marketing.
During the past 11 years that she's been with The Greenery, the company says Davoli has had a proven track record of increasing sales and growing the bottom line while forging teamwork and commitment through all levels of the organization.
"She is a results-oriented, decisive leader with proven success in our growing organization," says Lee Edwards, CEO of The Greenery, Inc. "We are excited to have her in this new role for The Greenery."
Before this promotion, the company says Davoli served as director of business development at The Greenery Inc., providing executive leadership for the employee-owned, regional landscape service provider, which has nine branch offices and 600+ employee-owners. She has led companywide business development, spearheaded and implemented new technology platforms and guided marketing strategies.
NALP names Britt Wood as new CEO
The National Association of Landscape Professionals (NALP) recently announced that its board of directors has named Britt Wood to the position of chief executive officer (CEO).
NALP says Wood brings more than 24 years of experience to the role, in which he will oversee an association that represents 1 million landscape, lawn care, irrigation and tree care professionals across the country. He will assume his new role on Oct. 7 and will attend LANDSCAPES in Louisville, Kentucky, from Oct. 15-18.
"After a comprehensive and thorough selection process, the board is confident we have found the right person to lead our association into the future," says Jeff Buhler, NALP president. "Britt's depth of leadership experience and proven track record of delivering results across various industries throughout his career will be huge assets as he focuses on building on NALP's many successes and guiding our association into new areas of opportunity and growth."
"Britt's extensive association background and industry relations experience will be invaluable in growing our membership, strengthening relationships with associations at the state and national levels and delivering innovative programs to landscape contractors and their business partners to help them grow," says Andrew Ziehler, NALP's incoming president. "We are fortunate we will have him at the helm."
"It is truly a privilege to have the opportunity to serve an industry association that is a leader in programs and initiatives that support the business and operational needs of lawn and landscape companies across the country," says Wood. "I look forward to working closely with our dedicated board and staff to continue to grow our membership by further enhancing NALP's value to the lawn and landscape community. We will work diligently to continue to enhance the good work that has been done in advocacy, education, standard setting and workforce development in an effort to make NALP even more valuable to our members."
Before joining NALP, the organization says Wood spent more than two decades in trade association executive leadership roles, most recently as senior vice president of business development and industry relations for the Consumer Healthcare Products Association. Previously, NALP says Wood held positions with the International Foodservice Distributors Association, American Society of Civil Engineers, Loss Prevention Foundation and the Retail Industry Leaders Association.
Wood succeeds Carol Keeling, who served as interim CEO of NALP since February, following the departure of Sabeena Hickman, who led the organization for 11 years.
Kubota opens entry for SZ Standoff Sweepstakes
From now through the end of GIE+EXPO, Kubota is giving business owners the opportunity to win an SZ Series mower through the SZ Standoff Sweepstakes.

Kubota says entering is easy and can be done by filling out an online form. A second entry can be submitted while filling out the form by uploading a photo of a Kubota commercial mower and the name of the business owner's local Kubota dealer.
A third and final entry can be submitted by visiting the Kubota booth at the GIE+EXPO and having their expo badge scanned. One winner will be selected approximately a week after the sweepstakes closes on Oct. 18.
Natural Stone Council updates sustainability standard
The Natural Stone Council (NSC) has announced updates to the Natural Stone Sustainability Standard (ANSI/NSC 373).
"Five years ago, the voluntary natural stone sustainability standard was adopted, and companies in the stone industry have shown tremendous support by certifying and giving design teams more options for what they've asked – certified, sustainably produced stone," says Duke Pointer, executive director of the NSC. "As the building and design market continues to demand greener and more sustainably produced materials, green building programs evolve to meet the rising needs. Updates to the natural stone certification reflect the stone industry's commitment to aligning with evolving green building programs."
NSF International's National Center for Sustainability Standards facilitated the standard's development, including revisions and published the updated standard in August 2019. The 2019 updates address a broad scope of issues including water, site management, land reclamation and adaptive use, corporate governance, management of excess process materials and innovation.
Updates to the standard also address a wider range in the variability of operations, natural stone dimensional deposits and regulatory requirements across the country.
The ANSI/NSC 373 joint committee, comprised of members from a cross-section of stakeholders within and outside of the stone industry, worked to update the standard with input from task groups. Along with the updates, the committee has reenergized its efforts to educate the design community about using the standard.
"The heart of ANSI/NSC 373 Sustainable Production of Natural Dimension Stone is continuous improvement," says Kathy Spanier, marketing director of Coldspring and chair of the NSC's Sustainability Committee. "With the standard being in the market for about five years, we took feedback from certified companies as well as input from key green building programs to make necessary updates and ensure relevance."
First issued in 2014, the Natural Stone Sustainability Standard establishes criteria and methods for tracking, measuring and improving sustainability in the production of natural stone, long regarded for its durability and resiliency.
"Natural stone is one of the best building products we have from an environmental perspective, and the NSC's response to feedback from the green building industry with updates to the stone standard demonstrates their commitment to continual improvement," says Jason F. McLennan, author of the Living Building Challenge.
The standard aligns with materials and resource credits for LEED v.4 and Living Building Challenge projects. It applies to all processors of natural stone, from quarry operators to final stone fabricators.
"The stone industry is dedicated to aligning with the continually evolving marketplace," says Pointer. "As further changes come, we'll continue our efforts to respond."