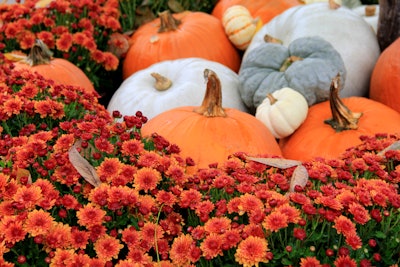 With the fall season in full swing for most of the country, customers will be flocking to their yards to enjoy the cooler weather, seasonal color and fabulous fall decorations.
With customers wanting to spend more time in the great outdoors, now might be a good time to add a bit of fall flare to their landscape, whether that be creating some eye-catching container gardens, ornamental grasses, statement or fruit trees or other seasonal colors.
Take a look at a few ideas you can implement to create the perfect fall oasis for your clients.
Layers, edibles and bloomers
Adding in layers to the landscape not only helps create depth in yards that might be flat, but they also give customers the chance to experiment with adding in multiple varieties of fall plantings.
Grouping plants together by color can create a strong impact visually, and it can also add proportional balance to the yard. If your customers are wanting a very uniform look in their garden beds, grouping with layers is the ideal way to achieve this, and it also helps add a more powerful aesthetic impact than when the plants are scattered randomly around the space.
Jumping on the train of edible gardening is not only trendy but also a viable way for customers to benefit from their gardens. To create looks that are appealing to both the eye and stomach, consider adding in ornamental edibles to either your customer's container garden or their regular flower beds.
There are many cool-season vegetables that will spruce up the garden while also providing a steady supply all throughout the coming holidays. When planting the different types, try keeping vegetables that will grow taller toward the back of the bed, any that will form rosettes in the center as a focal piece and place those that will stay low to the ground at the front or along walkways as a liner.
To add that pop of seasonal color into the area, consider swapping out your customer's older summer flowers for a few more cheerful fall-blooming perennials like black-eyed Susans, goldenrods or the ever-popular chrysanthemums. Be sure to pick plant types that are covered in buds as opposed to those that are already in full bloom, as these will offer your customer a longer display time.
Mums, especially garden mums, are always a crowd pleaser in the fall and they will offer a variety of color options that are sure to fit whatever design your customers want. If planting mums, be sure to plant them in soil that's well-drained about a month before the first frost to achieve a quicker color. Once they've finished blooming, cut them back to about 8 inches above the ground.
If your customers enjoy the look of black-eyed Susans, keep in mind that they aren't the only ones, as bees, birds and butterflies will also appreciate them before the weather gets too chilly. And as an added bonus, these flowers are able to handle cooler conditions well and are easy to grow. Many will start their blooming in the summer and will continue to flower well into the fall.
While it's true that goldenrods have garnered negative attention due to the belief that they cause ragweed allergies, green industry experts say that's just not the case. These hardy plants do well in even the most basic of soils and they thrive in full sun or light shade. Their coloring is ideal for fall and will truly pop when paired with either bright green or deep purple foliage.
Trees, movement and contrast
If customers want to continue to the trend of having edible options in their yards, talk to them about bringing in fruit trees that will offer dramatic colored leaves, fall fruits and the ability to stay around well after the leaves have fallen off.
Ornamental grasses add character to a space, but they also can add in some much-needed movement. Since these wispy additions will move with every breeze that makes its way through, it will help add some life into a space that otherwise might just appear stagnant.
When working with grasses that have taller stalks, plant them near fences and walls. If planting smaller, wispier grasses, place them near the front of a garden bed border to create a softer look for the walkway.
Contrast is also an excellent way to really bring out fall colors, and two of the best ways to create contrast are by utilizing colors and textures. Having plants around the area with bold forms that are planted next to those with airier looks create a space that's just more interesting and visually appealing.
This same concept holds true when paring bright foliage with darker colored flowers, as the contrast helps accentuate the colors of both plants individually, as well as show off their unique colors separately.