Editor's note: This is part of a multi-part series. The Attachments Idea Book was created to delve into the latest and most popular attachments and provide a comprehensive roundup of available attachments. Click here to download the PDF of the full Attachment Idea Book.
---
With no end of the labor shortage in sight, landscapers are looking for other methods to make the most out of their crews. One tool that is proving effective for early adopters is the tiltrotator.
This attachment does exactly what its name describes. It allows users to not only tilt an attachment left and right, plus-minus 45 degrees, but also rotates it 360 degrees on 1.5- to 40-ton excavators.
Invented in Sweden back in 1986, the tiltrotator is commonplace throughout northern Europe. However, it is relatively new to the North American market.
Rototilt, the inventor of the attachment, established its North American presence in 2007 with a sales office in Ontario, Canada. Competitors Engcon and Steelwrist both opened their U.S. offices in 2017 with Engcon in North Haven, Connecticut, and Steelwrist in New Berlin, Connecticut.
"We noticed about four years ago that from nowhere, suddenly, we got a lot of interest from the northeastern part of the United States," says Christian Yanes, U.S. general manager/country manager, Steelwrist. "And we started getting a lot of quote requests around that time, so that's when we decided okay, maybe the U.S. market is ready now."
Yanes isn't sure why it took 30 years for tiltrotators to catch on in North America, but he does know that social media has been integral to spreading the awareness of the attachment and its capabilities.
Landscaper fans
Both end users Jake Audet, president of Audet Enterprises, based in Westbrook, Maine, and James Doyle, owner/operator of Innovative Lawn & Landscape LLC based in Torrington, Connecticut, say they first heard about tiltrotators through social media.
Audet saw the attachment being used on The Dirt Ninja Instagram account and now both Audet and Doyle are posting pictures of their own tiltrotators in action on social media. (Dirt Ninja is the screen name of Tom Gardocki, co-owner of New Era Excavation, Manchester, New Hampshire.)
"Once you use one, you kind of want everyone to have one," Audet says. "Why wouldn't you want to be more efficient? The whole point is to help everyone."
Audet chose an Engcon EC204 with intergraded grab tiltrotator to go on his Cat 304E machine. "I just felt very comfortable with the sales team," he says. "I just felt more like they appreciated the amount of money I spent with them and I wasn't just a one-time purchase."
Running a Cat 304E as well, Doyle went with a Steelwrist X04 tiltrotator, saying their customer service stood out to him compared to the other manufacturers.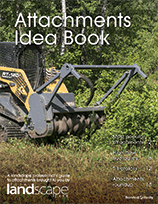 Want to download the entire Attachments Idea Book series from the editors at TLC, which includes information on all the latest popular attachments?
"As far as customer service goes, they're very down to earth, very easy to talk to," Doyle says. "There's definitely a personal connection, which made me a lot more comfortable choosing them. Price wasn't really a factor there to be honest with you. They were actually higher than some of their competitors. But I don't really look at price; I look at who's going to be there when something breaks."
Craig Alderton, regional manager of the Lake States and Midwest U.S.A. for Rototilt, highlights his brand's commitment to innovation.
"Rototilt wants to continually make improvements," he says. "How do we make this better, stronger, lighter, last longer? Rototilt has continued to invest in R&D to develop the product to be longer lasting."
Alderton says there are Rototilt tiltrotators in the market that have more than 40,000 hours of use. He says the manufacturer uses larger, stronger bearings and other critical components, which helps contribute to the extended product life. Rototilt also uses tilt cylinders that feature an oil bath to house the rotor and worm gear as opposed to a grease-filled one.
"Oil is a better lubricant," Alderton says. "It will get into all the areas and is easier to maintain on your machine intervals. In the summer months when you're working hard and the temperatures are high, the oil will actually operate as a coolant so that your rotator doesn't overheat."
What can it do?
So, what exactly does the tiltrotator do that helps with efficiency so much? The attachment functions as a wrist between the arm of the excavator and bucket or any other tool connected to the quick coupler.
"Tiltrotators transform the excavator into a multi tool, which can perform many operations, increasing productivity upwards of 40-50 percent in some applications," Alderton says. "The ability to rotate and tilt eliminates the need to position or reposition the excavator. Being able to rotate the bucket (attachment) allows the operator to work closer in tight areas, place/position aggregate/stone with increased accuracy, backfill at lightning speed and contour/sculpt the area."
Audet says that he mainly uses his tiltrotator for tasks such as digging out patios, backfilling small foundations, shaping berms and digging trenches. He's says it's more of a question of what can't a tiltrotator do?
This ability to do almost anything helps frees up Audet's crews from hand digging tasks.
"I run two-man crews now," Audet says. "I don't have to have a third guy with them. I can have one guy running the machine and a ground guy, but (he's) not really even helping him. It's all seamless."
Doyle's jobs typically consist of drainage work, hardscaping projects and other landscape construction projects. He uses a tiltrotator primarily for tree work, using a grapple to feed the tree through the chipper, which makes tree removal much safer.
"It eliminates a lot of the handwork and it actually makes it a little bit safer," Doyle says. "Guys aren't standing right at the mouth of the chipper anymore. We're able to just take a full tree and throw it right through the chipper."
He also says there's no loss in material now when scooping something out of a dump truck and backfilling trenches can be done with ease.
He's also able to dig left and right while sitting in one position. "It eliminates me having to have a guy there with a rake or a shovel to move that material away from, say, a wall or another structure," Doyle says. "I can completely do everything from one spot. It leaves us with minimal site damage because we're keeping the machine in one place."
These efficiencies add up over time and can result in getting jobs done quicker, allowing crews to focus on other tasks.
"On 90 percent of our jobs, it cuts out having an extra guy stand there with a shovel or a rake," Doyle says. "That guy could be running and grabbing materials, for instance."
Tiltrotators are also well suited for tight areas where the machine isn't level, says Joanna Tomczyk, director of sales in North America for Engcon North America Inc.
"It doesn't matter if the excavator is leaning, the tiltrotator holds the attachment at the angle you desire," Tomczyk says.
Efficiency can be increased even further by opting for an automatic quick coupler system.
"Thanks to the built-in quick coupler (Q-Safe) with EC-Oil automatic oil connection, you can switch between mechanical and hydraulic attachments without leaving the cab," Tomcyzk says.
Price versus productivity
No matter which brand of tiltrotator you choose to go with, it will cost a pretty penny, but both Audet and Doyle say that it is well worth the investment. They agree that the attachment quickly pays for itself thanks to the productivity it provides.
"It's a little shocking, but once you swallow the pill of how much it costs, the amount of money that it's saved me in the long run means it has paid for itself in a year," Audet says. "There's jobs I wouldn't even be able to do if I didn't have it. I also can be aggressively bidding things knowing that I can do a job when other people are like, 'Oh, that's going to take me forever,' and I'm like, 'Yeah it's going to take me a couple of hours.'"
Alderton says the base list price for a Rototilt tiltrotator for a compact excavator could range anywhere from $11,000 to $20,000. Steelwrist says their base model could cost between $11,500 and $15,000 but options like the gripper would cost $4,000.
"The pricing of a tiltrotator is tricky, as there are different options when it comes to the control system and configuration ordered by the customer," Yanes says.
Engcon declined to list a price range as the many variables all affect the total cost of the attachment. The company encourages landscapers to contact their local dealers instead.
Doyle advises other landscapers interested in a tiltrotator to buy it through a dealer and have it installed on a new machine as a package deal in order to be as effective and efficient as possible. He spent around $25,000 for his tiltrotator package.
"It was kind of a no-brainer to me if we were buying it new to just not really worry about the price tag, to just work it every single day," Doyle says. "So, the price tag really wasn't a huge concern for me. It was at first, but then I realized I have to work this thing a day and a half a month to make the payment."
For those curious about a tiltrotator, Doyle advises getting a demo. "As soon as you demo one, you're not going to turn back," Doyle says. "You're going to want one and you're going to find a way to do it, at least if you're in it to win it like me. Once you use it once and you realize the nature of it and how efficient you can be."
All the manufacturers sell through dealers; financing options are available.
Look at this way, adds Alderton: tiltrotators don't cost money, they make money.
Learning curve and attachment maintenance
Like any other skill, the learning curve for operating a tiltrotator with ease will vary person to person. Getting used to tiltrotator controls can appear daunting. For example, there can be up to three rollers and seven buttons on each optional Encon MIG2 joystick. The right joystick controls tilt and the left joystick controls rotation. Integrated grabber controls are on the back of the right joystick.
Alderton says based on feedback from Rototilt users, it takes a couple hours to get the hang of it, up to a week to get comfortable with it and up to a month to be proficient to the point where contractors say they cannot live without it.
"When I first sat in the cab, it's like playing a video game," Audet says. "You want to learn and you kind of get upset at yourself because you're like, 'I know I can do this. I just have to learn.' There's so many rollers on the controller. It's like an extra hand, you just got to teach yourself how to use it. And it doesn't take very long, probably a week of seat time, you get pretty good at it. All my guys are pretty professional with it now. I have four operators that use it, including myself."
Doyle is the sole operator of the tiltrotator at his company. He says the biggest part of the learning curve for him was remembering he no longer has to reposition the excavator constantly. Doyle says it took him about two weeks to get things down pat but still learns new things every day.
"Normally, I joke around with them and say, 'It's going be two weeks of frustration and a lot of swearing,'" Yanes says. "Because it's like starting to drive stick when you're used to automatic, but once you've got it, you cannot be without it. So, I'd say that an experienced operator will take maximum of two weeks to get the hang of it."
As for the maintenance of the attachment, it is pretty straightforward with the same greasing intervals as the machine.
Huge potential
According to Alderton, tiltrotators have less than one percent of the market share relative to the excavator sales, so there is huge potential for the North American market as word continues to spread through social media platforms, especially Instagram.
As for why so many landscapers remain wary of tiltrotators, Yanes doesn't think it's due to sticker shock.
"I think it's more than fear of investing in something new and failing and not wanting to fail in front of other landscapers," Yanes says. "That's what's keeping them from doing it instead of the money because the ones who have invested, they have confirmed that they have paid for their investment within the year."
"I truly believe everyone should have one," Audet says. "I mean, it's kind of silly not to. If someone's saying, 'Hey, there's a there's a really efficient way of doing this and it's going cut down your time. Yes, you're going to spend some money, but you'll be able to do more work and make more money.' Why wouldn't you do that?"