FX Luminaire has introduced several new products designed to increase landscapers' design possibilities.
One new product is the HP-48 in-grade paver light, which can be used in both classic and contemporary designs. It is engineered with durable glass and polycarbonate construction and has rating of IP68.
It has a patent pending system for installation where the construction sleeve is installed first, and then the light fixture can be inserted.
The fixture is capable of zoning, dimming and color control with Luxor technology.
FX Luminaire also expanded its path lighting, offering with three new fixtures for contemporary designs. The M-PJ, M-PK and M-PZ all have a specific look and a different lighting purpose.
"These highly anticipated products offer unique, modern looks – in a category that has featured traditional styles for a very long time," says Chad Watters, product manager.
They have nine finish options and the highest output option in their class, up to 6 LED with the M-PJ. These lights are also compatible with Luxor technology.
As for Hunter Industries, it showed off its EZ Decoder System (EZDS) which brings the simplicity of two-wire technology to up to 54 stations. EZDS is compatible with the Hydrawise-enabled HCC controller and the ICC2 controller.
It does not require any special wires or connectors. EZ Decoders are small, waterproof and come with color-coded wiring and a convenient LED status light.
Hunter has also updated its Hydrawise irrigation management platform so contractors can set up irrigation schedules either by program or by zone. Other improvements include a menu divided into three sections: Controllers, My Account and Multi-Site Manager and the ability to send messages to customers through the Hydrawise app.
There are also new remote management functions for four styles of manual watering, an upgraded Help button and improved layout.
Michelin adds to its portfolio of Tweel tires
Michelin rolled out three new Tweel Turf products at GIE+EXPO.
The new 15-inch ZTR caster is set to debut in 2020. The 15x6N6 size is designed for enhanced performance and more stability. It can fit a variety of mowers, including the John Deere Z997R Diesel. It has a load capacity of 370 pounds and a 16-mph speed rating.
The 22-inch Turf size is built for prosumer ZTR models. These are rear tire/wheels with 4×4 or 5×4.5-inch bolt-pattern. They will be available in the first quarter of 2020.
The 4×4-inch bolt pattern has a 529-load capacity and the 5×4.5-inch bolt pattern has a 727-pound load capacity.
"We continue work with commercial mower manufacturers to supply the Tweel no-compromise solution for larger and heavier commercial mowers as well as smaller mowers for the prosumer market," says Justin L. Brock, Michelin marketing manager for the construction and Tweel segment in North America. "As a result, we are expanding Michelin's award-winning airless solutions for the turf community."
Additionally, Michelin has developed an electric-motor green-wheel hub for 4x12N12 turf tires, which are exclusive on the 52-inch or 60-inch Mean Green Rival mower. The hub will have a 5×6.5-inch bolt pattern and a 1.70-inch offset and will be available starting in the second quarter of 2020.
Buyers Products releases new snow and ice management products
Buyers Products recently released several new snow removal products, including the expansion of the SaltDogg Pro Series electric spreader line.
The new addition is a 6 foot/1.5 cubic yard spreader that is designed to fit in trucks with a short bed.
"The new 1.5 cubic yard option opens up these powerful spreaders to a whole new market," says Bryan Burckart, Buyers Products director of snow and ice sales. "If you have a short bed truck, now you can add a heavy-duty electric hopper spreader to your arsenal of snow and ice management tools."
The Pro Series is engineered to spread bulk salt or a 50/50 salt/sand mix. Chain models can also spread bulk sand. The spreaders feature the company's patented double-wall poly hopper. Each model comes with a top screen, stainless-steel inverted Vs and a fitted tarp.
Buyers also announced two new SAM universal LED snow plow lights. These lights can be installed on most plows, providing an easy upgrade for those looking to replace their halogen lights.
A full lens defrosting system helps prevent the lights from icing over, which is a common problem with LEDs and their lower operating temperatures.
"LED plow lights are one of the best upgrades a snow contractor can make," says Burckart. "The difference is literally like night and day. Up until now, however, LED options have either been prohibitively expensive or lacked the reliability that an operator needs when it's 3 a.m. and they're in the middle of a snowstorm. These new SAM options change all that – they're bright, they won't break, and they won't break the bank either."
Also recently unveiled was the SnowDogg SuperJ plow.
This plow is designed for urban or expressway use. It has a hydraulically-reversible plow that features outboard angle cylinders that provide a tight turning radius. The plow is available in 10, 11, 12 foot lengths with UHMW polycarbonate, Tuff-Koted carbon steel or 304 stainless-steel moldboard.
The SuperJ can pivot up to 35 degrees left or right from bulldoze position. A fully-boxed A frame reduces strain on the vehicle's front axle and keeps the plow close to the truck for enhanced maneuverability.
H. Jaclyn Ishimaru-Gachina recognized as Woman Entrepreneur of the Year
During Landscapes 2019, H. Jaclyn Ishimaru-Gachina was recognized by the National Association of Landscape Professionals (NALP) as the 2019 NALP Woman Entrepreneur of the Year.
This award recognizes an NALP member who has shown an entrepreneurial spirit while advancing the landscape industry by actions and endeavors while providing an example for current and future females in the industry.
Ishimaru-Gachina is president and co-founder of Gachina Landscape Management. She has been named in the top 25 woman and minority-owned companies in the San Francisco Business Times the past four years. In September 2019, Ishimaru-Gachina completed the NALP Emerging Leaders Program at Cornell SC Johnson College of Business."
"Creating a work environment that promotes diversity, that couples 'The Gachina Way' – Respect, Courtesy and Professionalism, has allowed women to thrive within our organization," Ishimaru-Gachina says. "It is very inspiring to see so many women at the National Collegiate Landscape Competition, who have chosen the landscape industry. When interviewing female candidates, I am encouraged by their greater numbers. These women are self-confident, knowledgeable, driven and prepared/inspired to make an impact. We encourage them to intern with us and after graduation join our team. The fact that 45 percent of the senior management team is female speaks volumes."
Propane Education & Research Council donates $5,000 to Project EverGreen.
Project EverGreen's GreenCare for Troops received a boost from the Propane Education & Research Council (PERC) as the organization donated $5,000 to the Project EverGreen during GIE+EXPO.
The amount was reached after tallying the total number of entries to its trailer giveaway sweepstakes. On behalf of each contractor who entered the in-booth trailer giveaway sweepstakes, PERC donated $5 to the GreenCare for Troops program.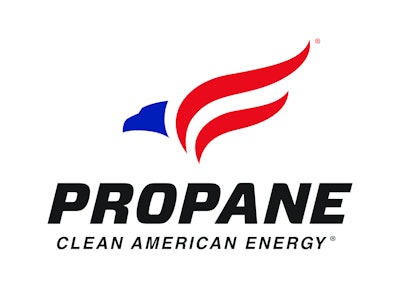 The giveaway included a 16-foot Big Tex trailer, an Exmark Lazer Z S-Series propane mower, a Spartan RTHD 61" propane mower, a Stihl cordless blower and trimmer, a water cooler, 25 safety vests and 25 pairs of work gloves
GreenCare for Troops is a program that connects professional lawn care volunteers to families of active-duty deployed service members. Volunteers provide free services to eligible families in their area for the length of the deployment, typically nine to 12 months.
"Propane is an all-American fuel, with the majority of the United States' supply produced on American soil, and with much of the propane industry made up of family-run, small businesses for whom supporting service members and veterans is important," says Jeremy Wishart, director of off-road business development. "We felt these goals really aligned with Project EverGreen's GreenCare for Troops program, which is highly regarded in the lawn care community."
The winner of the giveaway was Jim Langendorf, with Olympic Lawns from Springboro, Ohio.