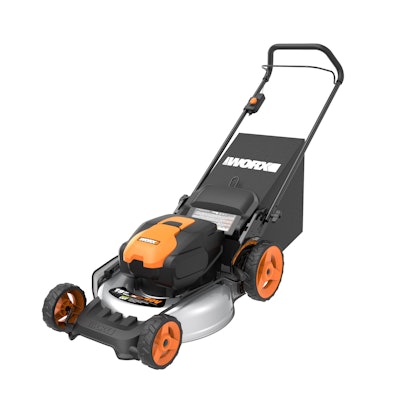 WORX released an array of new products at this year's GIE+EXPO.
WORX says the 40V power share, 5.0 Ah 20-inch lawnmower is the first 20-inch steel deck lawnmower the company has ever offered, and when fully charged, the cordless mower cuts lawns up to ¼ acre.
This mower combines two 20V MAX Lithium 5.0 Ah batteries to deliver 40V of power, and the company says the mower includes a dual-port charger and a three-year limited warranty.
WORX says there's no pull cord, choke adjustment, air filter to replace, gas tank to fill up or oil reserve to monitor, and the mower features two-step electric starting.
WORX says the mower features a multi-cut mulching blade and a 3-in-1 mower deck that give the user the option to mulch, bag or side-discharge grass clippings. When mulching, the company says the mower's Nutricut multi-cut blade action cuts grass into fine particles, returning them to the soil for fertilization.
The company says the mower is ergonomically designed and includes a foam-padded comfort handle that's fully collapsible, and it features single-lever deck height adjustments to raise or lower the mower deck from 1-1/2 to 4-1/2 inch.
A dual-port, 2-1/2 hour charger with battery power-level indicators is also included, and batteries can be removed from the mower's deck for charging to use in other WORX equipment.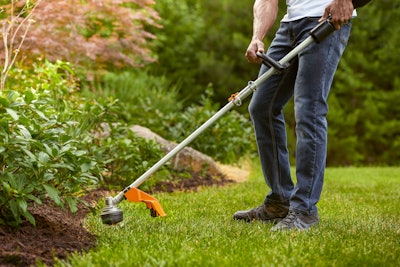 WORX also debuted its 40V, 15-inch attachment-capable grass trimmer that features a split-shaft design to fit four separately sold attachments.
The company says this trimmer marks the first time that WORX has offered a multi-system oriented grass trimmer, and the trimmer also has a variable-speed trigger and a bump-feed line advance system.
"The trimmer's system approach eliminates the need to purchase five separate tools," says Pete Denley, WORX senior product manager. "The anchor of the system is the 15-inch grass trimmer, and the user can add attachments, as needed, eliminating multiple batteries and chargers, not to mention storage space for five separate tools."
Next up was the WORX 20V, 20-inch pole hedge trimmer that reaches up to 12 ft. The 2-in-1 trimmer head can detach without tools from its telescoping extension pole.
Weighing only 7.6 lbs., the company says the pole hedge trimmer is easy to lift and maneuver, and the rear handle rotates 180 degrees for easier vertical and horizontal trimming.
WORX says it features a 10-position, adjustable head that the company says allows precise, level cutting in hard-to-reach areas.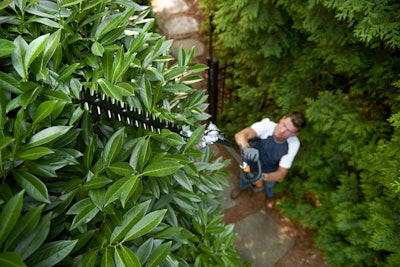 The pole hedge trimmer is powered by a 20V MAX Lithium, 2.0 Ah battery with a built-in power gauge indicator to show the charge level, and it comes with a three-year warranty.
WORX also rolled out its 20V, 8-inch, 2-in-1 attachment capable pole saw that the company says can trim branches up to 13 feet off the ground.
Powered by a 20V, MAX Lithium, 2.0 Ah battery and weighing 8.8 lbs., the pole saw features a built-in gauge, and the charge level of the battery can be monitored by pressing an electronic keypad.
WORX says the pole saw's design incorporates an inline motor, which makes it compact and lightweight, and the cutting angle of the chain saw is adjustable from 0 to 15 degrees and 30 degrees.
The company says the saw's toothless installation features a connection bracket at the end of the pole, which is aligned and inserted into the saw's handle, and the saw is then secured by hand-tightening with a large locking knob. The saw's handle will also rotate 180 degrees for vertical or horizontal cutting.
WORX says the saw is equipped with an 8-inch, low-kickback bar and has a 16 feet-per-second (fps) chain speed and a 3/8-inch chain pitch. The versatile pole saw includes a tool-less chain tensioning system, and an automatic oiler system includes a reservoir with an oil level indicator. WORX says constant lubrication is provided to both the bar and chain during operation, but there's no button to push for chain lubrication.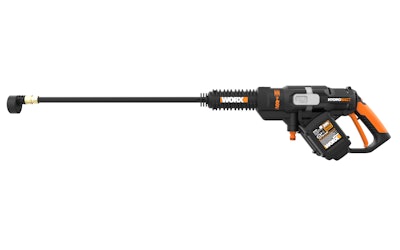 One of the most popular pieces the company says it debuted was the 40V Power Share Hydroshot, which is the third generation of company's portable cleaner and the most powerful version.
Featuring a 290 to 450 psi rating, WORX says this power cleaner can connect to any fresh water source through a standard garden hose or through its 20-feet accessory hose (included), and WORX adds that an adjustable float on the hose acts like a bobber to keep the intake from touching the bottom.
The company says the pump-driven, dual-system control nozzle features two operating settings: watering (lo) and power cleaning (hi). At lo speed, water pressure is 290 psi, while hi speed is 450 psi.
WORX says the Hydroshot is powered by two, 20V MAX Power Share 2.0 Ah Lithium batteries, which have a built-in LED power gauge. By pressing the battery's red keypad, the power gauge indicates how many bars are left before it needs recharging, and run time varies, based on the selected operating mode and speed.
Another popular product WORX says customers have been vying for is the 3-in-1 Trivac blower/mulcher/vac, which the company says has been redesigned with a patented articulating motor that allows one-touch, tool-free conversion from blower to vacuum.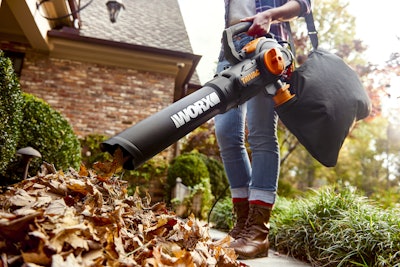 WORX says all blowing, mulching and vacuuming applications are completed using a single tube, and converting from blower to mulcher/vac is a matter of turning a switch and connecting the 1.2 bushel collection bag.
WORX says the wide-mouth, unobstructed circular tube design makes it ideal for vacuuming leaves and other yard debris throughout the property, and it features two speeds with a maximum of 600 cfm. At low speed, WORX says the blower's sweeping action is ideal for sidewalks, driveways, patios and decks, while high speed drives movement of large volumes of leaves.
"This vac is real workhorse in the yard," says Denley. "It has the power and performance to make quick work of yard cleanup throughout the season."
WORX says the 12-amp blower/mulcher/vac has a single-stage metal impeller to shred leaves and twigs to a 16:1 ratio, and it weighs 8.8 lbs. in blower mode and 9.5 lbs. in vac mode due to weight of collection bag.
WORX also released its 40V, 14-inch Power Share cordless chain saw.
"This new WORX 40V, 14-inch chain saw is lightweight, quiet and independent of power outlets and extension cords," says Denley. "It can go anywhere, start instantly and get to work disposing of fallen branches and other lawn debris, pruning trees, thinning dense shrubbery and cutting firewood."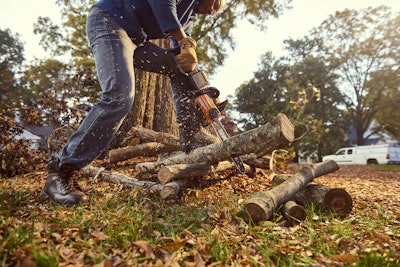 WORX says the chain saw features a brushless motor with electronically controlled power distribution, which increases battery run time over standard brushed motors, and because carbon brushes are eliminated, the motor is maintenance-free. Additionally, WORX says the motor's precise internal software (smart chip) improves motor efficiency and durability by reducing heat, friction and wear.
The chain saw's brushless motor is powered by two, 20V, MAX Lithium 2.0 Ah batteries, and it includes the patented WORX auto-tension system. WORX adds that the chain saw's automatic oiler system includes a reservoir with an oil level indicator, showing when a refill is needed, and constant lubrication is provided to both the bar and chain during operation.
The company says a quick-stop chain brake helps prevent accidental cutting and allows the operator to stop the chain immediately before setting down the saw or moving to another location. WORX notes that the brake handle is designed for easy activation, whether the saw is held vertically or horizontally.
The 40V chain saw weighs only 10.38 lbs. and WORX says overmolds on the front and rear handles improve the operator's grip and help reduce fatigue. The 14-inch bar has a reduced-kickback chain with a 3/8 in. pitch and cutting speed of 26 ft./sec.
WORX adds that the eco-friendly cordless chain saw is emission-free and has low operating and maintenance costs, compared to gas-powered models.
Last but not least in the WORX lineup are the two new Landroid robotic lawnmowers: Landroid M and Landroid L.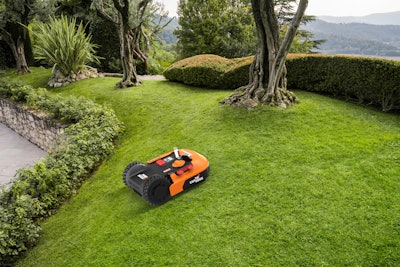 "Our new WORX Landroids are outfitted with the latest technology to make these 'smart mowers' a true asset to homeowners," said Thales Marques, WORX product manager." They work independently so homeowners can enjoy their leisure time doing other activities like golfing, going to the beach or pool, attending a baseball game or just relaxing on their deck or patio."
WORX says that communication with Landroids M and L is handled through a smart phone app, and both mowers are programmable so the operator can instruct the mower when, what time and at what frequency to cut the lawn.
Landroid L (WR150) mows lawns up to 1⁄2 acre and Landroid M (WR140) has a 1⁄4 acre coverage. Common characteristics between the mowers include the WORX 20V Max Lithium 4.0 Ah battery. Also, both mowers include the "Find My Landroid" GPS module that locates the mower in the event it's misplaced, lost or stolen.
Another new feature of the mowers is "cut to edge." WORX says Landroid's offset blade design minimizes the need for trimming, and with the mower's patented AIA technology, Landroid algorithm or problem-solving capabilities allow it to better navigate through narrow passageways compared to other robotic mowers.
Cutting height adjustments include 1.5 to 3 in. for Landroid M and 1.5 to 4 in. for Landroid L. Landroid M weighs 21.12 lbs with battery, while Landroid L is 22.88 lbs.
Built-in safety sensors stop the mower blades rotation when it's lifted or tipped, and WORX says the sensors also reverse Landroid when it makes contact with a person, pet or object. The mower's three pivoting blades combine for 7-inch cutting width (9-inch on Landroid L).
The Landroid L and Landroid M accessories include one 20V Max Lithium battery, 20V 90-minute charging base, nine cutting blades, screws and boundary wire and staples. A hex key, two measurement gauges and eight lawn screws are included for securing the charging station. The Landroid mowers are covered by the WORX three-year limited warranty.