Ditch Witch has recently released the RT80 ride-on trencher, which the company says can provide a solution to challenges faced by contractors and operators in underground construction in urban areas.
The company says this new, modern RT80 trencher brings a narrower, more modular design and added versatility to the Ditch Witch family of trenchers. Ditch Witch says the slimmer model is ideal for heavy-duty trenching, vibratory plowing and microtrenching in confined urban and residential areas where larger machines cannot maneuver as freely.
With the typical residential street lane having a width of 11 feet, the company says the RT80's footprint of just over 6 1/2 feet gives operators plenty of room to work without disrupting the surrounding area.
"The RT80 trencher was built to adapt," says Chris Thompson, Ditch Witch product manager, heavy-duty trenchers. "Faced with tighter deadlines, smaller budgets and more congested underground networks, contractors need a utility trencher that can fit and function in any environment. That was our mindset when designing the new version of the RT80."
Ditch Witch says moving between jobsites is also simplified with the new RT80 trencher, as the modular track-frame design allows tires and tracks to be easily interchanged in the field. When equipped with tracks, the company says the trencher fits on a standard drop-deck trailer for easy transport, and the updated design improves the RT80 trencher's versatility.
Built for heavy-duty work, the company says the RT80 trencher is powered by a 74.5-horsepower Deutz, Tier 4 diesel engine, and it delivers a best-in-class static load rating of 35,407 pounds and a wide-axle rating of 39,000 pounds.
Ditch Witch says the machine is built to maximize efficiency, as well. Its three-speed, shift-on-the-fly ground drive system increases productivity by allowing operators to select the correct range without needing to stop work, the company says.
Ditch Witch adds that it can work in any terrain or weather condition, and an advanced cruise-control system senses engine load and automatically adjusts ground drive speed to changing soil conditions for superior traction and maneuverability.
Ditch Witch says the RT80 trencher's new high seat rotates 90 degrees with the operator, and operation itself is aided by a dial-control design, which places precision control of ground drive and attachment speeds in the operator's hands.
ASV offers new base and premium machine packages
ASV Holdings, Inc. has introduced base- and premium-level configurations for its mid-sized Posi-Track loaders.
The company says these options will make ASV's CTLs more accessible to rental centers and all sizes of businesses in landscaping, construction, rental and snow removal.
"ASV Posi-Track loaders have a reputation for top quality, comfort and performance," says Justin Rupar, ASV Holdings Inc. vice president of sales and marketing. "This change gives our customers more options and flexibility to take advantage of those qualities while choosing the machine that is right for them, regardless of the budget."
ASV says customers will choose between base and premium versions of the RT-65, VT-70 High Output, RT-75 and RT-75 Heavy-Duty Posi-Track loaders. The company says the premium configurations include additional productivity and comfort features to allow operators to get more done during long work days.
The base models, ASV says, offer all the ASV DNA for an excellent value and price point, and both configurations feature ASV's patented Posi-Track undercarriage.
"Experienced operators will instantly recognize the premium advantages of ASV products, and know which configuration is their best bet for getting more done in comfort," Rupar says. "Our new base configuration serves as a launching point, making our all-terrain, all-season machines more accessible to everyone."
All Posi-Track loaders are backed up with ASV's new, industry-leading 2-year/2,000-hour warranty, which the company says covers tracks for the entire period and includes the industry's first and only no-derailment guarantee.
Equipment and event rental revenue forecast to outpace economic growth
According to the latest forecast released by the American Rental Association (ARA), the equipment and event rental industry in North America is expected to finish the year with total revenue up 5.35 percent to $61.56 billion, the first time combined rental revenue for Canada and the United States has surpassed $60 billion.
The latest updated figures, released Nov. 7, show rental revenue in the U.S. forecasted to be $56.02 billion in 2019 with Canada generating $5.54 billion in revenue from rentals of construction and industrial, general tool and party and event equipment.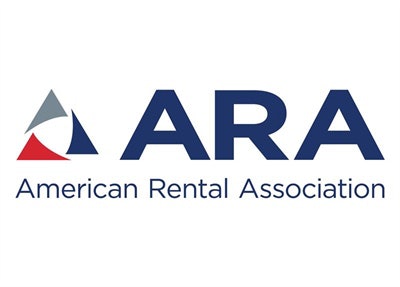 ARA says the five-year forecast calls for continued growth for U.S. rental revenue through at least 2023, reaching $64.1 billion that year and for Canada to reach $6.35 billion.
Although the outlook calls for slightly slower growth rates than the previous quarterly forecast in August, ARA says the industry continues to outpace the general economy in the U.S. where gross domestic product (GDP) growth slowed from a 3.1 percent annual growth rate in the first quarter to 2.0 percent in the second quarter. The third quarter GDP growth estimate is 1.9 percent.
According to IHS Markit, the forecasting firm that compiles data for ARA and its ARA Rentalytics subscription service, new tariffs on U.S.-China trade flows and diminishing fiscal stimulus could contribute to a slowdown in annual real GDP growth from 2.3 percent in 2019 to 2.0 percent in 2020 and 2021, and 1.7 percent in 2022.
"Despite signs of a slowing economy, the equipment and event rental industry continues to perform well," says John McClelland, Ph.D., ARA vice president for government affairs and chief economist. "The most important thing for rental companies to do is continue to execute their business plans and aggressively manage their operations."
"With chances of a recession in the next 12 months relatively low at 35 percent, rental businesses should be able to continue to grow revenues and maintain strong balance sheets," McClelland says.
Scott Hazelton, managing director, IHS Markit, says the next 12 to 18 months will feature significant uncertainty around trade and fiscal policy, compounded by the U.S. elections.
"Rental firms are well-positioned for uncertain times," Hazelton says. "The reluctance of construction and industrial companies to invest in new equipment under these circumstances, combined with a still expanding economy, suggests that the opportunities for equipment rental will continue to grow, albeit at a slower pace than the past few years."
According to ARA, construction equipment rental in the U.S. is forecast to grow 5.2 percent in 2019, with growth rates of 2.3 percent in 2020, 3.0 percent in 2021, 3.7 percent in 2022 and 3.1 percent in 2023 to reach $43.9 billion.
The growth rates for general tools include 6.8 percent in 2019, 3.8 percent in 2020, 3.96 percent in 2021, 5.2 percent in 2022 and 2.9 percent in 2023 to reach $15.7 billion.
ARA says investment in equipment by rental companies in the U.S. is expected to remain relatively flat each year with small declines in spending in 2020 and 2021, followed by slight increases in 2022 and 2023 to reach $14.55 billion.
In Canada, equipment and event rental revenue is expected to increase 2.4 percent in 2019 to reach $5.54 billion, with growth of 3.4 percent in 2020, 4.6 percent in 2021, 3.2 percent in 2022 and 2.7 percent in 2023 to reach $6.36 billion.