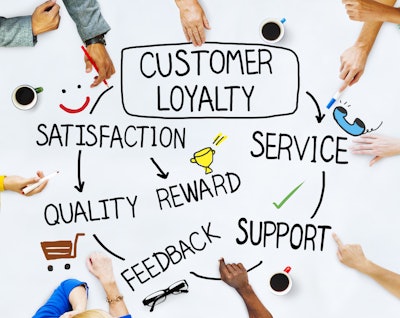 In the technological world we live in today, there are multiple ways customers can submit reviews and feedback about your company, whether that be with customer satisfaction surveys, online reviews, word of mouth or through your company's social media channels.
"Customer feedback is information provided by clients about whether they are satisfied or dissatisfied with a product or service and about the general experience they had with a company," Medium.com says online. "Their opinion is a resource for improving customer experience and adjusting your actions to their needs."
Whether you realize it or not, asking for customer feedback is an imperative move on the part of every green industry business, as it's hard for your company to prosper if customers aren't satisfied with the quality of service you provide.
"Asking for customer feedback can provide extremely valuable insight for your business and products," Forbes' Young Entrepreneur Council says online. "This feedback directly influences what changes we make for the next event, what aspects we want to highlight more and what parts need to stay exactly the same. This feedback is invaluable to us, and it doesn't cost us anything to get."
Take a look at why experts say you should be taking the time to ask your customers for feedback, as well as how you can later take that information and use it to better your business.
Getting to know your customers
Simply put, when you take time to ask your customers about their experience with your landscaping company, you will very quickly learn what they did and didn't like about you, which can prove extremely beneficial.
"Customer feedback is an insight into what is working well about your product or service and what should be done to make the experience better," Medium.com says online. "You might have the best expertise in the industry in which your company operates, but your professional knowledge will never be more valuable to business performance than customer insights. Their opinions help you ensure that the end product will actually meet their expectations, solve their problems and fulfill their needs."
Along with finding out what customers like and dislike about your services, asking for feedback makes them feel that they are heard and valued. This will make them feel important in the decision-making process and show them that they can make a positive difference in the way your company operates.
When you work hard to establish this type of open communication with customers, it will naturally make them more likely to stick with you long term. This also helps create more people who are ready and willing to talk you up to their friends and family, which is an effective, cheaper and, in many cases, more reliable method of advertising.
"People always appreciate when you ask them if they are happy (or unhappy) with your service," Medium.com says online. "It shows you actually value their opinion and that you are here for them, not the other way around. They feel that your primary business goal is to solve their problems and fulfill their needs, not to get their money. It puts a customer in the central position of your company and this is the right way to run a business."
Never stop improving
Finally, asking for feedback allows your company to improve and continue to grow into the best it can be.
As long as you stay connected to your customers and continue to request their feedback, you will have an up-close look at what works and what doesn't, which keeps you relevant and in the loop.
Bryan Word, president of Blackjack Horticulture in Birmingham, Alabama, and Allison Kanne, director of communications, say that interacting with customers via Blackjack's online channels is imperative now more than ever, as negative reviews can live forever in cyberspace.
"We keep a pretty close watch on what people are saying, what the comments are on a photo or if we get a Google review," says Kanne. "We try to know what's out there. And for many of them, our first course of action is to take some time to respond to them."
When dealing with negative feedback, Word says it's important to address it quickly and if it is something reasonable that can be fixed, they try their best to tackle and resolve it.
"Sometimes, you have the negative feedback where the person's viewpoint is very one-sided, and you've got to balance that out," says Word. "If you didn't have the information you needed to do your job well or your hands were tied with certain things, it's hard. But if we have someone that's unhappy, we do our best to go over and above to make sure that we make it right."
When negative feedback is presented, Kanne says that information is collected and stored in an Excel spreadsheet to allow Blackjack the ability to track any trends that might be appearing and figure out how they can make improvements.