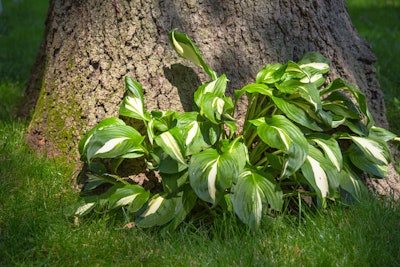 While it's true that full-grown trees can prove to be an asset to your customer's landscape, they do present the unique challenge of finding plants that will grow and thrive underneath them.
Mature tree canopies will, naturally, block the sun from reaching the area around the tree's base, and their larger root systems will always compete with smaller plants for water and nutrients, which can leave the area underneath looking brown and forgotten or completely dead.
So, the question becomes, what can you do to help the area under these trees not look so unfortunate?
First of all, be sure to take a look at the tree itself and know what it can and can't deal with. Some trees won't take kindly to any sort of disruption around the soil and roots, and others will need the space above the roots to come in direct contact with sun and water in order to survive.
Before you start recommending different planting ideas to your customer, be sure to thoroughly inspect the tree and find out how it will react to a new addition.
Next, you need to be sure that you are creating an environment around the base of the tree that will set it up for success. Be sure to choose plant selections that will minimize the need for deeper digging, as this could potentially ruin the existing tree roots.
It's also a good idea to add in about a 2"-3" layer of mulch around the tree's base, as this will give the new plants and the tree some much-needed nutrients and insulation.
Lastly, be sure to closely monitor any new plants you place under a tree, as the tree's existing root system will take the majority of the water. With this in mind, tell your customers to be sure and water the new plants at least every other day for about six weeks. In later seasons, it may be necessary for customers to water these plants more often, depending on where they are located.
A few options to consider
If you've already taken the time to inspect the trees on your customer's property and have determined that they could, indeed, benefit from a little extra planting around the base, take a look at a few options that are sure to be eye-catching and fill in the space.
Japanese painted fern (Athyrium niponicum)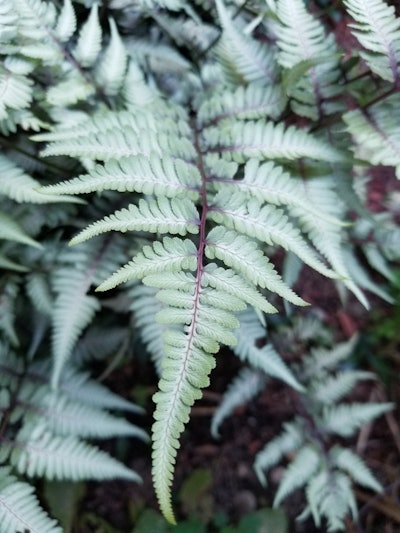 Japanese painted ferns are excellent for filling up a space, and they are sure to stop traffic with their beautiful blue-green fronds and faded silver edges. These plants have a moderate growth rate and can reach anywhere between 18 and 24 inches tall and wide. Because these ferns stay lower to the ground, they are perfect for groundcover foliage, and they thrive in full to partial shade. They do require regular watering to make sure the soil is evenly moist. These ferns will do well in USDA Hardiness Zones 4-8.
________________________________________________________
Periwinkle (Vinca spp.)
Periwinkle is a vigorous trailing plant that is sure to help brighten up the shady base of your customer's tree, as well as add a pop of color to an otherwise bland space. These plants can grow to be 6 to 12 inches or 1 to 3 feet tall, and they boast an array of flower colors, such as white, purple and blue. The blue/green foliage helps add color and dimension to the space, and along with being an effective groundcover, periwinkles are also deer resistant and help with erosion control. They require part sun or part shade, and they thrive in USDA Hardiness Zones 4-9.
________________________________________________________
Hay scented fern (Dennstaedtia punctilobula)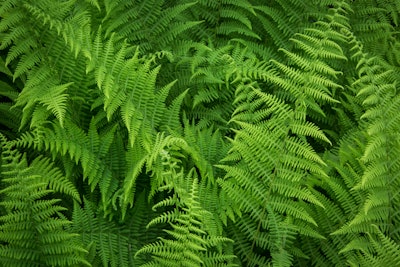 Along with looking nice at the base of your customer's tree, hay scented fern will also lend a pleasant fragrance to the area. These ferns can grow to be 1 ½ to 2 feet tall and 2 to 3 feet wide, and they thrive in USDA Hardiness Zones 3-8. They enjoy full to partial shade and are best grown in moist, rich, acidic soil. Keep in mind that this type of fern does spread vigorously, so if this is what your customers choose to go with, it's a good idea to not incorporate any other type of plant in the same space.
________________________________________________________
Common lungwort (Pulmonaria officinalis)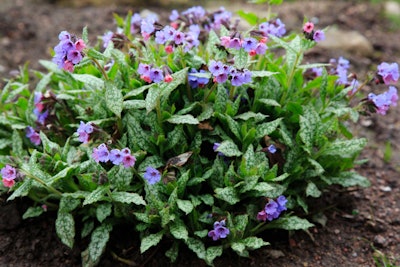 Although it sports an unfortunate name, lungwort actually produces lovely flowers that come in the colors white, blue and pink. They thrive in USDA Hardiness Zones 4-8 and prefer partial to full shade. They can grow to be up to 14 inches tall and 1 ½ to 2 feet wide. The foliage can either be a striking solid green or it can also be variegated with splashes of white. Most types of lungwort will do well in soil with a pH that's in the neutral to alkaline range, and it's always a good idea to make sure the soil drains well.