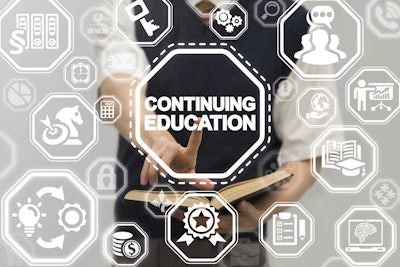 As a green industry professional, you've worked hard to get where you are today, whether you've attended a four-year or two-year college, you learned everything on the job or you've attended numerous conferences over the years.
Regardless of how you gained your knowledge of all things green, it's important to remember that practices and procedures are changing every day, which means you need to stay plugged into Continuing Education Units (CEUs).
"You've worked so hard to become certified," the National Association of Landscape Professionals (NALP) says online. "Make sure you stay certified. You'll need to recertify every two years. It's easy to do – just stay on top of the latest industry practices by reading articles, attending webinars, conferences and other education and you'll earn CEUs toward your recertification."
You may have employees that question the importance of attending CEU courses or you yourself have probably questioned it at one time in your career, but take a look at a few reasons why experts agree that CEUs prove beneficial to your current job and any you could pursue down the road.
Promotion potential and salary increase
Whether you currently run your landscaping company or have just started from the bottom and plan to rise to the top, there is always potential for growth.
The more CEUs you pursue, the more likely it is that you will be able to qualify for higher wages, as it's typically a requirement for administration or management positions to complete specialized training.
By showing your employers that you are taking a vested interest in the green industry and that you want to expand your knowledge and abilities, it will open you up to future promotional options or even the possibility of running a new branch of the company if expansion is on the horizon.
According to the Western Governors University (WGU), having these CEUs can also set you apart from your fellow employees and give you a leg up when it comes to choosing who is promoted.
"When placed side-by-side with another candidate for a promotion, you will stand out to and impress a hiring manager if you have more education," the WGU says online. "Education qualifies you to handle more tasks and responsibilities and may have even given you specific knowledge on how to do a job better."
Along with making yourself look good to current and future employers, having more education or certifications also offers you a certain level of negotiation power when it comes to discussing benefits and salary. If the amount of CEUs you've attained makes you more than qualified for your current position, you now have the opportunity to discuss a pay raise, and if that's not in the cards, you then have the chance to begin looking into other employment options.
If you've already reached the top of your personal career ladder, however, and have no more upward moves to make, taking these CEU courses can simply help you stay clued into the green industry and, more specifically, your field of expertise.
One thing is for sure, you never want to get behind on regulations and changes in procedures when it comes to the daily ins and outs of the landscaping world, as this could cost you your customers, your company's reputation or your job.
Career transition and improved marketability
Pursuing CEUs can also come in handy when looking to transition from your current job to another. While it might not be a requirement at your current job, a certain level of education or certifications might be necessary with another employer. If this is the case, having as many CEUs under your belt can only help your chances of moving on.
"Many professions require continuing education because they have specific training that is crucial to your success," the WGU says online. "Without this education, there's no way for you to qualify for or succeed in a position. Learning new skills through continuing education is key to being prepared for a career transition."
As previously mentioned, the more qualifications you have, the more leverage you have when going into a job interview, and the better you will look to other companies if or when you decide to move on.
"Your job marketability immediately improves with certain kinds of additional education because it qualifies you for additional jobs that you would otherwise be unable to qualify for," the Education Corner says online. "One of the ways that you can increase your competitiveness in the job market…is by spelling out for your potential employer just how the skills you possess will help you in your new role. Skills like critical and lateral thinking, for instance, are needed in a variety of roles. In other cases, the research skills you gained might make you a valuable addition in a specific career as well."
Personal development and improved lifestyle
Along with making positive moves in your professional career, did you know that pursuing CEUs can also help make your personal life a bit better?
"As you spend time devoted to learning, the outcomes are positive for your career and your overall lifestyle," the WGU says online. "Improving your career often trickles down to the rest of your life because you're more satisfied with your job, make more money, etc."
Even if you aren't taking courses to better yourself at your job, learning something that interests you in your field can only make you a more well-rounded green industry professional.
The more you're able to learn about other facets of the green industry, the more you'll be able to relate to the challenges others may face that you don't, or the more you'll be able to see how other jobs could work side-by-side in your specific field.
Or even if you just want to learn more about business practices or personal betterment, those skills can always prove beneficial regardless of what your job is.
"Critical thinking skills, time management and the ability to problem solve are just some of the valuable skills that people learn when they're back in school," the Education Center says online. "Additional education is great not only because it helps you explore your own personal interests but because it sharpens up skills that can help you in your daily life."