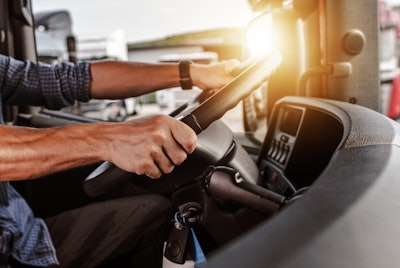 According to Small Business Trends, the Federal Motor Carrier Safety Administration (FMCSA) finalized changes to the Entry-Level Driver Training (ELDT) rule on March 5, 2019, and the new rule will be implemented on Feb. 7.
These new minimum training standards are for certain individuals applying for a Class A or Class B commercial driver's license (CDL) for the first time or those upgrading their CDL from a Class B to a Class A.
This change comes as a way for the FMCSA to lessen the regulatory burdens on both applicants and training facilities, as the administration claims these new rules will cut classroom instruction an average of 27 hours per applicant, according to Small Business Trends.
"Instructional Technologies Inc. (ITI), a provider of training solutions for the transportation industry, has released the name of its new training program for drivers wanting to obtain a CDL: On Ramp Entry-Level Driver Training (ELDT)," FleetOwner says online. "This new system adopts new requirements demanded by FMCSA and will be fully operational by February 2020 for state, public and private CDL schools."
According to FleetOwner, the new rules established the new minimum training requirements for individuals who want to obtain a CDL. The minimum standards will be set at the federal level instead of being determined by the state.
The rules will also be overseen by the Department of Transportation (DOT), and these schools must report and record hours spent behind the wheel to the DOT, even though there is no federal minimum.
FleetOwner says schools will also be required to register and self-certify instructors. These instructors will not have to register with the DOT, but keep in mind that some states will require them to be registered.
According to FleetOwner, instructors will now also be required to have a minimum of two years of driving experience, medical certification for classroom, on the road and private range instruction and a clean MVR.
Lastly, the new rule will cause an increase in curriculum mandates. FleetOwner says there will now be 31 theory course topics compared to the four knowledge topics previously required by the DOT.
Along with the 19 behind-the-wheel (BTW) skills now mandated, these course topics will be joined and will be tested along with vehicle inspection skills at the state Department of Motor Vehicles (DMV).
"Currently, any organization that meets state's requirements can be a training provider," FleetOwner says online. "Starting in February 2020, a new Training Provider Registry (TPR) will come into effect where CDL schools must apply to join. It is important to note that this new registry created by the DOT is not live yet."
For individuals holding a valid CDL or a P, S or H endorsement that was issued before the compliance date of the final rule, these ELDT requirements will not apply.
This rule, according to Lancer Insurance, also does not cover individuals for whom states have waived the CDL skills test under 49 CFR 383.
Applicable requirements will have to be met for individuals looking to obtain a commercial learner's permit (CLP) on or after Feb. 7, and those who obtain a CLP before that date will not be required to comply with this new ELDT rule, as long as the CDL or endorsement is obtained before the CLP expires, according to Lancer Insurance.
Currently, Lancer Insurance says there is no mandatory order in which training must be administered, and the rule also does not require theory training to be completed before obtaining a CLP.
"Theory and BTW training may be delivered by separate training providers, as long as each provider is listed on FMCSA's TPR," Lancer Insurance says online. "Both providers must submit driver-specific training certification information (i.e., proof of training) to FMCSA. However, driver trainees must receive both the range and public road portions of the BTW training from the same provider."
Lancer Insurance also notes that states will be allowed to keep their own entry-level driver training requirements that exceed the new minimum standards, but the final rule will not prevent driver-trainees from obtaining training that comes from outside the state they live in.
"Any entry-level driver training requirements that may exist in the licensing state would not be applicable to the driver-trainee who obtained skills training outside that state, even if he or she returns to the licensing state to take the skills test," Lancer Insurance says online.