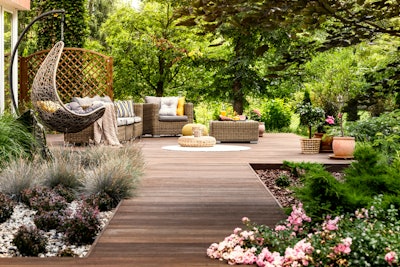 The everyday struggles and stresses of life can sometimes weigh heavily on us, and for some of your customers, these might be feelings they long to escape.
Being out and about in nature has proven to reduce stress and anxiety, and it also comes with the added health benefits of sun exposure and fresh air.
If you find that some of your clients are searching for a way to detox and heal from their hectic lives, creating a healing garden in their landscape could just be exactly what they need to unplug and unwind.
Take a look at a few ways you can create a healing garden space for your customers, whether by revamping an existing space or creating one from scratch.
Engage the senses
When creating a healing garden, the main aspect you want to focus on is the engagement of the senses: hearing, tasting, sight, sound, and smell.
Having all of these important senses reached in one space allows those visiting to not only begin to relax and heal, but it also helps them gain an emotional connection with the space, which will help put them in a better mood and speed up their healing process.
Along with making sure the senses are engaged, be sure to make the space easy to navigate and comfortable to be in, as you may have customers who have a more difficult time getting from place to place.
When creating an element to engage sight, take to heart how all of the colors in the space will work together, both in the flowers you choose and the foliage. Be sure to create a balance that incorporates a decent amount of soft and relaxing colors, as well as a few brighter pops of color sprinkled in.
Another option for creating pleasant sights is to use plants that will cascade and drape across pathways and walls, as these can help hide some of the sharper and rougher edges that might be visible along stone walkways.
If you want to try and avoid sharper lines altogether, consider utilizing curving pathways and smooth edges throughout the space, as this will also encourage customers to stroll along the paths at their leisure.
When looking for elements of taste, look no further than some delicious and eye-catching citrus trees, or you could even bring in a miniature vegetable garden that can serve a purpose both in the healing garden and later on in the kitchen.
For touch, always think about the texture of the plants you choose, and remember that the more variety you have, the better the experience will be for your customer.
For those wanting a wispy, more natural vibe in their healing garden, soft ornamental grasses and ferns are perfect for engaging the hands, as well as putting customers in the mindset of being deeply rooted in either a gentle meadow or the exciting jungle.
When creating a walking path or a sitting/meditation area in the space, always choose smooth stones and pavers, as there's a good chance your customers will be walking through the space barefoot, or they could even choose to lie down on the stones.
While there will always be the natural sounds that come from having neighbors or living in a crowded area, there are methods you can use to ensure that more positive sounds occur in a healing garden. For example, planting native plants or those that you already know will draw in pollinators and birds will ensure there is subtle buzzing and chirping sounds going on around the space.
For the element of scent, choose plants that will give off smells that are noticeable but not necessarily overpowering. It's also beneficial to make sure whatever scents are present are calming and also enticing, as you don't want customers to be sickened or annoyed by the aromas. Scents like lemongrass, rosemary, mint, and lavender are excellent choices to start with, as they are all fairly common and won't prove to be too pungent.
Other elements to consider
Along with the five senses, it's important to make sure your customers feel an emotional connection to the space, as this will help them feel safe and invited throughout their healing process.
If they have positive memories associated with visiting ponds or streams, you can always add in a small water feature, as water can help promote energy and flow. Or if your customers have a happy memory associated with a certain fragrance, be sure to add that particular smell into the mix.
Shade will also play a huge role in a healing garden, as it's hard to relax and enjoy a space when the sun is continually beating down on you. Along with providing a comfort element, shade will also change the look and feel of the space throughout the day. As the shadows move across the space, it can almost transform into a whole new scene with each passing hour, which allows visitors to always experience something new when they arrive.
And you can't really enjoy the shade without something comfortable to sit on, so don't forget to incorporate seating areas in the space so your customers can sit in their garden as long as they please.