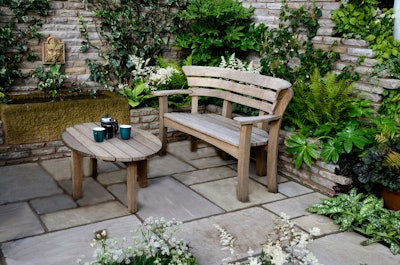 Outdoor spaces such as courtyards or enclosed patios continue to grow in popularity each year.
Since these spaces typically fall on the smaller side of the spectrum, it's always a good idea to make sure you're designing the space where it will be able to maximize all positive attributes it currently possesses.
Take a look at a few creative ideas you can pitch to your landscaping customers when designing and creating the enclosed patio space they desire.
Light and cozy
When looking at the colors that will be displayed in the area, remember that lighter colors will open up the space and make it seem larger than it is.
When choosing plants for the space, consider using pale green foliage or any white plants you might be able to find.
Light-colored pavers will not only help keep the space cooler but if paired with the same color paint as the walls, it could make the space look more uniform and symmetrical. Along those same lines, having the same colored or similarly colored pavers and walls will allow the plants and furniture to really stand out and be the focal points your customers want them to be.
These elements blended together will add to the aesthetic and build off of one another to make the space seem more open, even if in reality it's rather small.
Along with making the space look pleasing to the eye, it's good to make sure the space is warm and inviting, as customers will want to spend a fair amount of time in this space.
Use this space to bring in elements such as a fire pit, cozy seating, ambient lighting and wall/border plants that can create a little bit more privacy, and consider adding in planters with evergreen plants, as this can help make the space retain its green look year-round.
Up, down and all around
As you well know, sometimes the amount of available space in a landscape is limited when looking at it horizontally, and when this is the case, the experts say it's time to go upward and onward.
Vertical gardening is a popular practice that's grown in popularity over the past few years, as more and more people are gaining an interest in the green industry but they lack the space to work horizontally.
When looking at ideas for a vertical garden, take stock of any walls or fences that surround the area, as these are ideal for planting climbing, hanging potted plants or even adding in a living wall.
Keep in mind that irrigation will be necessary for vertical gardens, and it's important to establish a watering schedule from the beginning, as gravity may cause plants to fall out of the wall as the soil dries.
Drip irrigation options are typically the most useful for vertical gardens since hand watering is very labor-intensive and can prove impractical for many applications.
If your customers aren't too keen on the idea of utilizing wall or fence space, talk to them about the possibility of installing either an overhead structure that plants can grow from or even a living canopy that can stand over furniture.
Ceiling trellises can offer climbing plants a comfortable place to grow, creating a green chandelier-type feature, and it also gives your customers the opportunity to personalize their space just a little bit more, as they can choose from a wide variety of objects to suspend in the space.
If your customers like the idea of the living canopy, talk to them about planting small trees in close quarters so they will branch out wider at the top and create sort of a shaded umbrella effect. Over time, the canopies will grow close enough together that it will provide a nice little naturally shaded spot.
Open space and bold choices
If your customers have small children, pets or even just like to stay active by doing yoga or other workouts, be sure to leave a small section of the space open for such activities.
If your customers will be using the area for playtime or exercise, be sure to incorporate flooring or pavers that will accommodate those needs and give them softer areas to walk on.
As previously mentioned, choosing the color of the plants can add to the aesthetic of the area, but don't be afraid to choose types with larger, bolder looking leaves that will help fill the space and bring a little vibrancy into the mix.
It might seem a little counterintuitive to use larger-leaved plants in an area that's so small, as it's assumed that this will only make the space feel smaller, but that's not the case. When incorporating bigger, bolder plants, they add in height and texture elements that can add character to the space, as well as a little more intrigue.
Finally, don't be afraid to step outside of the typical box of using straight lines all throughout the design. Bringing in some curved lines to surround furniture or fire pits can really draw the eye to that area, which will make that portion of the space more inviting to visitors.