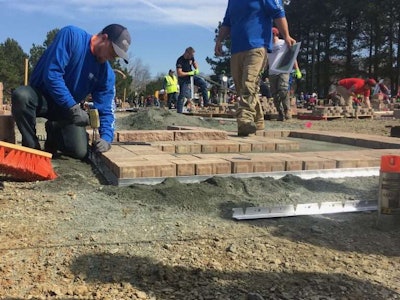 The National Collegiate Landscape Competition (NCLC) announced that it will once again take place at Michigan State University on March 18-21, with 850 students from 65 schools expected to attend the competition and career fair.
NCLC brings college students studying horticulture, landscape management and lawn care together with companies that are recruiting interns and future employees. Industry suppliers and manufacturers manage and judge competitive events and workshops along with landscape contractors.
"Stihl has a long history of innovation and investment in the future of the landscape industry, and we are proud to sponsor the National Collegiate Landscape Competition," says Roger Phelps, of Stihl. "Nowhere else is the future of the industry better represented than at this event, which brings together students from across the nation to recognize their skills, further their education and introduces them to leading industry companies and thought leaders."
With 29 competitive events, NCLC allows students to prepare for and be tested on a wide variety of skills needed for jobs in the landscape industry. While attending the career fair, many students will have the chance to connect with the companies where they will intern or start their careers.
Organizers say that the skills on display at NCLC are a reflection of what is going on in the industry, and along with more than two dozen annual competitive events, a new event is being tested for permanent inclusion: Robotics and Technology in Landscape Design and Maintenance.
"I am really looking forward to experiencing my first National Collegiate Landscape Competition," says Britt Wood, NALP CEO. "If you look at all the CEOs and professionals working in the industry today who are alumni of NCLC – formerly Student Career Days ̶ you understand the true power of this event as a career springboard."
For more information about event sponsorships, securing a booth at the Career Fair, or registering for the event, visit www.landscapecompetition.org, contact Jennifer Myers or call 703-736-9666.
The NCLC partners with the following major sponsors: Stihl, Inc. (Platinum); John Deere (Gold); Caterpillar, Gravely, Husqvarna (Silver); and Anchor, Aspire, Bartlett Tree Experts, Belgard, Bobcat, Corona, Ewing, Hunter, Kawasaki, Kubota Permaloc, Proven Winners, SiteOne Landscape Supply, Timberline Landscaping, the Toro Company and Yellowstone Landscape (Bronze).
Arborjet announces promotion of Doug McPherson
Arborjet recently announced the promotion of Doug McPherson to quality and compliance manager.
Along with his current responsibilities, which include the creation and registration of product labels, overseeing the product development process, maintaining regulatory compliance of all products and technical support, the company says McPherson will now be managing Arborjet's ISO implementation and evaluating processes and products according to ISP standards.
"As Arborjet turns 20, I've been reflecting on how we've grown and where we'll be 20 years from now," says Russ Davis, Arborjet president and CEO. "Doug's additional responsibilities, managing ISO implementation is going to provide an integral benefit to Arborjet's future, helping us to continue our legacy of providing the highest quality products and services in our industry – for the advantage of our customers, partners and planet."
Arborjet says McPherson is a graduate of James Madison University (JMU), where he obtained a Bachelor of Science in biology with a concentration in ecology and environmental science.
During his time at JMU, the company says McPherson worked as a research assistant assembling flora of the Smith Creek restoration area. The company says McPherson began working with Arborjet in early 2013 and has held a variety of roles in several different departments, including research and development.
TreeTown USA appoints Bud Summers as COO
Jonathan Saperstein, CEO of TreeTown USA, recently announced that Bud Summers has been promoted to the position of chief operating officer of the company.
In this newly-created position, the company says Summers will report directly to Saperstein, and his primary focus in the new role will be to continue the alignment of all 15 growing facilities.
"With bringing all of our operations under one leader, we will align all of our operations into one cohesive unit," Saperstein explained. "As a company brought together through acquisitions, this next step capitalizes on all of the knowledge base of our combined company."
Previously, Summers was the VP of Southwest operations for TreeTown, and before joining the company, he spent more than 30 years in several executive positions with Hines Growers, Inc. and Color Spot Nurseries in California, Texas, Arizona and Oregon, where he provided the day-to-day leadership and management required to grow the organization and ensure financial strength and operating efficiency. He holds a master's and Ph.D. in horticulture from the University of Maryland.
"I have been blessed over my career to have worked with some extraordinary people, teams and customers in the horticulture industry," says Summers. "I am very proud to be a part of this new remarkable nursery company and I am energized and excited to think about our future."