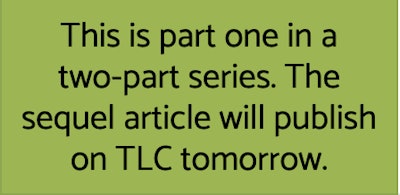 Chain saws are a staple machine for most landscaping crews, which means it's vital that they always are properly cleaned and maintained before hitting the jobsite.
Chain saw experts have weighed in on proper cleaning and maintenance tips for these machines, as well as a detailed daily, weekly and monthly schedule all chain saw users should follow to ensure saws are performing at the top of their game.
Oil check
Before setting foot on the jobsite, it's important to take time to inspect your chain saws to make sure they are ready for the task at hand.
"My father always told me growing up that if you take care of your tools, your tools will take care of you," says Ben McDermott, product manager with Husqvarna. "If you go through the simple daily, weekly and monthly maintenance schedule that's provided and follow the simple cleaning and maintenance schedule, it will prolong the life of your machine."
According to McDermott, all chain saw users should follow a specific set of guidelines when performing these pre-use checks, whether they are performing a daily, weekly or monthly examination.
John Allen, product manager with Stihl, recommends that every chain saw user take advantage of their product's instruction manual before diving into a project, as this can help users get a closer, more in-depth look at what makes their machine tick.
"After every use of a chain saw, we recommend a thorough inspection of your cutting equipment," says McDermott. "Your cutting equipment is one of the key and most critical parts of your chain saw."
One of the biggest maintenance mistakes McDermott says he's seen chain saw users make is either putting in bad/stale gas or using poor quality two-stroke oil.
When choosing fuel, McDermott recommends checking the fuel and oil mix that will be used in the saw. If mixing, McDermott says to make sure you select fuel that has at least an 87 octane level, preferably one that's ethanol-free or treated if the fuel will be in storage for over 30 days.
When mixing, McDermott says to use a high-quality two-stroke engine oil to ensure proper lubrication and combustion, as this can help cut down on issues or long-term damage to the engine.
McDermott says that these premium products are designed to minimize the deposits and buildup of carbon inside the piston, and some of the lower cost or non-premium oil mixtures (mineral-based) can eventually lead to those deposits, which will prevent and cause your product to have significant starting issues.
He also adds that once that fuel begins to separate and you start to have a bad fuel mix inside the tank, you won't have the lubricating properties that are necessary with high-quality fuel. If this happens, water separation will occur, and that water will start to interact with the pistons and engine components, which could eventually mess up the engine.
"Using bad or stale gas will definitely have scarring and damaging effects on the internal engine components," says McDermott. "It could require costly maintenance visits, rebuilds and teardowns and also, bad oil can cause pistons to get stuck. You'll have startability issues, and you'll see significant performance issues in your engine."
Chain care
Once the oil in the chain saw has been checked and has passed inspection, the next step is to move on to checking the chain.
McDermott notes that at this step, it's not only important to make sure your chain is sharp, but that it is also well lubricated, as insufficient lubrication can cause the chain to break.
Be sure to check that the chain break is working properly and that there is no oil left behind on the handles, and McDermott stresses the fact that the chain break should always be on when cutting.
"These chain saws are designed to operate with sharp cutting equipment," says McDermott. "A dull chain not only adds excessive power that's required from the unit, but it also could be unsafe because it does require more force to cut."
But when do you know the chain needs to be sharpened?
According to Allen, the best way to tell when your chain needs sharpening is to take a look at the consistency of the wood shavings it's producing.
"A good way a user can see how their chain is cutting is by looking at the wood shavings the chain is cutting," says Allen. "If the chain is cutting big chips or big flakes of wood, then the chain is sharp, but if it's making powder or dust, then they should immediately stop and touch the chain up with a file or get a replacement chain."
Allen and McDermott agree that these chains should be sharpened after each use, and keep in mind that there are some woods that will wear the chain out faster than others.
There is a lifespan for these chains, true enough, but both experts say they've also seen users time and time again who aren't familiar with chain saw maintenance opt, instead, to buy a brand new chain instead of taking the time to sharpen their current one.
Instead, Allen recommends either taking the saw to the dealer to get it sharpened before buying a new one, or he suggests investing in a filing guide or kit that will allow you to sharpen the chains right there in the field if need be.
To keep tabs on the lifespan of the chain, McDermott also recommends paying close attention to the filing indicator on the cutter to see how much longer it can last.
"As long as there are no other cracks or damages on the chain, you'll notice on the chain that there's often a filing indicator that, after you sharpen or file a certain number of times, you'll come to that indicator on the cutter," says McDermott. "That's an indication you should replace that chain."
Give it a once over
After the oil and chain have both been thoroughly checked, both experts agree that following up with a detailed once-over of the chain saw can also ensure you catch any exterior damage that might be present before the saw is started up.
"It's important to visually inspect for damage," says Allen. "Check the function of throttle triggers, the throttle lockout and the choke. Check the function of the chain break and the check chain lubrication. Check the saw chain, sharpness, chain tension and check the guide bar for wear and damage. Be sure to check the anti-vibration elements for wear and damage."
Another aspect of the saw to check is the air filters, as an air filter that's damaged, dirty or missing could allow the engine to breathe in debris that can cause damages.
Check back tomorrow for part two where we'll take a closer look at the daily, weekly and monthly maintenance checklists, as well as safety tips for using chain saws.