Yesterday, we talked to chain saw experts from Husqvarna and Stihl about the importance of chain saw maintenance and proper cleaning techniques.
Today, we'll do a deep dive into what all goes into the detailed inspections these experts recommend conducting before each use, as well as necessary safety practices users should implement for safe saw usage.
Maintenance schedules
When it comes to cleaning and maintaining your chain saw, Ben McDermott, product manager with Husqvarna, says users should not only perform a weekly and monthly check on their saws, but also one after every single use.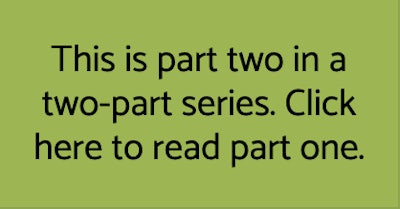 "These products are designed to perform at optimal levels, and with simple maintenance, you can make sure you extend the life of your product and ensure you avoid costly repairs and possible product replacement," says McDermott.
When performing cleaning and maintenance after use, McDermott says to begin by cleaning all external parts of the saw with either a soft brush or a rag. When performing this cleaning, be sure to remove as much debris as possible to prevent buildup or debris intrusion into the engine.
It's also important to ensure the trigger and throttle lockout are both still working properly and are returned to position.
"Inspect anti-vibrating damping features to ensure they are functioning properly and are not obstructed," says McDermott. "Clean and check the chain break to ensure it's functioning properly, and check the chain catcher to ensure it is securely mounted to the saw."
When checking the cutting equipment, McDermott says to make sure you are wearing gloves before starting the process.
Begin by checking the guide bars to make sure the oil channels aren't blocked and be sure to inspect the edges for burrs. If you find any burrs, they can be removed with a file.
Remove any debris from the guide bar groove, and if the bar groove is worn out or damaged, be sure and replace it. Take a close look at the tip to ensure the sprocket spins and moves freely, as this can help keep debris and other obstructions away from the sprocket.
"With respect to the guide bar, turn it over and flip it after each use," says McDermott. "That will help prolong the life of the guide bar and allow for even wear on both the top and bottom channels. If you don't flip it or don't turn it, you'll get an uneven pattern of wear."
As we discussed in the previous article, chain maintenance is crucial for this piece of machinery, and it's important to sharpen the chain after each use to make sure cutting efficiency is at optimal levels.
"If you observe any cracking or damage to the chain, specifically cracks, you should remove that chain and replace it," says McDermott. "Make sure your chain is flexible and easy to manipulate so it's not so stiff, hardened or worn. Make sure the rivets aren't worn out or appear to be coming loose."
When sharpening cutters, McDermott says to use a round file and file guides, and you can maintain proper cutting height by using a depth gauge or a flat file. If the chain is filed improperly, the force of kickback can increase, so McDermott says it's important to maintain the proper filing angle and specified cutting height.
"When the cutting tooth is worn, replace the chain," says McDermott. "That's usually highlighted by an indicator mark on the chain (4mm). If it does not rotate in idle, it may require a carburetor adjustment."
Rounding out the list of daily maintenance, McDermott says to check the drive sprocket for everyday wear and tear, to clean the air intake on the starter, be sure that all hardware is in place and tightened and to inspect the muffler to ensure it hasn't been damaged.
Along with the daily checklist, McDermott recommends the following tips when conducting a weekly (or after seven uses) chain saw checkup.
To start, clean the cooling system by taking off the starter housing and cylinder cover to remove any sawdust or debris that has accumulated in the internal components.
Next, take time to lubricate the bar and bearings according to the specifications recommended in the owner's manual, clean the carburetor area, clean the spark arrestor mesh on the muffler and clean or replace the air filter. McDermott says to always put the unit in choke when replacing the air filter, as this will help keep debris from getting into the engine.
When performing monthly maintenance checks, McDermott says to clean and check the break band on the chain break, clean and replace the spark plugs, check or replace the fuel filter and hose, check all cables and connectors and finish off by emptying the fuel and oil tanks and replacing with fresh oil and fuel.
Safety tips
When all necessary checks are completed and it comes time to actually use your chain saw, John Allen, product manager with Stihl, recommends a few safety tips to ensure you and your crews stay safe while getting the job done.
According to Allen, his number one safety tip for chain saw users is to always wear the proper personal protective equipment (PPE).
"Even if you're doing a small, quick job, make sure you put on the correct PPE for the task," says Allen.
This, he says, includes wearing chaps for leg protection, proper steel-toed work boots, eye protection, a helmet system, gloves and a long-sleeved shirt.
Allen's second safety tip is to make sure you are starting the saw correctly. One of the biggest starting errors both chain saw experts have noticed is users trying the drop/throw start the saw. Users can be injured using this technique due to the fact that they won't have control over the saw when it's in this position.
According to Stihl's YouTube channel, there are two starting methods that are tried, true and safe.
The first safe method starts with the saw sitting on the ground in a clear, flat area. The bar and chain should be clear of the ground, and there should be no objects nearby that could come in contact with them. Slip the toe of your right foot into the opening of the rear handle, while your left hand presses down on the front handle with the thumb and fingers fully wrapped around the handle and the elbow locked. Next, your right hand will grip the handle for pulling on the rope.
If you find that you aren't able to get to a clear, open area to start the saw, Stihl's second starting method is the standing start. First, ensure you have safe footing, and position the rear of the saw between your legs just above the knees. Have a grip on the handle with your left hand, have the thumb and fingers wrapped firmly around the handle and have your left arm locked. Use your right hand to start the saw.
Allen's third safety recommendation is to always engage the bumper spikes on the front of the saw and be aware of the kickback. While some chain types are designed to minimize the kickback force, none are guaranteed to eliminate the risk.
"Be cautious of the reactive forces involved with a moving chain," says Allen. "Kickback occurs when the upper tip of the bar contacts a solid object and kicks back at the user."
Allen's fourth safety tip is to always make sure you are standing on firm ground when using a chain saw and to always make sure you are using it in the correct positions.
And when in doubt, Allen's final tip is to know your limitations and when to call in a professional arborist.
"Sometimes, it's even just getting a trained arborist to come out and double check what your plan is," says Allen. "There's no sense in rushing. Just always know when to call in an arborist. If you think it's outside of your abilities, don't guess, don't take a risk. Always call in a professional."
Following these key cleaning, maintenance and safety steps can not only help keep your saws running better and longer, they could also ensure your crews are staying safe on the job and working more efficiently.
"It is a dangerous piece of equipment, and people should definitely be educated on the safe and proper ways to use it and maintain it," says McDermott.